April is the month when more people communicate more about being unhappy than any other month in the year. It's also the month in the U.S. when taxes are do.
More than 100,000,000 people in the U.S. will fork over bucket loads of hard earned money to the government in exchange for…well whatever it is you get back from the government.
That's TWO big strikes against you and me.
The question is will you strike out like most or will you re-channel that energy into achieving what you want in life?
Everyday I consult and coach with businesses/individuals around the world.
I normally don't share this with the world but because of the benefits my clients get from you having a better life and financial situation, I want to give this to you, here and now. Today you get four specific Real Life Solutions to problems that stop almost EVERYONE from having the life they want.
What really influences you to achieve or fail in life, business?
***How can you dramatically improve your odds?***
How important are the seemingly "little things" vs. the big things?
What impact does the person you live with have on your success?
You know, it's funny. A lot of people think they "need an office," to "have a business".
Ridiculous.
In most cases, it doesn't matter whether you are going to pilot your young and growing business projects or sales calls from your home or an office. I generally encourage people I consult with to run a business from their home from Day One for a plethora of no-brainer reasons.
Running project from your Coffee Table allows you to not only succeed but actually build wealth. Your Coffee Table business allows you far more time for you to get to where you are going. After all the commute is 100 feet from your bedroom. Forget the gas, maintenance, insurance savings. Forget that your kids see a parent when they get home.
There is a time to switch to a marriage to someone who leases office space, but that will be more about the number of people who work for you and not much else.
Renting space can be mercilessly expensive, and leases for space last longer than most marriages…and just as stressful!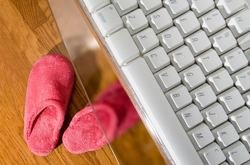 If someone is independently wealthy, then the decision is a toss up. If someone is bringing in less than, say, $250,000 per year, the home office is almost a no-brainer.
But the success or failure of your work, what you do, how you perform, your creativity, your drive, your passion, your interest and excitement can be almost instantly Switched On or Off by one or two crucial people.
Sometimes your success or failure goes beyond your actions and rests within the reaches of your mind's reactions to the person who is likely most important in your life.
You want the support of the people who occupy your living space to support and encourage you to have your Coffee Table Business AT HOME.
What is the Key to Success in Selling or Growing Your Coffee Table Business?
A lot of your businesses successes or failures, will have nothing to do with your product/service, your customer service, your business model, marketing, selling, or anything else to do with your projects you are working on.
Last week we talked about the influence that friends can have on you, consciously and nonconsciously. It can be good, and it can be bad, but in general, it won't be neutral.
Summary? YOUR FRIENDS behaviors change your RESULTS, like it or not.
You WILL have & experience what they have in life the more you invest time with them.
Far more important to your success than the impact of friends and…
Your Goal
Your Plan
Your Map
Your Effort
Your System
Your Friends
…might be your ability to influence the person you live with to fully support and encourage you!
Conflict in "goals" within a primary relationship can or WILL bring down your best and most-likely-to-succeed project.
The lack of synergy between husband and wife, partner/partner, parent/kids could undermine an entire project. The partner might tell the other person to "get an office." That is almost always a disastrous directive.
It's ill advised and poorly thought out advice.
No one likes to talk about all of this for obvious reasons, but it is a fact.
Now don't misunderstand: I'm not for a second suggesting that a spouse (for example) needs to be gung-ho supportive of a ridiculous business project with almost no chance of success.
That would be irresponsible and foolish. But what happens when one is starting something that passes The Sensibility Test?
Plenty of people sabotage, often unknowingly, their partners/spouse's/parents projects and goals simply by being who they are…and how they behave…and THAT WILL have to change.
Today, you'll find out how to begin to gain the positive influence and backing of the people you live with. And do note that just because they say they support you doesn't mean…that they support you.
Influence them to have your back …
"I've Got Your Back, Honey"
If you share living space with other humans related to you or not…you must communicate about how a new business project really works.
It's not a job. This is your life! (It's also a few other things. Their food, their car, their water, their vacation, the roof over their head, their children's health…)
The people you want on your "team" need to know just how important this is to the entire family, or to the relationship itself.
You would like them to help you in some ways if they'd like to. And that help doesn't necessarily mean physically working on your business/project. It might be intentional support of your psyche.
They bring you compassion, understanding, and a TV dinner; and you in short order return a new lifestyle where you are home when the kids get home…where you aren't on the road all the time…where money is no longer a concern because you don't have enough.
To begin, if you publicize it, they will likely be unimpressed by your thoughts of bringing in X dollars per month or the importance of such a thing.
What they will soon be thinking about, however, is that you have spent 40 hours per week online setting up websites, autoresponders, blogs, facebook, and after two months you have made close to ZERO DOLLARS.
If you've ever watch a new home being built you can simply think of the new home as a metaphor for a Coffee Table Business.
A new home starts with a foundation then they put up the frame and then begins a fairly lengthy process of assembling the home.
Starting from scratch is effort. But the new home does get built and eventually it is not only habitable, it's palatable!
Meanwhile, in their brain, that two month mark, a job SURELY would have been a smarter choice, or so they will think.
Early on, you need to share that what you are doing is not a job where there is an established business with cash flow. You will be creating not only the work, but the cash flow, and that requires time. Let them know that most people give up right before they would have brought in revenue because of pressures with those who occupy the same living space.
And that is tragic.
Most Challenging Aspects of Marketing
It is predictable and expected, because ACQUISITION is the most difficult part of business as it is in selling.
Getting the right people to your website/blog is a challenge that you can win. But it rarely happens instantly.
Getting these people to then click "Add to Cart" is the second difficult element, but you can get there as well. And this too, will require time to come to fruition, as you learn what is working and what is not working in your online (in this case) business.
Your family will need to know that "just because you build it, doesn't mean they will instantly come and spend tons of money."
After you have begun to flow and mastered the above elements, everything else is relatively easy….relatively speaking…if the people right there in your living space are on your team.
Working in an environment of conflict, disdain, contempt and the like, is akin to having grenades thrown at you while you type and edit your work. You can do it, but it is insanely difficult.
Therefore, when you frame your proposition for support and being on the same page, make sure those living in the same space know you aren't expecting to make your first nickel for 3 – 6 months because acquisition and conversion of visitors into long-term customers is a process that requires refinement, even for the most experienced wizards on the planet. This is true for businesses that are on and off line.
Obviously if you already have a small business, growing it is MUCH easier than starting from the foundation!
What's strange is that you might begin to witness normal everyday people transforming before your very eyes and even though you are working instead of wasting time dinking around…they…are…becoming hostile.
Here's how that happens and how to erase it.
How can they be feeling hostility when they say they support you …
The Highest Paid Workers on the Planet
Self employed people in the United States are the highest paid demographic category there is. The pay is better than the college graduate. The pay is better than the Grad School graduate with an MD or PhD.
Why? …and…How?
When you work for yourself, you set your own pay scale. You have full investment in the success of the projects you do. Everything else in the world is a "job" …the wheel. That which you own, you possess and value.
By framing your plan intelligently, cautiously, and realistically, you will meet with some groans and moans but there will be no unrealistic expectations being set. No silly promises. No pie in the proverbial sky.
And the people you want respect from the most…will be there for you with that respect.
HERE'S THE QUESTION:
If those in your living space see that you are likely to succeed, in fact, are quite sure YOU WILL SUCCEED will everything then be "OK"?
Perhaps, but it's time to insure that crucial backing.
Spending time in conflict is like experiencing an earthquake that will shake your income.
Therefore you need…earthquake insurance!
Nonconscious Resistance
Realize that your success and happiness may easily generate challenges you weren't expecting…and THIS is where you need to have solid communication NOW.
When good things start to happen, and they will, that's usually when difficulties around you will begin.
You could easily anticipate that the spouse will not be thrilled that you won't be spending as much time with them for a few months…perhaps more.
The spouse might easily see your potential (or realized) $100,000, $200,000, $300,000 income, as a good thing. BUT, as wonderful as it would be to double your income, will they be supportive of you?
Your initial instinct is, "of course they will".
Don't be so sure.
The person closest to you might show great support early on, and then as the reality of what this means as far as their daily life and what it means in how they perceive you as a person, things could easily change.
Sure, you're home when the kids get home from school.
You're saving a fortune in commuting costs.
You're doing something you really find interesting, challenging and perhaps, at times, fun!
You're turning a profit!
You're making life better for everyone around you.
So how could anything be wrong with this picture?
THINGS ARE CHANGING!
You're causing shifts within their Identity, who they perceive themselves to be, and you didn't realize it.
You're changing your Identity, and you didn't think it would be taken in any fashion but positive!
Your identity, in large part, is wrapped up in all kinds of things external to you. It's wrapped up in where you grew up, where you went to school, your job, your role as a parent, your roles as a spouse.
And now you are changing!
YOU have dreamed of this moment in time. It has ARRIVED!
It all feels right inside of you and almost none of it feels quite right inside of anyone else.
The problem is that THEIR IDENTITY'S are CHANGING as well. And they haven't decided if that's a good thing or not…so they are upset.
How Does Identity Factor In? …
How clear cut is your identity in their eyes?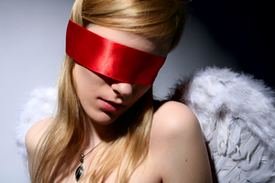 Think about this: You are watching TV and a commercial comes on. There is an attractive woman in elegant lingerie, with large angel "wings" on her back. You know full well you are seeing a Victoria's Secret commercial. That image is part of Victoria's Secret's identity. You'd be shocked if it was a Burger King or Subway commercial. You'd be shocked if it was a promo for an accounting firm. When you see the Victoria's Secret name and logo, you don't even think about it. You just "knew it" because the image belongs to the brand.
The same thing is true of you in your relationship to your kids, to your spouse, your friends.
KEY POINT: As long as you appear to belong to them in the way they expect you to belong to them, everything will remain status quo.
When things change, they will not be comfortable no matter how much extra money there is for bills, travel, education and security.
When they become uncomfortable and life is not as familiar as it always has been, they will likely "rebel".
None of it is "rational". You are doing precisely what you want to be doing…what you should be doing. You are doing it well. And THAT is what can cause Identity Shifting and when that happens without plenty of advance warning and preparation, you now know what you can anticipate from others.
Without advance warning and preparation, they will be irritable, and at times even hostile. And it's not going to change anytime soon.
If this project puts you at home, and now there are two or more people at home instead of one, that creates two possible scenarios.
1) Greater interdependence and greater connection between two people, with each helping the other achieve specific and general outcomes and goals.

2) The opposite effect: In place of helping is sabotaging, so things return to the status quo.
Recent research has shown that if two people have similar personal achievement goals, that one will likely sabotage the other consciously or nonconsciously.
We also know that if one person has personal goals that are in conflict with the other person, there will likely be sabotage at the nonconscious level.
And finally, if two people have complementary but interdependent goals, they could work together as a "team" and build a much better relationship and a successful business.
It's important to know that this is all true whether or not both people are working ON and IN the business. One person could easily be at a protypical job and the other could be the entrepreneur, and you'd still experience the same possible upside or downside.
Is There a Way to Ensure That Synergy? …
Insuring Synergy
How do you fix things in advance so that there is no negativity and perhaps engender a synergistic atmosphere?
Early on in taking on projects, it's important to be all "set" with both people understanding what their perceived life is supposed to be/become. It's important to talk about how you will evolve together or as a group.
This is not the same as a goal. This doesn't have anything to do with losing 20 pounds or earning more money in a business.
This is about Identity. It is who you perceive yourself and the other person/people to be and what you expect them to be doing and experiencing in life. That's what you want to get on the same page about.
You want to talk about how people will react during your successes and setbacks, of which you will experience both when running your own show.
Everyone has "goals" and expectations for OTHER people.
Everyone has expectations on what other people should be doing and thinking, believing and acting.
You don't want to have a conversation that says, "Yes I want to be wealthy, healthy and wise".
You want a conversation that says, "I see you as doing and being X. I see you has helping me do Y and Z with me helping you X. It's important to me that you are happy with what you want to do."
You want to see if each person's picture of their expectations is able to match up after talking about the current life situation.
You also want to talk about what is going to happen to that picture when someone changes the picture again!
Getting people to actively help each other with each others roles, goals, projects, expectations and identities will create a synergetic and dynamic team.
You can make it happen if you get at it early as two people, or as a group evolving together. If it's you off on your own, you might get the support you are looking for, but it will be more difficult. Talk about THAT as well.
Advance communication can be a cheap insurance policy for your success.
---
Ready to actually DO IT the way it's supposed to be done?
Be part of a comprehensive an online e-course for building that Coffee Table Business with Kevin Hogan!
Learn about Kevin Hogan's Internet Marketing & Business Building E-Course
Details:
About Internet Marketing & Wealth Building