Kevin Hogan is the author of 24 books. He is best known for his international best-selling books and The Psychology of Persuasion: How to Persuade Others to Your Way of Thinking.
In the past decade he has become the Body Language Expert to The Wall Street Journal, , ABC, Fox, The BBC, The New York Times, The Toronto Sun, The New York Post and dozens of popular magazines like Forbes, Investors Business Daily, The Financial Times,  InTouch, First for Women, Success!, and Cosmopolitan.
Hogan has taught Persuasion and Influence at the University of St. Thomas Management Center and is a frequent media guest. Articles by and about him have appeared in The Harvard Business Review, New York Magazine, Sales Guru, Success!, Men's Health, Redbook, Women's Health, Office Pro, Selling Power, and hundreds of other publications. He was recently featured in a half dozen magazines including Benefit, World Business Class, and wProst) in Poland.
Kevin is a dynamic, well-known international public speaker, consultant, and corporate trainer. He has trained persuasion, sales and marketing skills to leaders in the government of Poland, employees from Mutual of Omaha, Novazymes, Madden Media, Boeing, Microsoft, Starbucks, Cargill, Pillsbury, Carlson Companies, Fortis Insurance, Maserati, Great Clips, the State of Minnesota, 3M, The United States Postal Service and numerous other Fortune 500 companies. He recently spoke to The Inner Circle and at the Million Dollar Roundtable (MDRT) convention in Las Vegas.
His keynotes, seminars, and workshops help companies sell, market and communicate more effectively. His cutting-edge research into the mind and keen understanding of consumer behavior create a unique distillation of information never before released to the public. Each customized program he leads is fit specifically to the needs of the group or organization. Kevin will give your people new and easy to implement ideas to achieve excellence.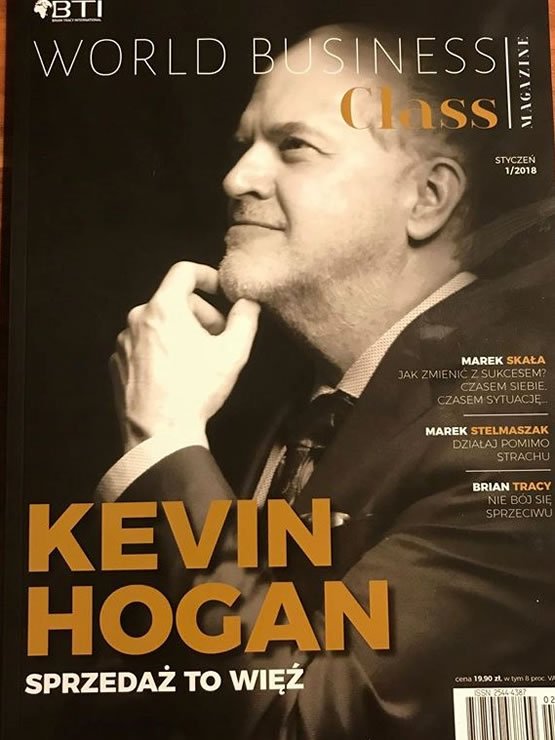 See Kevin Hogan in the Media
Media – Magazines, Interviews, Online Articles
Bring Kevin to Your Event
To make Kevin Hogan the dynamic speaker and presenter (read that as very dynamic, funny, informative and knock 'em dead!) for your next event, contact him with your event details and you will get a personal response.
Books by Kevin Hogan
Overcoming Rejection (Network 3000 Publishing, 2017)
Invisible Influence (Wiley, 2013)
Shattered (Network 3000 Publishing, 2012)
Covert Hypnosis 2020: An Operator's Manual (Network 3000 Publishing, 1998, revised 2011)
The 168 Hour Week: Living Life Your Way 24/7 (Network 3000 Publishing, 2010)
12 Factors of Business Success (Wiley, 2009)
The Secret Language of Business (Wiley, 2008)
Selling: Powerful New Strategies for Sales Success (Network 3000 Publishing, 2007)
The Secret Behind the Secret Law of Attraction (Network 3000 Publishing, 2007)
Covert Persuasion (Wiley, 2006)
The Science of Influence (Wiley, 2004)
Can't Get Through: 8 Barriers to Communication (Pelican Publishing, 2000)
Irresistible Attraction: Secrets of Personal Magnetism (Network 3000 Publishing, 2000)
Through The Open Door: Secrets of Self Hypnosis (Pelican Publishing, 2000)
Selling Yourself to Others (Pelican Publishing, 1999)
The New Hypnotherapy Handbook: Hypnosis and Mind Body Healing (Network 3000 Publishing, 1999)
Talk Your Way to the Top: Communication Secrets that Will Change Your Life (Pelican Publishing, 1998)
The Psychology of Persuasion: How to Persuade Others to Your Way of Thinking (Pelican Publishing, 1996)
Tinnitus: Turning the Volume Down (Network 3000 Publishing, 1996)
Life By Design (Network 3000 Publishing, 1995)
Mind Access (Network 3000 Publishing, 1995)
The Gift: A Discovery of Love Happiness and Fulfillment (Network 3000 Publishing, 1992)
Contact Network 3000 Publishing at (952) 465-7525