by Kevin Hogan and Tristen Christopherson
[Tristen has agreed to join me on a series of articles where changes in influence, marketing and selling have taken place, especially where women or millenials are concerned, as she is both. She's been working for kevinhogan.com since Spring and will do so into the future.]
You've seen it on your Instagram. Perhaps even Facebook… or Twitter.
She's around 19 or 20. Full hair and makeup done, with a beautifully doctored backdrop scene portraying the emotion she wants you to buy into, while endorsing or proposing a product/service of her choice.
In 2019, everyday individuals online are tapping into the appeal of sexuality and fantasy to attract not only consumers for their market demographic, but also other brands to land contract deals to further their online revenue and profile basis business(es).
Why…?
Because advertisements that obtain sexually oriented appeals evoke responses like arousal, excitement, and/or lust, which can act as a catalyst for that person's desire to purchase a particular product. Further stated evidence in sex appeal marketing research supports that the use of sexual appeal in advertisements and marketing tend to result in a higher level of persuasion than in advertisements that do not obtain any sexual material, and this is being used to the advantage of both men and women not only online but also in large span corporate marketing ( Gunnarsdóttir & Hermannsodottir, 2015).
So how does "sex" sell?
No…noooo…not the actual act…but…more precisely… "sexiness" or more accurately, how does the appeal to the DESIRE to have sex sell?
Survey says: Duh. If the person being influenced links the possibility of their engaging…with the image or with someone triggered by the image…well…you have a likely "yes," coming soon to a theater near you…
The only impulse that influences more predictably than sensuality are those triggers that act on our survival instinct…(flight/fight). In other words, that biological drive to reproduce (or just practice) is pretty …big.
So yes, "sex" is the second strongest of our instincts, right behind self-preservation. (If you don't survive, you won't get to enjoy said experience.)
Since anything having to do with sex tends to get our attention, sensuality is potentially a perfect tool for marketing and, certainly, it is often impossible to beat in sales and in many moments of influence!
A few interesting stats from the recent past:
Billboards advertising alcohol that used "sexual appeals" were remembered 91% more often compared to those without sexual appeals.
The annual Sports Illustrated Swimsuit Edition generates sales to 59 million readers, compared to the magazine's average of 21 million (Sure, I get it, too…but I just read the articles….)
The Cosmo "Sex Poll" issue sold 2.3 million copies, compared with its average 1.7 million copies. (How would you like to add 600,000 issues to your subscriber base?!)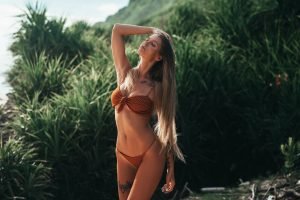 Legend Point: The sensually charged images in advertising lead a consumer to believe that by purchasing the products, he/she will:
perhaps look like the people in the ads…(I don't carry this delusion around…)
have fun like the people in the ads…(This one works on me..)
BECOME the people in the ads. (I'm not that gullible.)
…or something similar.
Men and Women View Sex Differently
Advertisers use different strategies for each gender, and with good reason. "Sexually appealing" has a different meaning for men and women.
And the distinction between men and women must be dealt with carefully because you can walk a real skinny tight rope with sensuality and sex. If you pull the rubber band, you can get a lot of distance out of it. Pull TOO FAR and it will snap you on the nose.
So how do you KNOW what to do? How do you know when to TRIGGER the powerful impulse of the sex drive as a way of getting agreement, making the sale, driving customers to your product, getting the date?
A study conducted at Washington State University showed that simply showing an attractive woman's body catches a man's attention and convinces him to buy.
No surprise here…and even though women often talk about how much they like the hot guy (and they DO); they aren't triggered to BUY by seeing a hot dude on the cover of the magazine. In fact, the opposite is true.
Women WANT the hot guy standing in front of them, but they aren't persuaded to buy a pair of shorts because of an IMAGE of that same hot guy. Men are much easier to trigger.
Legend Point: Both men AND women want to see attractive women on the covers of magazines. (We men get no respect from evolution…)
Why are men so easily "manipulated" (in what I would argue is a "good way") by women? And why are men so easily manipulated by just seeing an attractive woman?
And if men are so easily manipulated, why not make EVERY communication, ad, proposal, interaction you have grounded in sexuality or sensuality?!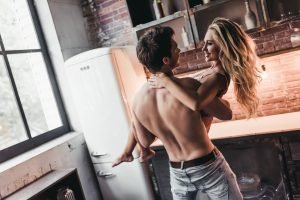 Why does "sex" and sensuality work so well with men?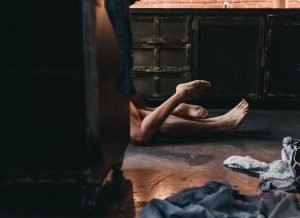 Because…
Legend Point: Men neurologically associate "getting" the model with buying the product.
And that powerful drive to reproduce (or practice) simply dominates male thought. Men don't THINK they are buying one, getting the other FREE, but their nonconscious mind certainly does.
And what of women? Where do they fit into this whole sex thing?
Women use intellect and romance — in addition to anatomy — as a means of relating to men. That's why ads targeting women are often, but by no means always, less explicit and will focus on romance rather than on only the attractiveness of a male or female model.
It's worth pausing here to note that: sex isn't selling anything 99% of the time. Sensuality is triggering the sex drive to generate an impulse that will cause a purchase.
The women and men who are models for advertising aren't as dumb as most people think. They are far from being exploited. In fact, they know that it is simply a job.
I dropped an email to one of the world's most beautiful models the other day. I told her that I had a ton of pictures taken to just get one or two that didn't make me look like a total idiot. She told me that it's the same in the modeling world. I felt…a little…better.
The fact is that the ACT of HAVING sex isn't used to sell anything that has a bottom line. Sex, per se, doesn't sell, nor does anyone in advertising think it does or they would be using it regularly.
That said, although men think of sex as, well…having sex, women think of sex when they see a beautiful sexy woman. It may or may not be conscious from woman to woman, but it triggers off all kinds of chemical reactions, some good, some not so great in the brain of the female….And thus in marketing, in selling, persuasion, we have to walk a tightrope to capture the man's attention but still get the woman's approval. That is tricky and not always pulled off.
Calvin Klein consistently achieves the limits of pushing the envelope, every other year or so by producing the most controversial advertising possible, then pulling the advertising in response to "public outcry."
(Public outcry = millions and millions of dollars of free advertising.)
The visual (and auditory) images work best when the product or service can realistically promise increased sex appeal.
Products like fragrances, cosmetics, clothing, personal hygiene products, and especially cars. With products like these, enhanced sexiness can be a persuasive product benefit, and thus the focus of your ad.
In the academic world, these additional cues surrounding a product or service are called "peripheral cues."
They are most effective when they are secondary to the message itself. In other words the beautiful woman serves you the beer and looks lovingly at you while you drink it. She's very important, but still peripheral to the message.
Degree of Heat
The use of strong or mild sensuality can help attract and sustain attention, no matter the product or service.
Think back to Hyatt Hotel's "Who are you sleeping with?" campaigns.
I went to the Amstel in Amsterdam early in 2007… (the luxurious end of Hyatt Hotels).
The manager was a girl of perhaps 25. She was breathtaking and yes, she may have been 25. Perhaps a requirement in The Netherlands for customer service at hotels is to have beauty that disorients irritable male customers who can't get into their room because it's being cleaned and it's going to take "a few hours."
She looked up at me in my impatience to get to my room which was "being cleaned."
She made small talk…"The Rolling Stones slept in your room, Dr. Hogan."
I paused.
"All of them?"
She looked down then back at me…
"Probably not…I don't know for sure…"
She was bright as any bulb on the tree but no brighter than normal. Probably not manager choice in the USA. But she certainly appeased her male customer to not get bent out of shape. Ronald and I were off to the dining room to wait…and we were…OK…with waiting.
LOOK OUT: If you're marketing to an international marketplace, keep in mind that sexual values and taboos vary greatly around the world and are constantly evolving. America is very prudish. Nudity doesn't even register in Amsterdam; if you have Maxim magazine in some cultures …you better say your prayers…well maybe not…
The same evolution in how desire is selling and used for marketing is dramatic. Other trends are following pace.