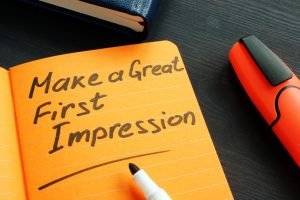 The first time I met Jeffrey Gitomer (author of The Sales Bible), he made an incredible impression on me. These 10.5 secrets are dedicated to my friend Jeffrey…
Whether you're meeting with a person for the first time, or meeting with someone you're already familiar with, the first few minutes are extremely critical to the outcome… they are, essentially, the outcome. Harvard tells us that the first thirty seconds of a meeting are critical. I agree, with the added note that each of the first few seconds of any influential encounter are always the most important.
And even that is prefaced with the fact you and I will talk about this month that what happens before you walk in the door in the clients mind and your preparation dwarfs even the first few seconds.
With this in mind you can make add significant sway around your message so that it is received with the greatest likelihood to draw a "YES!" response.
Secret #1
Dress about 10% "better" than you expect your client/customer to be dressed. Do not overdress or under-dress. Both of these choices are considered disrespectful by clients.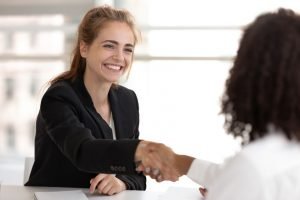 Secret #2
People feel most comfortable when others seem to be like them in appearance, beliefs, and/or values. Predict the values and beliefs of your clients and customers and emulate, or at least be aware of, these factors so that you are prepared to make your best first impression.
Secret #3
You should be immaculate when you meet your client/customer. This means you should smell clean (not necessarily heavily doused in cologne, as many men and women use far too much of the smelly stuff), have your hair trim and neat, and physically appear as good as you possibly can.
Secret #4
Find out what values are most important to a person in doing business with you and those values relevant to your product/service.  Answer this question in on paper before meeting each person in the day. "What is most important to you in possibly doing business with me?"

Secret #5
Ask your client how he knows when he has his values met. Example: If he tells you fast service is a high value, ask him, "How do you determine what fast service is?"
Almost no one has criteria before you ask this question so you are in new territory when you pose the question. That's helpful because the person now continues to construct criteria WITH you and no one else, while you are talking with them. You are shaping the person's future personality and behavior as you converse.
Secret #6
Ask your client: if you give him his highest value, (Fast service in this instance) will he work with you? If not, then what really is his highest value. Because this is such a basic point, you now discover secondary issues that may actually be primary that can also be solved at which point gaining agreement or doing business with each other is almost certain.
Turn the page to continue reading the next 5.5 secrets…