Genius!
Start here…
The very smartest (and wealthiest) people I know take notes with a pen and pad of paper.

The genius doodles. He draws. She thinks out loud. He does everything except sit back and watch only as an observer of reality. Instead they participate in an interactive fashion.
When was the last time you saw a brilliant person type notes in their phone? Exactly. It doesn't happen.
The research backs all of this up. It's so extensive that you can set it aside and simply not do business with people who don't use paper and pen.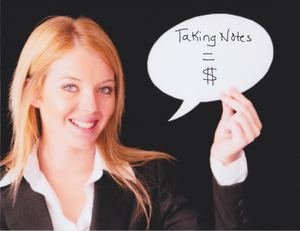 Perhaps the most under-rated of all tools? The back of a napkin.
The genius keeps things in front of him to trigger critical next step of whatever it is he's working on. The note on the counter doesn't run out of battery. The person who uses a planner is never late. The person who has their "schedule in my phone,"  is never on time.
And how important is "on time, all the time?" It simply means you trust the person. People who are late? No trust. None.
Imagine two people sitting next to each other at a seminar.
One person watches the seminar "happen."
Another person takes lots of notes.
The second person asterisks ideas they will implement.
They highlight information they have never seen before.
They draw a key next to stuff they want to come back to and look into more.
They make extensive lists of what they are thinking and observing.
And as ideas are triggered in their brain throughout the weekend, they make notes and draw images of all those "aha's" as well.
Then there is the other guy.
He sits back.
He is polite.
He switches between judging the presenter, thinking he could do better and wondering if the gal will ever give him an idea that is worth a damn. He checks the cell several times for that important call he can't take in the seminar room.
Both participants walk out at the end of the weekend.
One month later, each person is in a conversation with a person at lunch.
"What did you learn? Did you like it? Was she any good? Was it worth the money?"
The person who took no notes, drew no images, wrote down no ideas remembered the event as "OK" and "mildly entertaining where nothing happened of import."
Meanwhile, the other guy came back with a book full of notes.
And here is the KEY: It doesn't matter whether the gal at the front of the room was any good or not. The seminar may not have been worth $1 out of the $5,000 paid BUT the guy who took the notes came up with 40 ideas for new methods and strategies that were TRIGGERED by the gal at the front of the room…including those where he thought, "That's stupid, I'd do it the exact opposite." He wrote that down, implemented HIS STRATEGY triggered from her errant strategy and while she may have been worth a $1, his notes are worth hundreds of thousands of dollars.
I have old journals of notes that I took from "early" NLP Trainers. Lots and lots and lots of pages of notes. 80% of it is worthless. 20% is pure gold. To this day those notes trigger cool ideas in business, in selling, marketing, promotion, networking, motivation and on and on.
Similarly I have hundreds of pages of notes from seminars of Zig Ziglar, Robbins and a bunch of the other speakers who influenced my work.
I thank the heavens they never handed out transcripts or made them available for download.
The transcript of anything that matters is like a curse of death.
It misses all the value of the material presented.
You don't hear the tone of voice so you don't get the triggered idea. You don't see the speaker so you miss the knowing smile on his face. You don't see the audience response and know that when you present similar material it might be worth having a story like THAT ONE…..and…you don't catch the audience response to where the speaker's story died and the material was dry and dull and useless.
With a transcript, it all looks the same.
You learn perhaps 10-20% as much from a transcript from a live event as you do from your own linear notes and mind mapping.
I like both approaches.
Today I want to show you how to mind map. Next go 'round I want to show you how to think in a brilliant linear fashion.
Merge the two together and you think like a genius.
You should know that I had nothing to do with the development of mind maps. To some extent, creative minds for millenia have used mind maps. That's how people put information on paper or in the sand.
Mind Mapping formally was made replicable by Dr. Edward Tolman after World War II. Then about 20 years later, Tony Buzan made the concept famous. I mention these gentlemen to give credit where it is due.
A lot of the hype around mind mapping as a tool to enhance memory and all that was simply that, hype. As a way of thinking about content it can be very helpful. BUT remember, the value of note taking in a way that triggers ideas, strategies, fresh approaches, nuances to old thoughts and considerations…THAT is of inestimable value.
When should you use mindmaps? …
When & How to Use Mindmaps
Mindmapping takes note taking and brainstorming to a different point of view.
Most people take notes linearly, one item after another in a sequential order. That's very important because learning to sequence and prioritize is the hallmark of success. BUT being able to create, record and generate ideas in alternate methods pays off double when combined with linear note taking.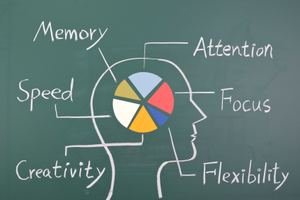 Your brain works out of order. (There's a lot of days I feel like my brain should have an "Out of Order" sign on it!)
Your brain has thousands or millions of ideas that are interlinked with other ideas. Ideas have important concepts and sub-concepts, some of them related and some of them not.
Furthermore, your brain also records information and generates interpretations in multiple senses.
Mindmapping is an excellent tool that combines images, branched ideas, words and idea-linkage to form a fantastic note taking and brainstorming tool that I want you to use if you don't already.
Here's when to use mindmapping and how to use mindmapping.
When to Use Mindmapping
Mindmapping works great for two primary purposes: Note taking and brainstorming. You can use mindmaps to take notes in a meeting, in the classroom, while reading a chapter or while at a business lunch.
By using sketches, different textures and different fonts, you record the information in a way that your brain is much more likely to use in a friendly fashion later. Six months from now, you might not remember the written text on a mindmap, but you will remember the creative doodle you drew to represent the concept. It's a trigger tool.
Brainstorming is another place where mindmaps stand out. The purpose of a brainstorm is to free mental blocks and get creative juices flowing around creating new ideas.
Mindmaps allow this to happen in a way that makes it easy for the brain. The brain doesn't necessarily brainstorm linearly. You might have three ideas about Topic A, then two ideas about Topic D, then a brilliant idea about Topic B before deciding to change your mind about something in Topic A.
Linear brainstorming in a list is brilliant for many tasks and less than ideal for others. On the other hand, in a mindmap, you can easily jump back and forth. Mindmaps also make it easy to record graphical ideas and incomplete ideas. Most ideas that come out of brainstorming sessions tend to be half-finished and can be very difficult to write out coherently. On a mindmap however, an incomplete idea is very easy to record and finish later. In short, whether you're taking notes or brainstorming for ideas, mindmapping works with your brain rather than against it.
On the flip side, mindmapping doesn't work so well for things that are designed to be linear. For example, a task list, which is meant to be done from top to bottom, is better in linear form than in a mindmap. I'll cover that a different time.
How to Create Effective Mindmaps
Here are a few choice tips for creating effective mindmaps.
Start with a central concept or question. Write it large and clear in the middle. When you visualize this mind map later, the central concept should clearly come up in your mind's eye.
When in doubt, write it out. Write bad ideas. ALL OF THEM. Write half-baked ideas. Write ideas that might be wrong or stupid. The purpose of mindmapping is to get your brain flowing. Don't stifle the flow by over-censoring. EDIT LATER. USE CAPS (sparingly).
Use personal shorthand. If there are words and phrases that only you will understand, don't hesitate to use them. That's how your brain talks to itself. The only exception is if your maps need to be shared with others. Ah what the heck, use your own private language anyway and mess with their minds…. 🙂
Make it messy. Don't worry about making it look pretty. Again, your brain thinks in a more disorganized manner than you might realize. Let it be messy and your note taking will flow better.
Leave room for later additions. If an idea or concept isn't complete, then don't use up all the space around it. Leave room to come back later and add other ideas or details.
Link related ideas. It might seem clear to you now that two concepts are related, but it might not seem so clear to you 6 months from now. Link ideas that are related to one another, so later you'll clearly be able to see the most important related concepts.
Emphasize important points with images. Your mind uses images as well as words to remember. If an idea is important, draw a picture next to it. This will help your brain represent the concept visually and remember it better in the future. I use a lot of stick people so obviously artistic flair isn't important…
Use simple words and concepts. Your brain works best with ideas that it can easily grasp. If your brain has to spend a lot of time processing before it can understand a concept, it probably won't remember it in a few months.
Use different lines, colors and shapes. Again, the more variety, the better your brain will remember the content. Our minds in general don't do very well with boring, rote or monotonous concepts.
Step away then come back refreshed. If you're brainstorming, step away once you've ran out of ideas and come back later with a fresh mind. The ideas will often flow much more freely than if you tried to force yourself to carry on. The same is true with note taking. Take the important concepts now, then come back later to add the details.
Mindmapping results in additional creativity and sometimes greater idea-flow than traditional note taking or brainstorming. Try it for 30 days to see for yourself. You can ALWAYS use linear note taking side by side with mind maps.
Creating a Mindmap …
Creating a Hand Written Mindmap
First of all, there's NOTHING WRONG with the computer generated programs. I've used a couple like MindJet (great program) and they are excellent. BUT those are better suited for specific tasks I'll talk about next time. When your money is on the line. When you NEED THAT ONE COOL IDEA or you want to actually be kinesthetically connected, pen and ink can't be beaten.
Hand written mindmaps are a powerful and fast way to take notes, brainstorm, get ideas out of your head or enhance creativity.
Unlike computer programs, they offer virtually unlimited room for adjustment. You can draw any kind of line you want, any kind of picture and put your text anywhere.
Drawing a mindmap by hand is a lot faster than doing a mindmap on a computer. If you're in a classroom or an impromptu meeting, all you need is a pen and a sheet of paper and you can be taking notes mindmap-style.
How do you create a handwritten mindmap?
Start with the Central Concept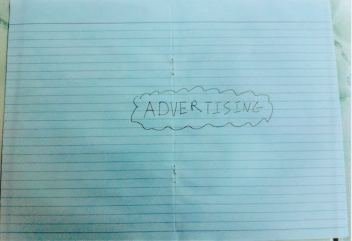 Put the most important concept in the middle. This helps you sort out your mindmaps later and also helps your brain categorize and remember the mindmap.
If you're taking notes at a seminar about advertising, you'd put "Advertising" in the middle.
Branch Off a Main Concept
Then, let's say the presenter starts talking about designing a strong brand.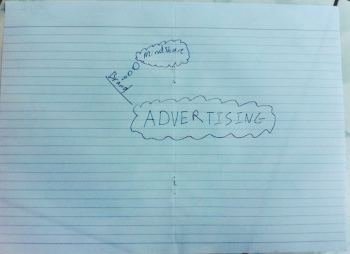 Draw a line, any kind of line, from the main topic to create a new topic. In this case, the new topic is "brand."
From the branch topic, keep on branching out sub-ideas. Use different kinds of fonts and lines to make it more memorable and future-triggerable for you.
Continue Until Finished, Then Start a New Idea
Keep taking notes in this manner until the branch idea is finished. Then start the next branch.
Add Images and Creative Lettering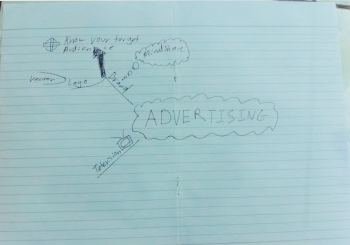 Add images next to concepts you want to trigger ideas later. The more unique the image, the more likely you are to remember it weeks, months or even years down the line.
In your example, let's say the presenter tells the group they can get a 15% discount on any TV ad they buy through what's called the "agency discount." Put the 15%'s lettering unique and draw a picture of some sort next to it.
Making Your Mindmap Effective …
Text First, Then Images
At times you'll have ideas flowing so fast that there just isn't time for pictures or creative lines and letters. In that case, just jot down your ideas in branches as quickly as possible.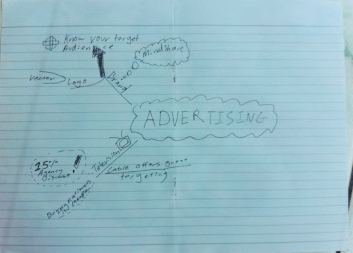 Again, in your advertising example, say the presenter starts talking about online advertising and goes through so many concepts so fast that you can't afford to slow down. 🙂
In that case, just get the main ideas down in text form first.
Then come back in and add the images later. (Upper right.)
Condense Similar Thoughts and Topics
If you have several topics that are very similar, consider either grouping them under one branch or linking the branch through arrows.
In this case, if the presenter is talking about magazines and newspapers together, just create one branch for both instead of a branch for each.
Choose Where Your Eyes Will Go
If there are particularly important concepts to remember, make sure to draw your mind map in such a way that your eyes will automatically be drawn there next time.
For example, if the teacher is talking about the importance of testing in advertising, you might write "TEST" in block letters right above the branch to make sure you see those notes first when you pick up the mindmap.
Recap of the Main Points
To recap:
Start with the main idea in the middle. This helps you organize your mind maps and helps your brain sort different ideas.
Use images to draw attention to different areas of the mindmap. This also helps your brain remember and process concepts.
Add emphasis through size and texture to the most important concepts.
Use different lines and images throughout the mindmap. Again, this helps your mind process concepts.
If you need to take notes or write quickly, leave out the images first then come back and add it in later.
Here's an example of a completed hand-drawn mindmap.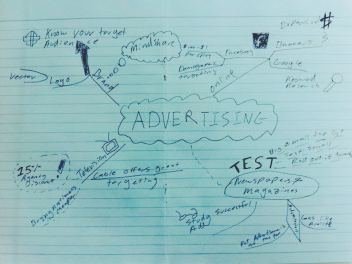 Now go and make your own using LAST WEEK'S ARTICLE OF THE WEEK as the subject. (That article mindmapped could feed you for a few years….)
That article is one of the most important articles you'll read in your life. Having a mind map of it….yeah…you got it…
---
Attend an online e-course with Kevin Hogan!
Learn about Kevin Hogan's Comprehensive Wealth Accumulation E-Course
Details:
About the Wealth Accumulation E-course