[Bob M. Fennis, Loes Janssen, and Kathleen D. Vohs. Acts of Benevolence: A Limited? Resource Account of Compliance with Charitable Requests. Journal of Consumer Research, DOI: 10.1086/593291]
Getting to yes isn't as hard as you think…
But after reading the reports on extensive research, I confess to being a bit irritated. I've never thought of "softening up" a prospect. Ever. I've never made a "pitch" in my life, though I've thrown plenty from 60′ 6″….that said I do find the academic researchers work here, of immense value.
Risky Decisions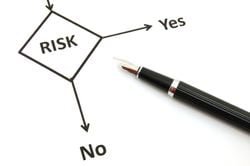 Today people feel like every decision they make is a risk.
And risk aversion is not necessarily a foolish frame.
But…because most people are paralyzed by risk, they become more likely to put off doing business with you today.
There's a lot of times this makes sense. There's a lot of times this doesn't. After all, every communication is a persuasive communication.
Meaningless babble and questions?
An interesting study was done at the University of Haifa to see just what kinds of stuff might influence decisions and decision makers…stuff that hadn't been looked at before.
In this study, Dr. Doron Kliger (and his student Dalia Gilad) discovered that even accountants and investment advisers are influenced by meaningless information.
(Yeah, you should write that down, on paper and keep it stuck on the wall.)
Example? The A and A (accountants and advisers) were more likely to rate a traded stock AFTER reading a story on successful risk taking decisions.
"Priming, the underlying psychological mechanism, is well-known in psychology, but to date was not analyzed with regard to financial decision making the way we did," says Kliger in a recent press release.
The study subjects were divided into two groups. One group was given a story on a person who took risks and consequently made big profits.
The second group read a story on someone who refused to take such risks and managed, by doing so, to avoid great losses.
Both groups were given the story in the context of testing their memory abilities. They had no idea what was really being studied was the rating they would give a stock, for example.
After reading the story, the participants were given financial reports of a NASDAQ-traded stock whose name was not revealed.
The reports included short financial reports and a graph presenting the stock's past performance. The financial information given to the two groups was identical, *the only difference being the stories on risk-taking decisions that preceded it.*
After reading the stories, the participants were asked questions regarding the traded stock.
Key Point: Results of the study have shown that the group that read on risk taking that succeeded attributed a higher value to the stock investment than the second group!
"The findings of this research show that risk preferences may be manipulated – while the person making those decisions is unaware of it.
An investment advisor who reads reports in the morning news that 'encourage' risk taking, might behave entirely differently, on a professional level, than if reading reports on failed risk taking – even if the reports were unrelated to the question at stake.
If you're reading this you are way ahead of the curve, so yep…this is next and you will likely be a bit surprised.
Turn the page…