Those messages are really telegraphing you to stay just as THEY are.
There will be other friends who will tell you that it all doesn't matter; that you are great "just as you are" in other ways, as well. Think really carefully when you hear those themes. Do you CHOOSE to stay as you are? If so, you have the right friend in your presence. If not….change.
How Else Will They Sabotage Me?
Other people undermine your upcoming achievements in a different way.
In many cases, they simply come out and tell you that you don't have what it takes, that you are wasting your time, that you don't have the right education, that you aren't good enough and so on and so forth.
These people have already given up on themselves, or they think themselves superior to you. Either way, their attempts at negative influence need a healthy dose of you leaving their presence and then taking a Focused Self Influence.
What Can I Proactively Do?
Get the new program Acquisition! The Comprehensive Goal Attainment System where you will learn ALL the aspects of problems like these.
There are some core reasons that make it a no-brainer, but a game-changing factor is that you are learning how to attain the goals YOU CHOOSE in spite of everyone else around you.
You can be as smart as you want and work as hard as you want but you MUST make good decisions about your environment, your brain fuel, the contexts you place yourself in, the people you allow near you.
Some people are so noxious and toxic to your success they can't be detected, as they often appear to subtly "support" your dreams and yet they constantly undercut who you want to be.
A true friend, fan and supporter will encourage you to be more, better, be more secure financially, help you look and feel better and poke you toward your dreams.
I was thinking about a cool and f
airly recent study today.
Just having a businessman's briefcase on a table in a room caused people to keep more money in The Ultimatum Game! Same thing is true with people who view subliminally flashed images of guns and weapons on a computer screen.
Unfortunately, keeping more money in The Ultimatum Game is not always a good strategy, as cooperative ventures are far and away the most successful 2020.
You and I are influenced by the littlest, most unlikely things in our environment…and your destiny often dwells in the objects you come into contact with and the friends you talk about goals and dreams with.
OK, the question we've been trying to avoid. Ready?
Do you need to get rid of some of your friends? Really?
Do I Need to Get Rid Of All My Friends?…
Do I Have to Get Rid of All My Friends?
Of course not….Not all of your friends need to be excised. Some of them are possibly a very good influence.
Both you and your friends need to select what OBJECTS and IMAGES are in your environment. The "stuff" all around you are triggers and some of those triggers trigger you to be less successful by nonconscious goal deactivation.
You and I have talked about how geniuses like Stephen Hawking use triggers for goal activation to spark creativity and motivation. You will definitely be surprised at what you find out will drive you to success or failure. The fact is that people's current behavior is shaped, not just by their genes and their living situation, but by the "stuff" that is around them in the living room and the office!
These triggers then come "into contact" with YOU when you are with the individual, or in their environment.
This is why you feel differently in your living room vs. your den. It's why you feel differently at your home vs. the home of someone else. What matters most is of course where you are driven to perform at your best. What are the triggers in the environment? Which people are around? Who is notably not around when you are most creative or productive?
Legend Point: The contents of another persons home or office could be shooting down your dreams…and you may need to point it out to them….or not go to their home or office!
Of course, not everyone is going to be driven by the same stimuli to aggressively pursue their dreams. What causes one person's activation of a driver toward a goal can trigger a hostile reaction in another person
.
Hostile reactions are NOT bad if they are productive in nature. You must test triggers that fire off negative feelings as well as positive feelings. Remember too MUCH positive is going to lead to addiction. That's fine as long as the addiction is causing the productivity. But when it begins to steal your productivity and creativity, you must excise the stimulus.
It's impossible to overstate the environment, objects and people you come into contact with in your question to reach your goals. The new program Acquisition: The Comprehensive Goal Attainment System delves deeply into your mind to help you isolate all of the things that are going to be helpful for you to avoid sabotage and acquire your goals.
Imagine someone is a recently diagnosed diabetic and you set out a beautiful chocolate cake for everyone at the table. The diabetic may not be thrilled to pieces….they might be hurt.
The same stimuli that can be a peace offering or indulgence for one can be a message to have a coma for another…
This doesn't mean that you are responsible for everyone's feelings at all times, because the fact is that LOTS of things influence, and it is very, very hard to see all the major influences on you or another person in a single environment without great attention and study.
Simply get the Key Concept that your chocolate cake seems like it should be the supreme gift to mankind; but to some it will be the generator of hostility.
Make sense?
Aggression Nonconsciously Activated?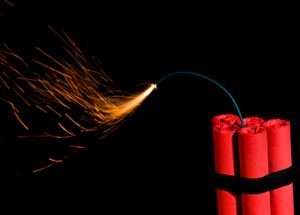 In their truly brilliant paper Goals and Nonconscious Aggression; Nonconscious Battles of Will: Implicit Reactions Against the Goals and Motives of Others, Dr. N. Pontus Leander and Dr. Tanya L. Chartrand  note that:
"…nonconsciously activated goals and chronic motives tinge and distort individuals' perceptions of others in ways that lead them to 'see' others in more hostile ways….
…others' goals seem to inherently pressure individuals to respond in kind, sometimes leading them to emulate the aggressive pursuits of those around them and at other times leading them to react against others and their goals…(and finally)
….how goals may, on their own, often nonconsciously facilitate behavioral aggression over the natural course of their pursuit."
There you have the problems of sabotage in a nutshell. NOW what do you do?