Picking up right where we left off with last week's article….
Let's begin our look at the entrepreneur (that includes salespeople) and his or her time-scheduling…their prioritization for optimization.
It is not just the basis of good work-flow, but it will also be the way to get this business from small to medium and then to large, if you like. This will happen as you get your time priorities right.
a) Your first priority is sufficient sleep.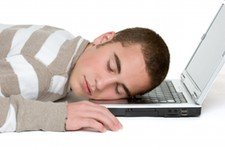 Sure, you'll pull an occasional all-nighter, especially early in your entrepreneurial ventures. There was a time I pulled a couple of all nighters per month.
But that's fine, as long as sleep matters.
Most adults need, and I mean need, 7 hours of sleep each night.
I'm not going to stay on this forever, but sleep is crucial to creativity, productivity, clear thinking and good decision making.
You can only go so long with a screwed up sleep schedule before your work suffers.
I generally don't sleep but a max of six hours each night, but I often can get a nap in half-way through my day where I can get some REM sleep.
And it does matter.
Even for people who are getting seven hours each night, a 15-minute break every ninety minutes or so can be a good idea.
How do you know when to break?
You break when you have read the same paragraph five times and you don't remember what it said in any of them.
Your brain is full, memory loaded and you are in need of a memory dump into your pillow, rebooting the system and coming back with nothing in your cache.
(I think we nailed that metaphor, eh?)
So, let's just say 7 hours of sleep each day or night, or whatever. But don't be running around sleep deprived for a week or your productivity will stop as if you were simply being inert again.
Simply put, everyone needs sleep but yes, you can have the occasional skipping of 2-3 hours of your sleep but if you turn that into a habit, your lack of sleep will eventually catch up with you and you will find that you no longer are operating at your optimal performance. And no matter how much harder you work, there is a cap to the quality of your work performance.
With this said, I am not enforcing the doctor's prescription of 8 hours of sleep daily with no interruptions and variation of sleeping patterns, rather, it is about knowing what your sleep patterns are.
Some people need that solid 8 hours of sleep before they can perform optimally in work the next day, whereas for others, they can do the same with just 6 hours of sleep. Others prefer to spread their nap time throughout the day, taking short naps now and then.
The late nights/early mornings may be due to business meetings, product completions or functions or whatever, be it personal or for your business, but you have to remember that health comes first.
b) Handle your own tasks and be you
What attracts people to run their own business is that they have the flexibility to do whatever they want and whenever they want. For example, even during work, they can take a break and head down to Barnes and Noble to look around and see what is new on the shelves…or simply put on a pair of shoes and go put some pavement under your feet for 20 minutes (sometimes the rough equivalent of a nap for me.)
Entrepreneurs also enjoy a lifestyle where they can get to a doc for a check up without getting a permission slip from some idiot in a corner office.
And maybe the biggest draw of being independent of cubicles is that you can actually get far more done than anyone residing in a cubicle could ever do.
The only time I have a "desk" is when I'm on the road and I have to sit at desk in the Suite. I don't like it. It is like a work-stop sign to me.
I simply can't be productive sitting at something that feels like an obligation.
Give me a pillow, a couch and the laptop and I'm good to go….so to speak…
Working how you WANT to work is really important in producing a lot of material.
If I'm lying down and typing away, I usually don't feel like I'm working as MUCH.
The other thing is that for some period of time, it's good for you to do your own thing. Outsourcing is great if you have great people to outsource to. And in that case, go for it.
I could outsource cutting the lawn, but that's exercise for me and time to clear the mind or think about an upcoming project that I wouldn't get at the keyboard.
Last year I broke down and got housekeepers. I always thought, "I am NOT too 'good' to avoid cleaning the house."
And I'm not. I still do, again, activity that accomplishes trains behavior, BUT when you have too much to do, it's time to call the professionals. I haven't regretted it.
Ultimately, the entrepreneur needs help with the biz. You won't be able to run the whole show yourself for long. But two or three people can go a remarkably long way if they are the right people.
YOU need to be doing the stuff that DRIVES YOUR BUSINESS.
Whether you are in sales or are responsible for the whole show, you need to be doing the things that others around you can't.
Obviously, as biz grows all this gets adjusted, but at first, until you're taking home, say, 250,000 per year the above is a good general outline.
In the case where your business is expanding faster than you thought it would, do not be afraid to approach others for help. It may be in the form of hiring workers to work for you and by this way you can delegate work and free up some of your time also for those things that are within your domain.
c) Master the art of delegation
The art of delegation, it can be both a boon and a bane. There are people who use it as an excuse to slack off and eventually push away all responsibilities from their shoulders to those whom they delegate tasks to. If you do not take notice, this may eventually happen to you as well. The temptation of shrugging off the responsibilities you are required to carry out may be great, but remember, it is still your business and your family and your life at stake here.
Don't be stupid.
Delegate wisely.
If done correctly, it can greatly help you to free up your time and also optimize your time and capacity. Furthermore, one of the positive things about delegation is that there may be other people who are better at doing certain things than you.
In fact…there ARE!
For example, when you delegate jobs to people who work for you, it is evident you would be finding people that are competent in that particular area that you want to delegate to him or her. This way, you not only can free up your time for other things, you also ensure that whatever was delegated is placed into good hands.
Doing otherwise is a big fat headache producer.
Which Brings us to:
d) You are human and remember – they are, too!
People you delegate to will make mistakes.
Stupid mistakes.
And often it will be your own fault.
You weren't great at training or management.
It's often hard to accept that fact, but it is very real. Accept that mistakes will happen and do everything possible to ensure that things get back on track and fixed fast.
In managing your time, there is one specific necessity….
e) Maintain a GET STUFF DONE list
Maintaining a 'GET STUFF DONE' list is essential for every successful, productive person. You need to write this stuff down and you need to line it out when you complete a project, task or appointment. The process keeps you on track and acts as a bit of a reward system as well.
After you have created your own lists and produced a time management plan, it is time for you to put them into action. Words or thoughts alone would not produce any significant changes into your current situation and only through acting on what you have planned out can you hope to see a better result in the future.
You do not have to wait for years to see the results, Just weeks or months will do and after which, you can tweak it slightly or modify it after reviewing its performance for that period of time. This way, you can come up with the best plan for yourself and maximize your time and productivity in everything you do.
Especially for businesses, DO NOT cast your plan into stone right after producing it, business markets are not fixed and are liable to change, and obviously your plan has to change with them! Be flexible when running your own business and you will enjoy your business and your life even more than before.
Remember, Time is an Asset
People in the business world have a saying that time is both your greatest asset and your greatest liability. With each tick and each tock, time passes by and you can never get it back. Time should not be wasted, it should be OPTIMIZED.
Make sure that you are able to plan out the best action plan for yourself, and also produce optimally.
Get your rest

Take breaks when needed

Take a walk every day

Get focused on WHAT MATTERS in your business as far as PROFITABILITY.

Spend time with the people you choose inside and outside of work
You do that – and you'll not only be productive, but you'll have a good life, too!



I've identified 12 of the life patterns which cause us to trip up – and make the same mistakes again and again. To discover which of the 12 patterns you have been the victim of and how to eliminate self-sabotage in your life (or those of your clients) you can pick up the CD program and workbook, LIFESTORMS: The Paradox of Overcoming Self Sabotage to Achieve Love, Power, Money and Happiness.
Lifestorms: 12 Obstacles to Achievement: The Paradox of Overcoming Self Sabotage to Achieve Love, Power, Money and Happiness.
3 CDs in this program – and it comes with a BIG WORKBOOK! And now, get a free Lifestorms DVD presentation with your order!
Discover why life often brings you exactly what you don't want…and how self sabotage can hide around every corner. Some people have guessed at the bizarre nature of self sabotage. Guess no more. Self sabotage is very real in everyone's life. It is completely devastating and 100% resolvable!
Do you ever know you should start on a project but don't?
Do you have projects that you have started but never finished?
Do you ever say the one wrong thing at the wrong time?
Have you ever had things going well in life only to have everything blow up in a day?
Have you tried to be so careful not to make a mistake that you were shocked when you made a truly costly one?
Have you ever promised yourself to stay out of trouble in some way only to find yourself in the same trouble or worse again?
Now you can discover your own life patterns so you can eliminate unconscious self sabotage immediately. This program will break the heavy chains that hold you from your dreams and your goals.
This program is the first program ever made public that shows you how to identify specific self sabotaging behaviors and negative life patterns. Better? You can ultimately erase those life patterns and rewrite new "schemas" into your brain that will allow you to meet your goals and experience fulfilling relationships.
Here is what you will learn:
How to identify which of the 12 negative life patterns you live.
How to find the triggers of the lifestorms that you just can't believe you experience.
How to change the self sabotage into success, happiness or something productive.
How to remove almost all obstacles between you and your goals.
How to understand those around you so you don't push their buttons.
How to predict your behavior and that of others.
How to actually achieve your goals so they are more than just a dream.
No one anywhere has ever put such a program on CD. There is not one person anywhere who can't utilize every minute of this insightful information. These three CD's are packed with the most powerful tools for getting past life's roadblocks and personal sabotage ever imagined. Anyone can utilize this information and I personally guarantee that if you follow the instructions you will not experience self sabotaging behavior anymore. Your goals become reality at speeds faster than you ever imagined.