Page 5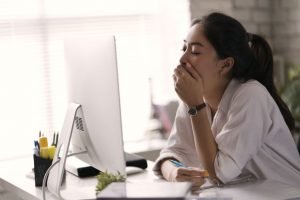 (4) Boredom
An individual may also choose to procrastinate because the task is not challenging enough and he feels bored. He finds it difficult to concentrate on the task, and would rather be engaged in alternative activities.
This is especially the case for jobs which are repetitive and lengthy, and require very little thought. Not all work is exciting and stimulating, and certain tasks that are repetitive and unchallenging can cause the individual to be less motivated to excel and be productive.
I get that feeling of boredom when I am faced with house painting, for example. There are several things in life that numb my mind but painting is one of them. For me, preparing a wall is one of the most mind dulling projects you can do. For me, the process of painting is just that. One long process. So if I were to procrastinate, this would be a time that could possibly prime me for procrastination.
The project for which you are going to feel mind numbed is a predictor of boredom. There are all kinds of reasons people can be feel bored, it's the response to the boredom that matters when it comes to productivity or what I've come to call "practicing for death" (procrastination).
If you need to paint the house, you need to paint the house. And because it's (possibly) an irritating project because of the level of tedium, you MUST find yourself NEEDING to get it done NOW to get rid of the feeling of dread you will experience the next day and the next day.
Bringing yourself slowly into the future, considering the pain of delay each hour, as time goes by, really experiencing that pain gives you energy to complete the task.
When faced with this situation, get it over with as quickly as possible to free yourself from the pain!
(5) Poor Self-Worth (General or Specific)
Perhaps, the feeling of low self esteem happens across contexts.
That self perception is sure to generate procrastination in numerous areas of life.
The other obvious feeling is that self perception of feeling poorly about yourself in specific contexts. If you believe you can't do something, or can't to it to someone's satisfaction, you are MUCH more likely to not even begin the task.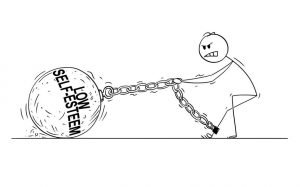 If you do begin the task it is much more likely you will stop early in the process and often never even complete the task, in ANY time frame.
There are a lot of people who constantly harbor thoughts that they are not good enough, or that they always fail, and are probably just stupid and incapable. This kind of negative thinking makes it difficult for them to attempt projects, especially important ones, as they feel so inadequate that they should not even be doing a task of this magnitude or importance.
Legend Point: People are as foolish as they choose to be, FEEL GOOD RIGHT NOW. They are as EFFECTIVE as they choose to be, RIGHT NOW. When faced with tedium, act NOW and carry on UNTIL you have completed your project.
The root cause of this form of thinking could be previous failures, or abrasive and abusive comments from people around them, causing them to be labeled with their own inadequacies and perceived shortcomings.
Other times you feel low self esteem. These situations include those where you simply are not practiced in an area. This lack of experience means you will have a LOW CONFIDENCE LEVEL of success/completion in a specific project.
By the way not all feelings of low self worth are self induced. There are plenty of people around you who will tell you that you are not able to do something.
When people have stereotyped you as incompetent or incapable, USE THAT AS LEVERAGE TO SHOW THEM THEY ARE WRONG.
Showing people what you really CAN DO is fun! It is rewarding. Let's say it this way: showing people they are idiots for having underestimated you is …well…intoxicating!
In the past, people have underestimated me.
"He'll never have a successful book…should get a 'real job'."
🙂
And then the warp drives kick in.
People who suffer from low self-esteem become unduly affected by people's comments putting them down. They genuinely believe that they are inferior and incapable of working well which is RARELY TRUE.
I meet VERY FEW people that can't achieve great things.
Unfortunately, believing prolonged condemnation from peers and the people around have caused them to firmly believe that failure is the only thing they can excel in.
It's time to CHANGE (Success) WHO YOU LISTEN TO, WHO YOU HANG OUT WITH and WHO YOU BELIEVE/BELIEVE IN.
Surround yourself with people who will push you or be certain of your potential.
(6) Perfectionism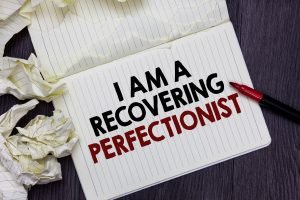 Some people have unrealistically high standards and expectations, and this causes them to procrastinate as they feel that they do not have the skills and abilities that are needed to complete it satisfactorily. They are afraid of attempting it, and not doing it perfectly, hence they make excuses that they need to acquire more knowledge before they can attempt it.
Sound familiar?
The best way to break out of this cycle is to tell yourself what your actual skill level is. Take 3 minutes and support the argument that you truly are capable. (If you are trying to convince your 5′ 10″ self to take up pro basketball at age forty, let's not try to make that argument!)
First, the task is (probably) easier than what you think it is.
Perhaps you need to speak to your partner or supervisor at work to draw up an accurate and realistic level of expectation. Sometimes it pays to have someone who can provide you with an accurate mirror of where you are at in actual skill level.
If you are a perfectionist, your boss will probably be thrilled to tell you they admire your good work and would rather have you accomplish 100 tasks very well vs. 1 task perfectly.
In most situations, a job worth doing is doing well but in MOST situations doing it at 98% vs. 100% is possibly a superior choice. Each situation is slightly different. Are you a surgeon? An airline pilot? Let's approach 100%.
Not?
OK, so why might you "avoid" something that could be ridiculously simple… continue?