The Millionaire Mind: Part One
Plant Seeds
"Hi Kevin, I have three weeks to make something happen and then I have to go back to get a job. What do I do?" The e-mail came recently from one of my favorite customers and someone I consider a cyber-friend.
Adam is someone who I really like a lot. I felt badly that he was experiencing this desperation. I've certainly experienced these feelings. Adam was someone I wanted to see get rich. He reminded me of me… (You know that feeling?!) So, I wrote back¦
"Adam, the secret of manifesting the millionaire mind is to not think short-term. Plant so many seeds in these next three weeks that in nine months something great will happen. Who cares what the next nine months are like? Plant tons of seeds. Tons of them! Write. Create. Produce. Develop. Do it now while you have time! Be actively productive 24/7, then if nothing happens, you still have all the seeds planted. Sometimes harvest is months away."
He wrote back Friday, 10 days later.
"Kevin! Guess what?! I will sign a contract on Tuesday that will make me the coach for an entire real estate office. 30 agents. THANK YOU!"
No problem. No charge. I didn't actually do anything. (OK, I kicked him in the butt and held him accountable if he ever was going to want to e-mail me again!) I smiled from ear to ear. Another person doing what they love that will help others help others get what they want in life. Pay it Forward.
What if Adam had planted the seeds and they didn't sprout so quickly?
Doesn't matter.
Plant.
Water Daily.
Harvest.
The problem was that Adam saw the three weeks as a limitation. It was no such thing. It was a huge opportunity. Three weeks of which he had 24/7 to focus on his own business dreams. That is an enormous amount of time. The problem was, he framed his picture upside down.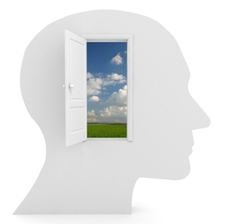 What metaphors are you creating in your potential Millionaire Mind?
He saw a fuse ticking where he should have seen a door opening. The metaphors and stories in your mind make all the difference in the world when it comes to abundance.
It starts in the mind. And there are a number of factors that comprise The Millionaire Mind. The first is one you have heard many times. Others are not so well known.
Factor One: THINK LONG-TERM.
For most people going about their daily business, does it matter much what happens today? Does it matter in the scope of your entire lifespan if today is a bad day? Did you feel good today? Bad? Mixed?
I hope you felt good today. But here is the first secret to success: When you think long-term, it doesn't matter much, does it? 2 years from now you won't remember what happened today. You won't remember in two weeks! Think long-term. Family, love, relationships, job, career, business, investing. Think Long-Term.
When interviewing people who have succeeded in business, their career and relationships, this is the first and most important factor of The Millionaire Mind. The person who thinks in terms of the past or only today is destined to fail.
Today is something that should be lived, but it is not an end. It is a beginning. I don't know what makes a good day for you, but let's talk about a bad day.
A bad day is when the doctor tells you that you have six weeks to live.
A bad day is when a suicide bomber is in a taxi, says they need American soldiers' help and the soldiers buy into it and then the guy blows everyone up. That is a bad day. The day you don't get to have any more bad days is a bad day.
I do have another example of a bad day. A bad day is a day when you could have planted seeds but didn't.
Maybe I've lived in Minnesota too long. My experience with my old farmer friends was simple and instructive. Nothing happens today except for preparing for six months from now. They harvest today, but don't get paid for a long, long time. They plant today, but don't harvest for six months. They fertilize today, well you get the idea.
Your life will be at someone else's mercy as long as you haven't acquired this mindset of The Millionaire Mind.
Do you want to find that right person for you?
Do you want to have a meaningful career?
Do you want to get paid what you are worth?
Do you want to experience overwhelming success? (Define success any way YOU want. I have no idea what it means to you, and success means something very different from person to person.)
Family? Business? Career? Job? Hobbies? Love? Relationships?
If so, today is the day you have waited for. For the entrepreneur, the therapist, the professional person, the salesperson, and you, one thing is sure: Opportunity today is absolutely incredible!
A Bad Economy is a Good Foundation (Really!)
You may believe that because business is terrible in general that your chances of achievement are reduced. Actually, that's not completely true. The economy IS terrible. Fewer dollars are being spent on advertising. Fewer people are putting money into marketing and promotion.
Mass psychology world-wide infiltrates at the individual level, and once-excellent salespeople and marketers have given up on selling everyone except their main customers and clients. Doesn't sound all that exciting to me, but it is.
People who start successful businesses in times of economic difficulty with a powerful plan can make it through good and bad times.
People who start businesses when times are thriving like in the late nineties have no "reality check", and usually are back working for someone else as soon as the economy tanks. You need to develop The Millionaire Mind to insulate yourself from the economy.
Today there is more space and time for you and those you love. What does that mean?
It means that life is inevitably competitive. Someone will drink a Pepsi or a Coke. They will have Chianti or Cabernet. Period. People who refuse to produce value for themselves and their families will ultimately pay a price. They will be taken down stream by the flow which is currently very down and very bad, but not for everyone.
People have fewer choices today and now YOU are a choice and YOU are there. You would have gotten lost a few years ago in the mess. Not today.
This is the time to put into motion all of the wheels that can move your future. (Your future starts in the morning!)
Today is the time to invest in yourself, your future, and plant some seeds. Lots of 'em.
Activity vs. Action
Don't confuse activity with action. Millionaires never get stuck in "activity."
Last week, a friend told me she was going to get her resume ready because she was afraid of getting laid off. OK. That 3 hour investment in updating a mini-tool is a good thing to do for anyone who works for anyone else. After that three hours of resume writing is past, it's time to do something that will be productive. (A resume is like a brochure. Essentially,it is almost worthless.)
Action is what you do to move directly on what you have developed in your Millionaire Mind. The difference is simple. Activity is like rowing a boat with one oar. You can be incredibly busy yet waste your life away with the stresses that someone imposes upon you. Or, you can row with two oars. Have a journey in that mind and move in that direction.
Factor Two: Abundance Happens on Purpose
Abundance starts inside of your head. It may start inside of your spouse's head. Or your girlfriend's. Shared dreams are the richest kind of dream. But for simplicity sake, I'm going to look at this Millionaire Mind as yours exclusively.
If you live in a free capitalistic society (and not everyone does) abundance happens on purpose. Abundant Thinking IS contextual to the constraints of reality.
Consider this:
Everything you see around you was first a thought.
Your computer.
The desk.
The chair.
The lamp.
The car.
The shades.
Your glasses.
The shampoo you use.
The clothes you wear.
They were all first a thought.
(I'm not original with this. Buddha gets that credit, and he was right on the nose.)
Nothing happens out "here" in the real world until someone has thought of it and created it in their mind.
Would you like to insulate yourself from the possible energy price-induced, interest-rate rising environment…(Read that as job cuts)?
There is only one person that is safe in each company, accounting firm, business or professional practice. That person is going to be you if you have The Millionaire Mind!
"Abundance Happens on Purpose." Kevin Hogan
From now on, accumulating wealth is going to become a mind game that you win every time.
How you think at the conscious and unconscious level will determine how much you will accumulate.
My job is to get you to instantly respond to money and how it is directed… in very specific ways. Once you can do this, it is remarkably easy to accumulate it.
Did you know there are 8,000,000 millionaires in the United States?
One in 11 of those millionaires inherited a significant sum, if not all of their money. 91% of all millionaires started with essentially nothing and yet became millionaires. The majority of those did so before they came to "retirement age." There are eight million rags-to-riches stories in the United States. How would you like to be the next one?

The Millionaire Mind? What is it made up of and what does it take to build wealth especially in these difficult times?
With the Millionaire Mind Wealth Package, you're going to discover the answer to just how to get rich and begin to immediately implement it in your life. There will be no philosophical guesswork, only facts about what mindset causes people to attract money into their lives.
More importantly, you are going to be able to easily adopt the beliefs, values, thoughts and attitudes of the most wealthy people on the planet while benefiting your family, friends and community. Learn what it takes to have the balanced life.
We have put a spectacular package together for you. This is an abundance of information, all geared toward building wealth. Learn the psychology behind money, and the factors of the Millionaire Mind. Learn about the Attraction Principle and being in control of your own freedom with a new mental imaging technology called Freedom Focus.
More Information about the wealth package or to order