Page 4
In order to accomplish this, you must win over the conscious and unconscious mind in a fairly quick fashion. (Usually not as easy as you would like to believe…). That means that your proposal must make "sense" and it must be in line with one of the fundamental desires or drivers of their behavior. This is NOT the same as emotions, but emotional content is obviously going to accelerate a "yes" response once the proposal is tracked into a fundamental driver.
If your proposal isn't tracked in one of the 16 drivers that is driving their life (for example, the desire to eat and to bond could be a driving force in one person's life, while the desire to have sex and acquire could be drivers in another person's life), you're simply going to hear, "I'll think about it," or… "no".
Obviously this doesn't mean, "Okay, if you go out with me, I'll give you lots of food and be a great person to bond with,"… or, "Now, if you buy a house from me, you'll get lots of sex and acquire lot's of money". In fact, people are often embarrassed by their core drivers. You don't often see people walking around saying, "and I'm proud that altruism and connection drive my behavior!".
Those desires that drive our behavior are pretty obvious to ourselves (Example: I have thousands of books in my library, so do you that the desire to learn and acquire might be among my top four or five drivers?).
As is detailed in Covert Hypnosis: An Advanced Course in Unconscious Influence, there is an elegance to tracking your proposal into their core drivers.
In situations where you have made hundreds of decisions (like driving a car), the unconscious mind almost always makes good movements and reacts well to keep you and everyone else around you safe. In these cases, a person's "intuition" tends to be good. Intuition simply means your immediate reactions and how you feel about them. (NOT what you think about them.) In situations where you have much less experience making essentially all correct decisions, like driving a car, your reactions and feelings about your reactions are completely suspect and so are theirs.
In the case of the TV, perhaps you might include a service contract at no cost. This expense costs the company next to nothing and is quoted at $80 to the customer.
In the case of the automobile, you could offer to do 18 months of free oil changes and tune-ups. Total value could be as much as $500, and the real cost is next to nothing because virtually no one comes back to the dealership for their maintenance, especially in the first year and a half (and even if they did, the cost of oil and a filter is negligible compared to the profits on the automobile sale).
A person of influence must preclude the "no" reaction in the first place. The best way to do this is utilizing tools of anticipated regret that overcome resistance.
Legend Point: You lay down a logical proposal that wires right into a key driver and you get "yes". You don't have to hear "no," or "I'll think about it" because you are triggering the deep drive to move in the direction of your proposal.
Granted, it takes a while to be able to identify a person's driving desires. And it takes practice and feedback on your efforts of weaving messages into drivers to begin to understand just how powerful this is. Once you are able to do this, you have the world at your fingertips. You can have as much or little success as possible. Indeed, this is what power (empowerment for women) is all about.
Publishers Clearing House has done this for years. (Many would say unethically… and I might not argue that.) Here's how they have used anticipated regret in their mailings in the past:
"Suppose we told you …You were recently assigned the winning super prize number, but you didn't enter so we gave the $10,000,000 to somebody else! Deciding not to enter our sweepstakes is serious business."
That's pretty powerful stuff isn't it?
Asking a person to engage in counterfactual thinking means you are having someone consider alternate realities that could be true had someone done some other set of actions. Counterfactual thinking generally is related to regret of course and Publishers Clearinghouse has mastered the concept of regret in marketing as you can see!
Here is your homework assignment that will help you build your powers of influence.
1. List four specific ways that you can utilize anticipated regret with your products and services.
2. List four specific ways you can keep your product/service/ideas in front of your prospects who have temporarily said "no" to you.
3. Write down how you normally frame your offers and see if there are other ways that you can frame your offer to make it more appealing.
---
Covert Influence: Hidden Persuaders They (Your Competition) Don't Want You to Have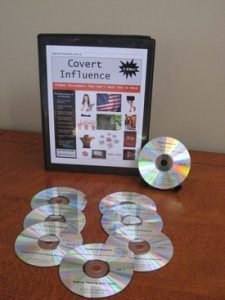 I want to show you one of the most surprising and perhaps one of the most uncomfortable…and powerful phenomenon in Covert Influence. In fact, I want to share with you all the latest research available (well, almost all…!)
Influence Without Resistance. What's the Key Factor? You'll have most amazing, truly stunning tactics in predicting what and how your client (spouse, child, customer, read: anyone) will choose. Thus, you are a step ahead of anyone else in implementing the most powerful phenomena in consumer research today. Find out with this program!
Creating Irresistible Impulse. The button is there (for everyone); it just needs to be pushed. What are some of the irresistible impulses marketers are using on you? How can you take advantage of these tactics yourself? It's all here in this section. Kevin details the marketing phenomenon that pushes the buttons…all the way to irresistible.
Tapping into Human Desires & Emotions. With just ONE change in strategy, a non-profit organization can get 5 times the donations. What can this strategy do for you? You can't afford NOT to implement this tactic now.
Desires and Emotions… That Influence. You've heard some rumors, I'm sure about negative emotions and positive emotions in the influence process. But do you know what actually works, and what to emphasize in the process, and when? Find out once and for all!
Tribes. You've heard the term. What does it describe? How does it come into play in the influence process? Most important, how do you utilize the concept of the Tribe in order to make more sales? It's all here… Kevin explains about subgroups and how to make appeals based on whether a group is "in" or "out". This is cutting edge research that benefits you.
Covert Influence…to Control Behavior. You've seen the signs. Above the candy jar, tacked to the break room wall. Even posted on a fence, or highway. How do signs really influence? What elements should be used in signs to covertly control behavior? Fascinating new research uncovered for you!
Get Your Copy Today
Covert Influence: Hidden Persuaders