People act in their own best interests, according to traditional views of how and why we make the decisions that we do. However, psychologists at the Universities of Leicester and Exeter have recently found evidence that this assumption is not necessarily true. In fact the research, funded by the Economic and Social Research Council, shows that most of us will act in the best interest of our team — often at our own expense.
Psychologists carried out the first systematic tests of team reasoning theories by assessing two well known views of how people behave.
Orthodox or classical game predicts that people will act for selfish reasons.
Team reasoning theory suggests individual self-interest is not always foremost in the way people act, as they will act in the best interest of their "team".
Lead researcher Professor Andrew Colman, of the University of Leicester School of Psychology, said: "We have shown that, in some circumstances, decision makers cooperate in their collective interests rather than following the purely selfish predictions of orthodox game theory.
We carried out two experiments designed to test classical game theory against theories of team reasoning developed in the 1990s by British game theorists.
According to classical game theory, decision makers invariably act in their individual self- interest, leading to "Nash equilibrium", named after the US game theorist and Nobel laureate John Nash, depicted in the biopic A Beautiful Mind.

Theories of team reasoning were developed to explain why, in some circumstances, people seem to act not in their individual self-interest but in the interest of their families, companies, departments, or the religious, ethnic, or national groups with which they identify themselves."
Professor Colman is delighted with the results. He said: "Team reasoning is a familiar process, but it is inexplicable within the framework of orthodox game theory. Our findings show for the first time that it predicts decision making more powerfully than orthodox game theory in some games."
The study was carried out by Professor Andrew Colman and Dr Briony Pulford at the University of Leicester in collaboration with Dr Jo Rose of the University of Exeter.
The results will be published within the next few months in the journal Acta Psychologica, together with commentaries from decision theorists from the UK, the Netherlands, and the US.
Adapted from materials provided by University of Leicester, via EurekAlert!, a service of AAAS.
6) Loyalty, I'll Start
People will let you down in life and business. You'll give more than they do and you'll often be disappointed, but you will be successful because of your consistently induced loyalty.
Some of the best persuasion tactics in the world are built around induced loyalty.
The airline gives you 10,000 miles (worth about $100) for applying for their credit card. When you reach say 50,000 miles you get a "free" flight somewhere. Each dollar you spend adds a point to your account.
Legend Point  – They INDUCE loyalty by giving you that first 10,000 miles. It's not enough to get you that free trip by itself but it MOVES YOU toward your "free flight."
I've seen fabulous real life examples of loyalty induction by everyone from McDonald's to Subway in the fast food industry. Subway gave a wallet sized card with two stickers on it, with 8 spaces remaining for stickers and for years they helped build their franchises on induced loyalty. Subway had to stop their loyalty because people that were greedy committed fraud by printing the stickers on their home printers. The screw ups, sadly, screw things up for everyone.  But Subway has started a new program on it's App and it will probably work. Probably. I'll be watching!
My insurance agent induced loyalty with me when I was a kid. Yep, I've had the same insurance agent for decades. He gave me tons of advice on saving insurance premium money when I was young and he made sure I had coverages that were best for me. It took him a few hours to help me in those days. He earned my loyalty for years…and still has it.
Isn't loyalty just reciprocity?
Not even close.
The automobile is not the same as the tires on the car.
Inducing reciprocity is certainly about giving someone something they perceive as valuable and part of the desired result is that they will behave in a positive fashion toward you. Inducing reciprocity can be a strong approach in relationships, but it is a "bid" not the long term game. The "game" is loyalty, a long term, enduring connection that must be mutually beneficial.
Cool Huh? Imagine what you can do in business tomorrow when you have this information! How are you going to use it?
---
Covert Influence: Hidden Persuaders They (Your Competition) Don't Want You to Have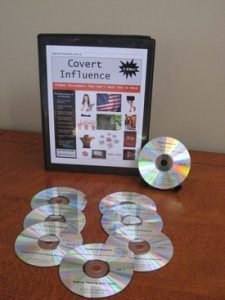 I want to show you one of the most surprising and perhaps one of the most uncomfortable…and powerful phenomenon in Covert Influence. In fact, I want to share with you all the latest research available (well, almost all…!)
Influence Without Resistance. What's the Key Factor? You'll have most amazing, truly stunning tactics in predicting what and how your client (spouse, child, customer, read: anyone) will choose. Thus, you are a step ahead of anyone else in implementing the most powerful phenomena in consumer research today. Find out with this program!
Creating Irresistible Impulse. The button is there (for everyone); it just needs to be pushed. What are some of the irresistible impulses marketers are using on you? How can you take advantage of these tactics yourself? It's all here in this section. Kevin details the marketing phenomenon that pushes the buttons…all the way to irresistible.
Tapping into Human Desires & Emotions. With just ONE change in strategy, a non-profit organization can get 5 times the donations. What can this strategy do for you? You can't afford NOT to implement this tactic now.
Desires and Emotions… That Influence. You've heard some rumors, I'm sure about negative emotions and positive emotions in the influence process. But do you know what actually works, and what to emphasize in the process, and when? Find out once and for all!
Tribes. You've heard the term. What does it describe? How does it come into play in the influence process? Most important, how do you utilize the concept of the Tribe in order to make more sales? It's all here… Kevin explains about subgroups and how to make appeals based on whether a group is "in" or "out". This is cutting edge research that benefits you.
Covert Influence…to Control Behavior. You've seen the signs. Above the candy jar, tacked to the break room wall. Even posted on a fence, or highway. How do signs really influence? What elements should be used in signs to covertly control behavior? Fascinating new research uncovered for you!
Get Your Copy Today