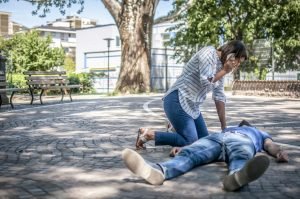 This article will blow your mind. Pull up a cup of Coffee and drink it all in.
Do people help others in great or desperate need, or do they not?
In June of 2019, an important pillar of social psychological thought was seriously challenged.
– Past research going back decades has revealed that students on a campus, shouting fire in nearby rooms, knocked out or apparently injured in between dorms, just off the main walkways,  got almost no help from other students.
– Past research also showed us that the more people present when something bad is happening to someone else the less likely the "victim" would be to get help.
– There's a famous story from the 1960's about Kitty Genovese who was raped while dozens of people essentially stood by and watched.
And until this year it seemed that stories like this were fairly common.
Now we have a different kind of data with a fascinating result.
In Amsterdam, the U.K. and South Africa cameras record everyday life on the sidewalks, in parking ramps, you name it. And as you can imagine sometimes people get aggressive or even violent in every day life. Here's what was found in the 3 nation study.
Bystanders will intervene in nine-out-of-ten public fights to help victims of aggression and violence say researchers, in the largest ever study of real-life conflicts captured by CCTV.
The [new] findings overturn the impression of the "walk on by society" where victims are ignored by bystanders. Instead, the international research team of social scientists found that at least one bystander — but typically several — did something to help. And with increasing numbers of bystanders there is a greater likelihood that at least someone will intervene to help.
A team of researchers from the University of Copenhagen, the Netherlands Institute for the Study of Crime and Law Enforcement and Lancaster University examined unique video recordings of 219 arguments and assaults in inner cities of Amsterdam (Netherlands), Lancaster (UK) and Cape Town (South-Africa).
Lead author Dr Richard Philpot of Lancaster University and University of Copenhagen, said: "According to conventional wisdom, non-involvement is the default response of bystanders during public emergencies."
But wait a minute, when did people start getting nice?
Continue