Perhaps your Mom or Grandmother was born during the Depression, as well. The 1930's were a time very unlike today. The world was a very different place. The problem in America wasn't just "no jobs," it was no food and, often, nowhere to sleep for those without jobs.
Where the world wasn't yet at war, it would be soon.
Today, living in an English-speaking country, there is no way to fully grasp what the people living then were facing.
The depression was a devastating period in the United States. Then things became much worse.
By way of comparison, America's death toll in Iraq and Afghanistan has been steep. 10,000 souls in the last 10 years.
In World War II, 400,000 Americans were killed in action. 450,000 British. All told, 60,000,000 people lost their lives in World War II. 1/40 of the people on earth were gone. For the U.S., the war lasted 3 1/2 years. The U.K.? Longer. For those in Poland, even longer.
There were no terror "threats."
Every single day was living terror. Bomb shelters in the UK were a way of life. London didn't wonder or "fear" they would get bombed…they were bombed almost every day.
I remember an Aunt telling me of her daily visits to the air raid shelters. The familiarity and the fear. Because your family was involved in the war in one way or another, it was a time of strong connection between people. Everyone had someone they loved at war. Everyone understood the language of war – loss, pain, hope and hopelessness. Everyone talked about their kids at war in Africa, Europe, the Eastern Front, China, the Pacific. People understood each others immediate problems as they never did before and haven't since.
Each and every day, life was on the line for almost every family.
The battlefield in the harsh winter was unimaginable. Back home, the families of those fighting hoped that their kids would live to return, perhaps at Christmas, the time of year that families came together by tradition…now with hope.
The importance of the Christmas holiday grew across the world.
It was a time that represented hope. Hope that the person you loved would come home…
For one young girl, that person she wanted to come home was her much older brother, Freddie. Born in England, he was sent to live with my Grandfather when he was two. His parents had died when he was 2. Now he was 24 and volunteered to fight as an American for Europe. He was one soldier in the invasion of Normandy. He survived the initial wave but not much longer. There was no word of what had happened for many months…
Back in Chicago…There was no Christmas in her home when she was a kid…and she wanted to have Christmas. There was no money for a tree, gifts…
Christmas Eve 1944
Mom had just turned 10.
She listened to the radio like most people, and she loved the music of Christmas. The sun was almost down and her other brother was listening as well.
"I'll Be Home for Christmas" played. Bing Crosby recorded it the year before. It was pretty much a vocal Christmas Card from a soldier to his family back home. It finishes, "I'll be home for Christmas, if only in my dreams."
As it played, there was a knock at the door and as soon as they opened the door, they knew what was coming.
A family friend in the military brought the telegram with the news that her brother Freddie, 24, had been killed in action, weeks or months earlier, fighting for Europe's Freedom. There were no details, just the message.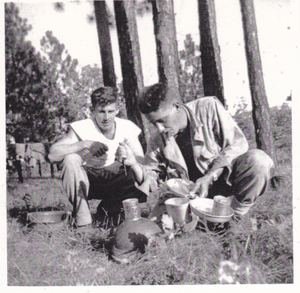 I only have a few photos of Freddie.
A rare and special photo I have shows him at the age 24 with another soldier, eating off the top of their helmets somewhere in the woods in France not long after the Battle of Normandy. He had survived that. But the troops didn't head home after Normandy, they continued on.
He had survived the beach invasion, but would never come home.
He took a bullet for another. I imagine that was the case for a lot of soldiers. And it still is.
There's no way to piece together those final moments beyond that.
Freddie's mission was the liberation of France beginning at Normandy.
My Mom certainly believed her brother was a hero.
Today, his gravestone is one of thousands of American soldiers there in France.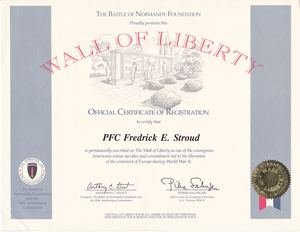 Back in the States…many families had the knock on the door… or a telegram….and of course for some, the news had to come at Christmas…
That moment changed my Mom's life.
Being 10 and finding out that your big brother had died has to be devastating.
From my earliest days, I can remember, when I would hear one specific song, there was a sort of reverence in the house. Everyone would be quiet… and we had a big family… Mom would stop doing whatever. Sometimes tears would come. But she kept the "why" to herself until I was in my late teens …and to this day, that song means the world to me.
When Mom died 21 years ago, it was one of three songs at her funeral. I don't imagine many have had that song played in that setting. For her, it was perfect. She would have approved.
Mom was the Mom that wanted to make Christmas magical for people for all the right reasons. Her spirit was unyielding in her desire to give people a special Christmas…..
If someone in town didn't have somewhere to go for Christmas, they came to our home. We didn't have stuff…we did have an overflow of love.
At Christmas… there is often a spirit of giving and goodness that I see and feel. The spirit of good intention. The spirit of wanting others to be happier…to feel good…to find ways to give someone else a better life…a brighter day.
And as I think of these things this Christmas, I think of you. And, thank you for having Coffeewith me for a decade plus. I appreciate it. I appreciate all of your mail and email. Your questions, your interest, your respect, your appreciation, your time.
I appreciate you. I hope that the spirit and magic of Christmas touches you.
Maybe you'll be home for Christmas. Or maybe you'll be at someone else's home for Christmas. 75 years ago, those soldiers made certain you and I would always be at home. They gave their lives so we could live ours. How can you say, "Thank you?"
The best of the holiday to you and yours.
Merry Christmas.
Kevin