The European Negotiation Drama…
Situation: Company X owns 47 apartment/condo complexes in 6 countries. They range in size from 80 – 900 units. The company I want as my client is not making more money than they did last year, they are not breaking even. Their profits are diminishing as are the underlying assets. It IS their "fault" but in most locations it is something my company, Y, can and will fix and as you will see, David will strike at Goliath (the currently contracted property management company) ethically and painfully.
What follows is a heavily edited transcript from the first 7 minutes of a 40 minute presentation. Some of the facts obscure participants.
"Today you are going to be told by my opponent that there are compelling reasons to continue working with them and not making the change to work with us. You can understand their concern. While they are bigger than we are, they have failed in a task they should have easily managed giving their size. In fact they will tell you that because we are a smaller company than they are, that alone is a good reason to not switch property management.
"Obviously that is an emotional argument, it leans into your hoping that they can do better after losing millions FROM YOU in what should have been a flat or profitable period. There is no justification for what they will suggest. Size matters and it matters a lot. The size of your LOSSES are dramatic in nature and should never be experienced again. To have tolerated them this long bothers me a bit, but I understand the notion of staying with a sinking ship… but not longer.
"We want to manage your 47 properties around the globe. This is obviously more than just an 'important decision' because making the wrong decision could cost you MORE millions of dollars. After I show you how your properties are being abused you will be told that they were not fully aware of the pain your buildings have suffered and that alone should be all you wish to hear from them.  In a moment I'll give you one small example of a much bigger problem you are stuck with at the moment. Yes, you can always see BIG problems once they are there. No question. Anyone can. But setting in motion an approach that will bring you certain improvement is where we will begin in a moment..
"The facts will speak for themselves and you'll see live video of one of your abused properties in just a moment.
"Today I want to show you just how your current company appears to be taking advantage of your good nature. Perhaps they are not. Perhaps all of the problems that you don't even know you have yet are simply too well hidden to be seen. You will determine that.  I will only highlight three properties then send you an email with our current estimate of the exact situation with your other 44 properties.
"Let's begin with what has happened this year that isn't in their annual report to your company. We sent our people to various properties they manage for you at our expense of course.
"For example, we visited your 200 unit complex in Manchester and discovered this. As you can see on July 7, there were people on the sidewalks in front of your complex.  You can see how people were diverted from their getting from here to there. They must have been awfully uncomfortable. I know I was when I saw this image. Here is a photo of graffiti all over on the north side wall the same day.  Here is what a gang member in town said it means. Please forgive his language, he is simply answering a question. And indeed he is telling the truth. It is a territorial claim by the south side gang.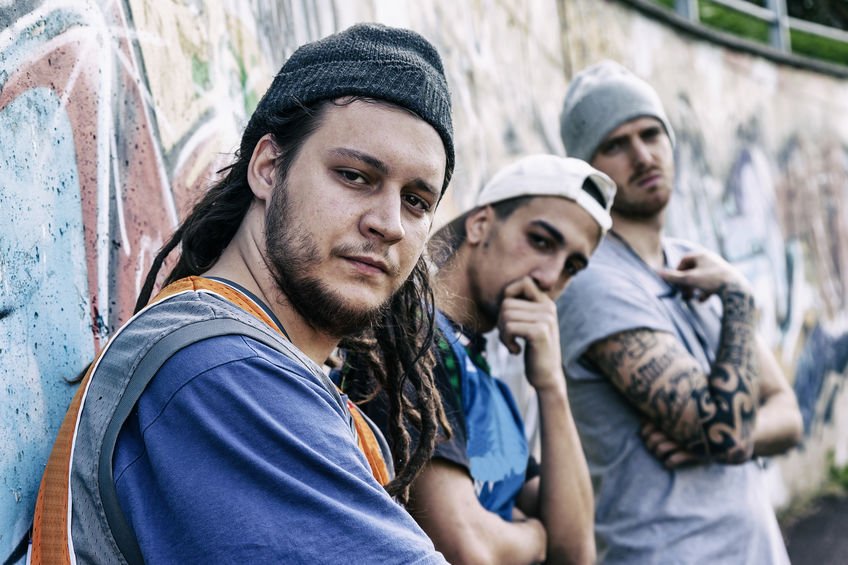 "Let me say that again, YOUR APARTMENT COMPLEX which did 3.6 million Euro's last year and now has an occupancy rate of 87% after having been over 90% for almost a decade is now claimed by the south side gang in Manchester as essentially THEIRS. As you know they don't want to own your building, they simply want street level possession and access to the inside for the purpose of theft and similar activities. With the number of units you have open in this complex you can imagine how easy it would be to set up shop in one of your flats that isn't shown to inquiring renters.
"That means the morning, sometimes before July 7, that graffiti was spray painted on YOUR building, it was not removed. We returned one month later and found this in August. Not only had it not been painted over, it had not been touched in any way. The property was still claimed by the gang and everyone knows it. People continue to sleep on the sidewalks…
"Your current property management company charges you 400,000 Euros annually for this specific property and has charged you that for at least each of the last four years. That means you paid 400,000 Euros when your complex grossed 4 million Euros and you paid 400,000 when your complex grossed 3.6 million Euros. And now that management company has not seen fit to remove the graffiti in seven months. Here is a photo that our contact in Manchester took this morning. You can see the newspaper is from today and the graffiti remains.
"The crime rate in Manchester has risen significantly in the last year. Part of that reason is lazy ownership of rental properties. Part of it is property owners who are told everything is fine from their local people. Everything is not fine. Crime is higher and it's now a crime friendly neighborhood which is why you've dropped from 93% to 87% in four years.
"They have obviously not given you a plan on dealing with this or you would have fired them last year. No one told you. You had no idea.
"Today they will propose to 'fix it' but to give them that chance after making your future a mountainous climb, they should refund every pence of that 400,000 Euros for each of the last four years and that is just from this property.
"87% capacity is not acceptable. Neither is 93%.
"And neither is 400,000 Euros. But wait. 400,000 Euros at 94% capacity IS acceptable. In fact not long ago, you had 94% of capacity and grossed over 4,000,000 Euros. At that time, your current management people were doing a good job. They got old and lazy. They've simply ignored you for the last four years. The've ignored the tenants, the building, the message the building represents to the community and city as a whole, making you look like a low rent dump and they have not demanded you to pay them less while they fix your mounting problems.
"One of our people showed me the inside of the Manchester complex yesterday via Facebook video and I thought it could be a very nice place again. The security in the complex is obviously poor as you will see video of in a moment.
"Where I'm from, all of this means they don't care about you. It's that easy."
"The reason they will tell you that our fee is too low is because theirs is too high. In fact what you are paying them is outrageous.  The simple math reveals that drop from 93 to 87% is really 250,000 Euros.  The average capacity in Manchester apartments in the same price category is 91% and was 91% four years ago. That means that the market hasn't changed but your revenue from THIS property has dropped annually by 250,000 Euros.
"They have not only been paid 400,000 Euros annually for this property but they have stripped 250,000 MORE Euros from your company through ignoring the property. It didn't cost you 400,000 but 650,000 Euros to have this company work for you, just last year.
"I want to show you a live video now on a page that is only visible on my Facebook page. This is William Renault and he is a contractor we are paying 50 Euros to today. He has a paint can in his hand and has matched the color of your apartment to the paint and that's him waving hello. He's now covering up the gang graffiti and as you can see he's almost done… and voila. The apparent sheen from the paint will vanish by nightfall no one in Manchester will be able to see the paint and more importantly, the claim of your apartments as the territory of the gang members will be gone from your building. They will be there within the week and they will paint again and Renault has been retained by us to keep your building free of graffiti for the balance of the year. The fix up took less than 3 minutes. He will spend 3 minutes about 8 or 10 times this year before the gang gives up on the complex and goes for easier pickings.
"We don't want to charge you 360,000 Euros to manage your Manchester property. It's a property will be worth 410,000 in fees as soon as it has returned to 94% of capacity. We will ask you for that fee at that time. But first we need to STAY at 87% then move up to 88% and then 89%. And so on. The graffiti is only one symptom of a much bigger problem. There are numerous others just like this on the inside. It's very sad that William was able to get into your secure building in less than 6 minutes. That video is in your Email right now. I've also sent you video from various floors in the complex, the laundry room, the furnace room as well as the swimming pool that people once loved and now won't go near.
"As you'll see, your complex has no chance of retaining even 87% at current prices for the balance of the year.
"Hiring us today will require a fee of 360,000 Euros for Manchester. For that we will repair every major and minor disaster that you will watch in your video email. We'll do it in the first 30 days and send you video showing you exactly what we did with every major an minor disaster in just this building.
"The financials and the general direction is the same for almost all of your properties. And we want to manage them all. We don't need to manage them all today. We have laid out a plan where we will take over 10 properties every 3 months until we have all 47 by autumn next year. At that point the problems will be eliminated. The properties will return to average or better for each market or we will ask you to feel free to replace us on those properties. One thing is certain, and that is that we won't cost you 650,000 Euros, we will charge you 360,000 and increase that number over time, never charging a penny more than 10% of vacancy gross.
"You have almost 50 properties and Manchester was randomly chosen as were the next three properties….please open your video email now. I will leave the room for a few minutes to give you some privacy. (Depart/return)
"May I ask you a question? (heads nod.)
"Do you want me to continue or would you prefer I leave now?" (affirmation from directors)
Once you have made it almost IMPOSSIBLE to leave your story you can ASK FOR PERMISSION TO CONTINUE.

But walk "in the door with THIS:
on the next page…