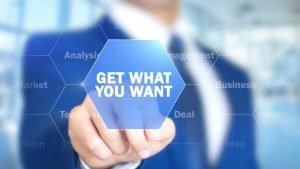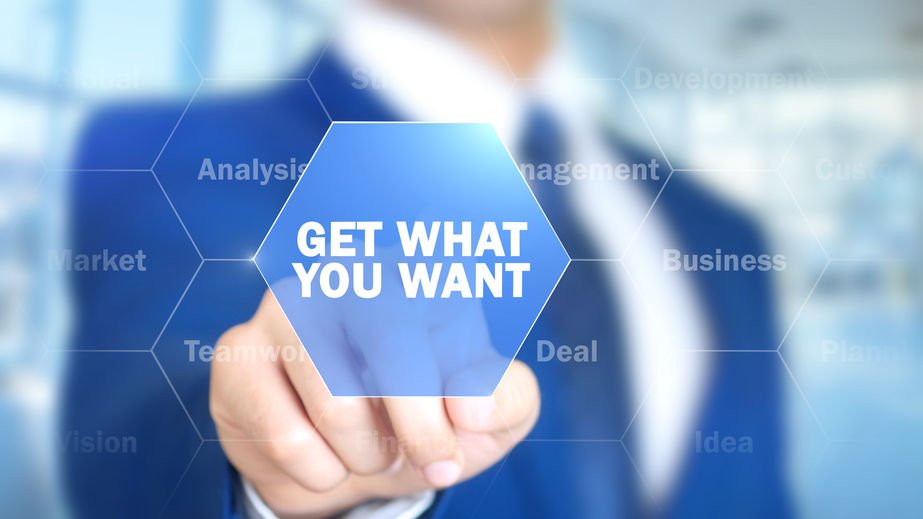 It's the promise of…well just about everyone out there: You can Have "It" whatever "it" is….
Can you really?
Can you get what you want?
Legend Point: The realistic truth is that you CAN have most of what you want in life.
But it takes a few perspectives to have what you want. The first is seeing reality for what it is.
First let's look at a few caveats. The coronavirus isn't going to make YOU famous. That will happen to someone else who get that version of the flu.  You also aren't going to win the Powerball $100,000,000 lottery, so don't bother throwing money at it. You aren't going to be a billionaire, and quite frankly you probably wouldn't want to be.
Beyond the statistically almost impossible you have ridiculously good reason to be optimistic.
Obviously if you want "him" or "her" you need a scenario where they want you as well! If you want them to "stay" you will have to be more valuable to them than other choices in the realm. And to remain stable as you grow and change, long term, you have to be willing to give it all to have it all…
The more you are willing to change when change is the optimal choice, the more likely you are to have a rich and rewarding life.
This is true in business and in personal relationships.
You really can achieve, not just if you "want it," but if you do indeed, DO IT.
Having it all is about CHANGE. It's about shifting and adjusting.
Almost every person, place or thing you want, that you do not currently possess, is within reach but each requires something to change in your life, your world, your environment.
And the truth is that every change is really easy to begin and then it requires self discipline to maintain.
Seeing what you want is easy. You can do that sitting down. You can effectively plan, also sitting down. BUT then come the daily sustained actions, over time, that require you to behave in some way that is different for you to have X, whatever X is.
Hopefully that got all the "lookers" to stop reading.
This series of articles is really for you.
You're someone who can see what they want and then commit to daily acquisitive actions.
But even you and I are resistant to change. Yep…me too. And that's important to note for two reasons.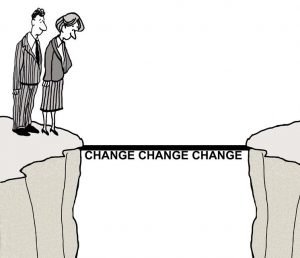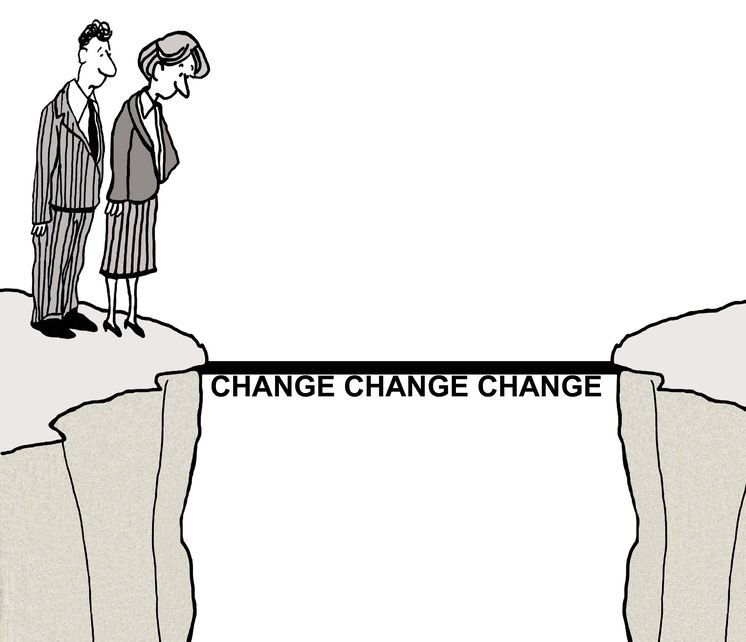 First, you must recognize that everyone has a familiar zone, valuable or devastating as it may be.
Second, those changes poorly considered, can really muck things up. That's why a good simple plan is worth it's weight in gold.
In order to defeat that resistance it's necessary to know why it is there and then once you know resistance inside and out, planning to work through it is really quite simple. No "why" means no success…no victory.
Why Are You So Resistant to Change?
There's a bunch of reasons beginning with your genes, filling your jeans and ending up in your brain…
In this three part series, you discover out the biggies, then you find out what to do about it.
Go here first:
Have you ever avoided doing something, even though it would make you feel good and help you accomplish a goal?
For example, let's suppose you know you should start eating lower calorie meals.
So why is it that you eat fewer calories for a few weeks …but then before you know it you're sitting on the couch…having given up?
Familiarity is Safe
No matter how appealing change sounds – whether it's losing weight, making more money, or acquiring things you've always wanted – staying in your rut means you stay safe.
You've heard me talk about familiarity forever. Why? It's your number one challenge you face.
You can't fail if you don't change. Almost everyone hates to fail. I certainly don't enjoy it, I just recognize it's going to predictably happen within aspects of most endeavors. It's like rain in Seattle. It's not a terrible thing, it's just something you know is going to happen.
You know the hamster wheel keeps on spinning every day with predictable outcomes and benefits. And it FEELS a LOT SAFER than it really is…
Let's face it – the unknown is scary. And it causes enough fear at both the conscious and unconscious level to shut down the logic of growing, evolving and change.
Humans quickly develop the instinct/intuition to do NOTHING which you are not familiar with that may have caused insecurity in the past.
This happens for a simple reason.
You are born with trillions of neural connections in the brain. In just a couple of years MOST of those connections have atrophied through being told what not to do.
Don't misunderstand, your parents probably did right by you most of the time.
Unfortunately when change is not encouraged and relished early on, those behaviors are literally extinguished. They vanish right out of the brain. Figuratively and literally.
What's left in the brain after atrophy, is FAMILIAR.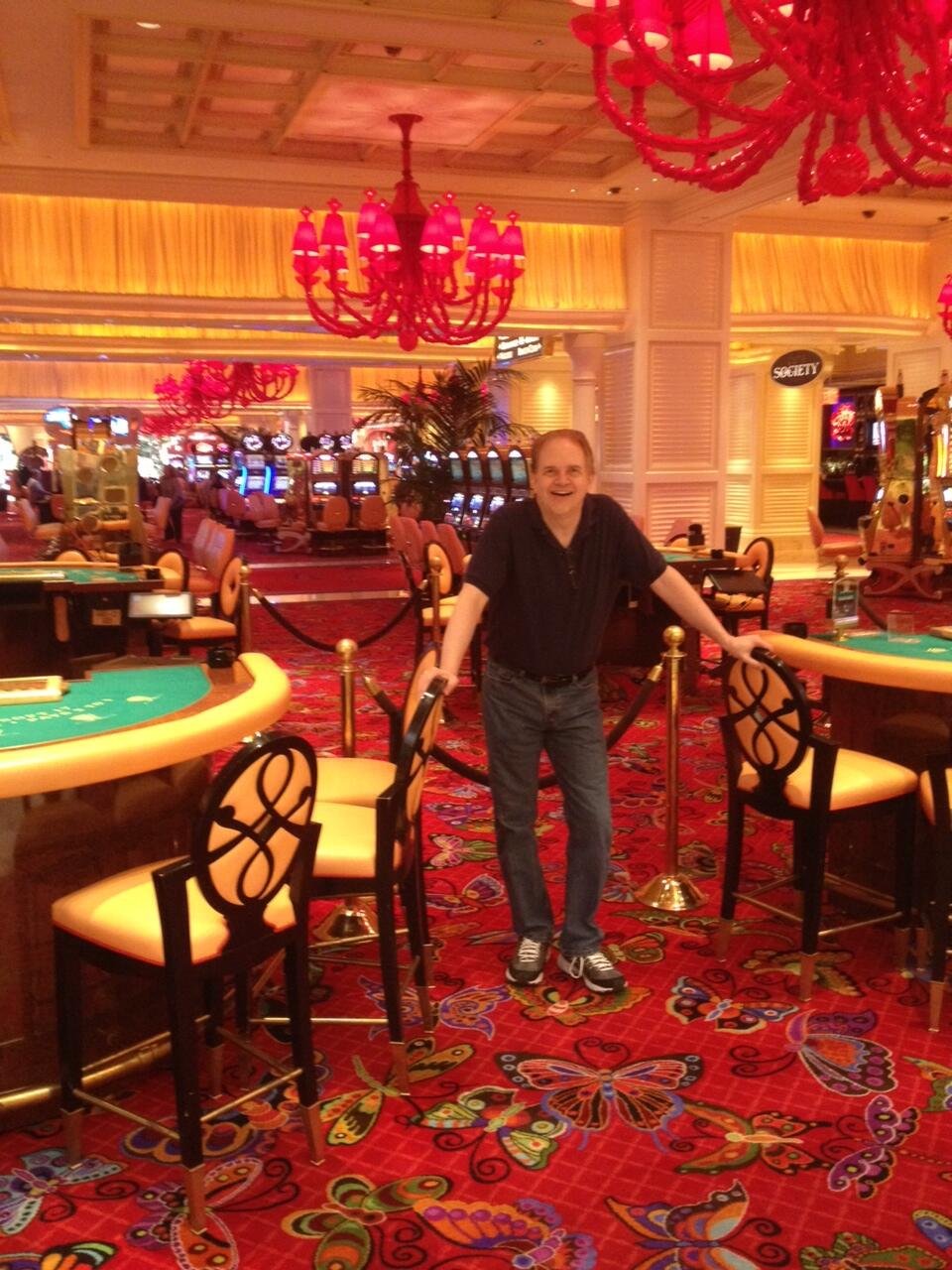 You've probably seen this photo of me at the Wynn in Las Vegas. It's not a great photo or anything, it's simply one I'm "familiar" with.
If you ask me where I want to go on "vacation" (something I am very unfamiliar with) I'd say Vegas. I love to play cards. I'm good at it. I win more often than I lose and in Vegas that is rare.
I've done events and been to lots of places. Sydney, Oahu, London, Krakow, Amsterdam, Edinburgh, Prague. All very cool. (I've also played cards in almost all of these places.)
What's interesting is any one else in the world thinks of Prague and you are triggered to think of the Charles Bridge. And I do too…but if I can't find a place to play cards somewhere, I feel uncomfortable. So the little reptile in my brain searches that out and when it finds a place to go play, THEN it finds the more rational reasons everyone goes to Prague.
This concept of familiarity is really what success and failure in life stand on.
If you get it, you understand MOST of human behavior.
If you understand the basics of human behavior, you will succeed in life. If you don't…you don't.
I was raised in a poor family. We had paper, pencil and a deck of cards for the longest time as the tools of entertainment…think of how predictive that is of Kevin Hogan in 2020…
Familiarity is the king size driver of all behavior.
A metaphor: At age six months you had 500 "houses" in your brain you could go explore and learn about. The neural nets were waiting and ready for sucking up more information and experiences. And you WANTED to do it. You were DRIVEN to explore. You WERE a sponge.
And then the plug was pulled on most of those experiences.
Two years later you had 50 metaphorical houses left in your brain that you could explore. As time went on, you had fewer and fewer choices. And by the time you were 30, if you've made it there, your world of possible lives to lead was down to one or two. In fact, the notion of "security" of a "job" is so ingrained in our brains it's often hard to imagine doing ANYTHING other than what you are doing today.
By the time you had been assimilated, I mean educated, in school, you were down to very few life choices and opportunities. The ability to create, develop, explore, be curious, be excited about engagement had been sucked right out of your brain.
The remaining 10 or so areas of interest and excitement became familiar.
You got to high school and were told to select a "Major" in college.
"I don't know what I want to be when I grow up."
Well no kidding! You only had 10 things you were potentially excited about and most of them were playing videos, watching the tube, sleeping, and getting into trouble.
You would have NO WAY to have a CLUE what might make an interesting profession…and in the future…no less.
Much easier to stick with what you are familiar.
And that is of course why so many kids follow in their parents footsteps. (This can be a blessing…or a curse right?!)
New Metaphor:
Consider this: you're standing before the closed door of a very large room. Let's suppose that you happen to know there's a cash reward waiting for you if you open this door, walk across the room, and claim your reward. Simple, right?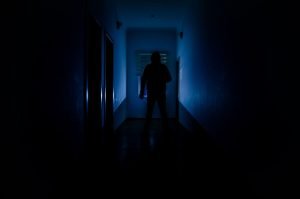 But there's a problem: the room is pitch black, so dark that you can't even see your hand in front of your face. Since you've never been in this room before, you have no idea what the interior of the room looks like.
Maybe it's a completely empty room that you could simply walk across and collect your reward. But on the other hand, your imagination creates other interesting scenario's like….could there could be broken glass on the floor, objects in the way that you'll trip over, and things hanging from the ceiling that you'll bump your head into…or WORSE!
For all you know there could be ANYTHING! You just don't KNOW. It's unfamiliar and uncomfortable and even though there is no reason to believe so, it's scary.
This keeps you from getting what you want… Get rid of it.
Fear is not a conscious Decision
Key Point 2: Fear is not a conscious decision. You simply are fearful. And you probably SHOULD BE wisely cautious when undertaking new projects.
Key Point 3: Only a conscious decision can cause you to overcome fear.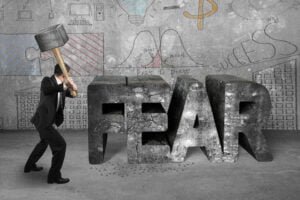 So you start to think and wonder…
And that's the problem – you simply don't KNOW. You have no idea if navigating the room is a walk in the park and the easiest money you'll ever make …or if it's something that will threaten your life, injure you, or frighten you.
So what happens? You think about the size of the reward, and then you play that against the dangers that possibly await you. Is it a big enough reward for you to take a risk? Or… since the unknown is frightening, do you waive your right to the reward by playing it safe?
Sometimes you resist change and a possible reward because you don't know what it will take to reach that reward. The familiar (staying in the well-lit room) is SAFE.
You may not get the reward …but neither do you have to take any risks.
No risks usually means no unpredictable disasters based on experience (even though there could be a disaster waiting to enter the well lit room that your mind doesn't consider!!)
And so you get stuck.
You want to lose weight, start a business, write a book or do any other number of things. But you become afraid to open that door and walk into the dark and unknown. You may not be happy where you're at, but at least familiarity is seemingly safe.
…seemingly…
What's the Secondary Gain?
A second cause of fearing change is that you're receiving some sort of benefit – a payoff – for remaining in the muck.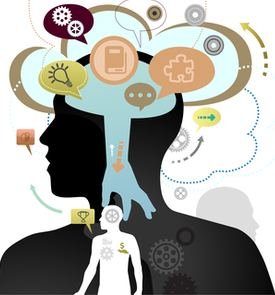 Think of the person in the hospital. They hurt. They just had surgery. But heck, maybe the nurse was bringing the person food and drink whenever they needed it…and then wanted it. That kind of instant service feels pretty good!
It's not as if someone says to themselves, "hey let's have lots of surgeries so we can get food at the push of a button." BUT it is a secondary level benefit that someone gets that often drives their behavior at an unconscious level. Rarely do people think about this stuff consciously and no one wants to stay in the hospital. This person simply likes the secondary benefit of on demand service.
…the "starving artist" who says he wants to be rich and famous …but it seems his life is in shambles and he "can't get a break." Out of his misery springs great art – and soon he has the social reputation among friends of being a "tormented soul" and no public reputation at all…and a house filled with his own art….
The problem is that he believes that being poor and in misery is the only way he can keep making great art (and his reputation says as much, too). That means he's getting a psychological (identity) pay-off for staying in the starving artist rut.
Take a second to think about something that you get, that is comforting in some way, that seems like an exchange for a serious problem.
The person who is sick gets sympathy for example. It's an irrational trade of course.
What benefits are you receiving for remaining in the status quo and not doing something or moving in some direction that would give you much bigger benefits in life, relationships, etc?
You've probably figured out that "secondary gain" is instrumental in self sabotage!
The brain can be a wonderful thing…it can rapidly drive one to achieve or cause one to stumble…or BOTH!
Now what will YOU REALLY do?
Our friend, the starving artist, almost certainly, won't change until…
He won't seriously pursue his dreams of causing his paintings to be mounted on the walls of the rich and famous…
It's tragic.
It's also possible that one day, in his mind, the rewards he's seeking and the PROBABILITY of acquiring those rewards FAR outweigh the secondary gain he's currently receiving.
If and when that happens, then he can and might change.
It's fascinating to see what the psychology of a "Weekly Paycheck" does to people's chances of accomplishment in life. The certainty of getting a small something and an illusion of security is far more valuable to the evolutionary being than a likely but seemingly risky opportunity and illusion of insecurity.
That paycheck is the chocolate candy bar, the cookie. People choose to eat the candy bar right now for instant gratification and worry about doing something exciting or fascinating for another day. It's just too risky to do something "else."
You now have the WHY. Next week, we get to the WHAT of getting what YOU want in YOUR life.
Til next week!
---
Decision Point: The Kevin Hogan E-Course