Front magazine, a men's magazine in the U.K. had asked me to write for them about "fear." Is fear good? Is it bad? Why are we afraid? How can we get past fear?
The article was, after all, for a men's magazine so I didn't want to get too scientific and I wanted to keep it short. Here's a sketch of what I told them. If you find this interesting, I'll do a series on fear.
Fear is without question the most important of all the emotions.
Fear evolved early in animal-kind and human-kind to keep us alive and to survive. Without it, you and I would not be having this get together today.
It's an automatic reaction that, in the cases of falling and loud noises, is genetically wired in; and for all other situations, it is learned.
Fear is a feeling, often intense and can cause you to feel anywhere from avoidant, to nervous, to panic, to phobic, to terror. It has two messages: Fight or Run.
Once the body/brain is "convinced" you have "killed the enemy" or run far enough from the enemy to be "safe," the body/brain stop producing stress hormones and allow you to be calm and "feel safe."
When we experience fear, our senses are heightened. When we experience extreme fear, we get tunnel vision which has evolved to block out all other activity and stuff going on around us so that we only focus on killing the enemy or running to safety.
Fear can be triggered by thousands of different stimuli.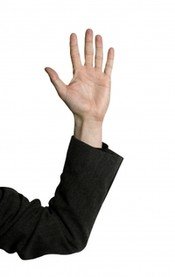 Someone raises their hand. For someone who's experienced a lot of pain from what happens "next," when they were a child, they will feel fear just from the hand raising.
Even when the person is simply raising their hand to get the waitress's attention, your brain went into "fear mode," and your heart started racing, you began to perspire, your fingers and hands sweat, you breathe more shallow breaths and so on. You can feel fear from having a gun pointed at you, from hearing that the government wants to examine your tax return, from seeing someone who is a threat to you, from approaching a girl and asking her out. There are thousands of causes of fear.
Some people are more susceptible to fear because of two reasons:
Genetic predisposition. Men are typically "sentries," they stand guard against enemies outside of the home. Women are typically fearful of things within the home. All of this is wired in. A couple who have a child will have different fear triggers. The woman will wake up when the baby cries. She is concerned something is wrong. The man sleeps because the source is likely known. When the sound of a door opening is heard, the woman continues to sleep and the man opens his eyes and sits up. The enemy that could be without is now possibly coming in.
Fear is also learned. People who have had more experiences while in the state of fear and those who have more profound/traumatic experiences in the state of fear will experience fear more readily and significantly. What doesn't hit one person's radar can create anxiety in another person. From an evolutionary perspective, the person who experiences little fear…they get killed off… and those who experience more fear search for safety more often and they tend to pass their genes on to the next generation.
So, is fear "good" for you?
Fear is very "good" for you.
A better term is "necessary." Fear is crucial to survival. Unfortunately fear can also get in the way of safe, profitable and fun behavior that isn't going to get someone killed…like asking the hot girl out.
Failure is something everyone fears to one degree or another. Most people fear failure so much they won't make an attempt in a "category of behavior." The less people make attempts at a behavior, whether it's learning to ski, ride a bike or ask the girl out, the less competent the person will be at the behavior. That lack of competence will manifest in all kinds of different ways. Rejection is as painful as getting hit by a parent who is four times the size of a child. Therefore people will work as hard to avoid rejection as they will to avoid the enemy outside.
Failure is something that when left by ourselves we don't experience as fearful. It's only when there is an audience, of one or 100 that we become afraid. We sense that failure is connected with rejection and we've already felt that many times. Humiliation, embarrassment, etc. The pain gets hooked into our response system early in life and tends to stick with us for the rest of our life…unless someone really wants to "challenge" their fears and "fight through them."
Virtually everyone experiences fear at some level.
There are, of course, people who in some contexts, like public speaking, thrive on the moment when others have a panic attack. The reaction is going to be determined by the past and by the person's conscious attempts to overcome or "walk through the fire." Someone with a fear of flying in an airplane, (and it is one of the safest places a human can be), can overcome the fear with constant repetition of doing what they are fearful of. Eventually the person becomes desensitized to the fear and the fear is extinguished.
Facing some fears is simply not good decision making. If someone once nearly got hit by a train, it probably isn't a great idea to dodge oncoming trains 100 times to desensitize that fear. But if the fear is asking someone out on a date then yes, facing that fear 100 times is a very smart idea. Realizing that success is when 10% of the people say "yes," can help the person reframe their fear to where it is acceptable to be rejected, at least logically, until rejection is desensitized.
Some fears are experienced for good reason. It's not smart to stand in front of people holding a gun pointed in your direction. That's a good thing to be afraid of. But most people are afraid of the wrong things. The chances of being the victim of a terrorist attack or of being on the plane that ended up in the Hudson River are so remote it's hard to express in any easy to understand fashion. Things we should be more fearful of, like driving an automobile or tripping on the stairs should cause us to "prepare" more for those far more likely events.
Fear is at once friend and foe.
Figure out if the fear is "real," or "imaginary." Could the gun be loaded? Fight or flight. Someone is yelling at you or laughing at your? Tough it out time and again and eventually you will have intelligent courage.
Overcoming fear is about repeated attempts at something which causes you fear. For most things in 2019, that's something everyone needs to do more of…and more often.
---
I've identified 12 of the life patterns which cause us to trip up – and make the same mistakes again and again. To discover which of the 12 patterns you have been the victim of and how to eliminate self-sabotage in your life (or those of your clients) you can pick up the program below.
Lifestorms: 12 Obstacles to Achievement: The Paradox of Overcoming Self Sabotage to Achieve Love, Power, Money and Happiness.
by Kevin Hogan
3 CDs in this program – and it comes with a BIG WORKBOOK! And now, get a free Lifestorms DVD presentation with your order!
Discover why life often brings you exactly what you don't want…and how self sabotage can hide around every corner. Some people have guessed at the bizarre nature of self sabotage. Guess no more. Self sabotage is very real in everyone's life. It is completely devastating and 100% resolvable!
Do you ever know you should start on a project but don't?
Do you have projects that you have started but never finished?
Do you ever say the one wrong thing at the wrong time?
Have you ever had things going well in life only to have everything blow up in a day?
Have you tried to be so careful not to make a mistake that you were shocked when you made a truly costly one?
Have you ever promised yourself to stay out of trouble in some way only to find yourself in the same trouble or worse again?
Now you can discover your own life patterns so you can eliminate unconscious self sabotage immediately. This program will break the heavy chains that hold you from your dreams and your goals.
This program is the first program ever made public that shows you how to identify specific self sabotaging behaviors and negative life patterns. Better? You can ultimately erase those life patterns and rewrite new "schemas" into your brain that will allow you to meet your goals and experience fulfilling relationships.
Here is what you will learn:
How to identify which of the 12 negative life patterns you live.
How to find the triggers of the lifestorms that you just can't believe you experience.
How to change the self sabotage into success, happiness or something productive.
How to remove almost all obstacles between you and your goals.
How to understand those around you so you don't push their buttons.
How to predict your behavior and that of others.
How to actually achieve your goals so they are more than just a dream.
No one anywhere has ever put such a program on CD. There is not one person anywhere who can't utilize every minute of this insightful information. These three CD's are packed with the most powerful tools for getting past life's roadblocks and personal sabotage ever imagined. Anyone can utilize this information and I personally guarantee that if you follow the instructions you will not experience self sabotaging behavior anymore. Your goals become reality at speeds faster than you ever imagined.