Decision Making Strategy: What You Better Know About Your Self
Should you take your 401 K profits out of the stock market now that it's come back after a big July 2022 scare? It's far more than doubled in price/value over the last several years. Could it go to 40,000 or is it more likely to crash? What should YOU do?
Should everyone do the same thing?

How do you decide? What is your strategy?
What about bitcoin? It hit 60,000 per coin just months ago. Today it is about 25,000.
Is it time to buy or sell?
"The market" is evolving and devolving thus becoming less predictable! Speaking of evolving markets, what about buying Ethereum?! There are people on the streets staying, "You'd be crazy not to…"Decisions like this will change your future.Should you leave your comfortable job for one that pays significantly better but is probably less secure because you'll be the new kid on the block?
Should you have a surgery that is likely to extend your life but poses some risk that you will not survive the operation itself?
Should you invest in a risky startup company whose stock may soar, even though you could lose your entire investment?
What about investing in your buddy's real estate project? Is it for you?
Decision Making Strategies
There are decisions that are just as important if not more important than investments for the future.Although many teenage brains don't change as the person ages into adulthood, most do. The problem is that the decision-making mechanisms in the brain are very simple in the teenage brain.Adults and teenagers make decisions in very different ways.
Teenagers compare positive possible outcomes that will transpire soon. Believe it or not, this IS a logic-based approach….or it would be if there were no possible negative outcomes or long-term consequences of those decisions.
It won't surprise you to know that a number of adults still use this "strategy" as well.
And THAT is a recipe for disaster.
Adults most often use rules of thumb that go by the fancy name: heuristics.
But…adult rules of thumb should probably be given another finger…so to speak… because they aren't all that impressive either…
These mental shortcuts can be helpful and they can also derail your life dreams. Poof…
Here's the deal: The most important decisions in life are those involving risk. There are probably more than two doors and you probably have different degrees of risk involved by opening each different door.
Next to influence and love, making sound decisions involving risk is arguably the most important thing to teach people about in life…in fact…it might be the single most important skill you can acquire.
A problem stemming from all of this is that not very many people know how to make good decisions because human brains are wired to those "rules of thumb."
Study Shows New Findings on Risk Taking
UCLA psychologists present the first neuroscience research comparing how our brains evaluate the possibility of gaining versus losing when making risky decisions.
Participants in the study, mostly UCLA students in their 20s, were given $30 and then asked whether they would agree to each of more than 250 gambles in which they had a 50-50 chance of winning an amount of money or losing another amount of money.
Would they, for example, agree to a coin toss in which they could win $30 but lose $20?
(Obviously, you will own the world in a very short time if you can make this kind of a bet all day…so why would ANYONE say "no" to even making the bet?!)
But before you think, "well it's obvious," recognize this fact.
The math of decision making is not complex, but it isn't as simple as most people think.For example, instead of $30 vs. $20 what if you had a net worth of $100,000 and you could put that up against $200,000 on the flip of a coin. Heads you win, tails you lose?For the guy with millions, this is an easy decision. For the guy with $100,000, unfortunately, the decision is the OPPOSITE choice but also fairly easy. The multimillionaire can make this bet all day long. The man worth $100,000 can't gamble the complete net worth.Make sense?
What happened in the UCLA study?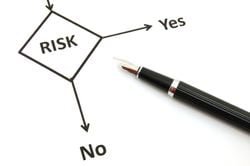 While the 16 participants were considering the possible wagers, they were in a functional magnetic resonance imaging (fMRI) where researchers studied their brain activity; the technique uses magnetic fields to spot active brain areas by telltale increases in blood oxygen.
For each question, the participants answered whether they would strongly agree to the gamble, weakly accept it, weakly refuse it or strongly reject it. Participants were not told whether they had won or lost until after they left the scanner; afterward, the researchers randomly selected three of the gambles, and if the participants had previously agreed to accept those, the researchers flipped a coin and the participants either won or lost the money.
What interested the researchers, however, was the activity of the brain's regions during the decision-making process, not the subject's reaction to winning or losing.
On average, participants needed to be offered a 50 percent chance of winning about $19 to risk losing $10,
This is why people have jobs and don't start businesses. They simply don't understand risk and decision making. Obviously at $10.01 you have a decent risk. At $11 you have a huge life advantage. At $12 you are taking advantage of the other person.
$19 means that people don't want to take ANY chance in life that might give them the reward.
But that amount varied widely among the subjects. One subject, for example, needed the chance to win $60 to risk losing $10, while another needed only the chance to win $11 to risk losing $10. The researchers could predict people's tolerance to risk by analyzing their brain patterns.
"Looking at how your brain responds to potential gains versus potential losses, we can predict how risk-averse you are going to be in your choices," said study co-author Russell Poldrack, UCLA associate professor of psychology, who holds UCLA's Wendell Jeffrey and Bernice Wenzel Term Chair in Behavioral Neuroscience. "Brain activity predicts behavior."
"Individual differences in brain activity correspond very closely to individual differences in participants' actual choices," said co-author Craig Fox, an associate professor of policy at the UCLA Anderson School of Management and an associate professor of psychology.
"The people who show much more neural sensitivity to losses relative to gains are the same people who are very reluctant to gamble unless they are offered extremely favorable gambles. The people who are about as sensitive to losses as gains neurologically are the ones who are more willing to gamble."
Turn the page and let's talk about you?