A number of bad things can happen after they say "yes."
They brought it home. They liked it. And yet, they brought it back the next day, canceled the order, canceled the date … the words ring out … "I changed my mind…"
Who knows, maybe it was YOU they brought home, canceled and you were the recipient of those words.
The First "Reason" Given is "Regret"
Everyone knows about regret. We've talked about it 10 times in the last decade here at KevinHogan.com.
"Geez I shouldn't have bought the jewelry. I could have used that money for school or have given it to the kids as a gift. I'll take it back in the morning."
The husband thinks she is absolutely nuts. In fact, he KNOWS she is. There's no way they can afford jewelry when the kids don't even have clothes that fit for school!
The problem, of course, is that the wife didn't actually buy the jewelry. It was her body, her signature, her mouth – from which the words, "I'll take it!" were heard … but it really was a "part" of her nonconscious self that said, "yes." That part of her could have had any set of motives for buying the jewelry.
Perhaps she felt like it made her look more attractive and she wanted to draw her husband's attention. Or perhaps she has been upset with her husband and this part of her nonconscious self wanted to draw a different man into her life.
Perhaps it was a part of her that decided that she deserved the jewelry and this was her way of showing appreciation to her Self.
All of these are partial and likely scenarios.
This is why most people need guards … sentries … to protect themselves … from themselves.
But, she got home and a different part of her, perhaps the Mother or Wife part kicked into drive realizing that this was indeed foolish and she instantly regretted the purchase as soon as she WALKED IN THE DOOR.
That's usually all it takes to trigger a different part to the control panel in the nonconscious brain.
A change of environment. A change of context. A change of WHO is in the environment. Any of these things can bring a different part of the nonconscious brain into the forefront and today, that part FEELS REGRET.
The part that bought the jewelry … feels no different than 3 hours ago when the woman was at the counter. This part would do it all again. Nothing has changed.
But, regret is now the experience.
In order to preclude regret in advance one needs to gain confirmation from many parts of the nonconscious. It requires a simple but carefully honed strategy.
But this isn't the only thing that can "go wrong" for you when you have asked someone else to make a decision.
Option Attachment: Decision Purgatory
This is different. Very different.
Here you presented options to someone and after they chose "A" they now have decided that "B" is better. "B" could be something you have, or who you are. "B" could also be the other guy, the other product.
You have almost complete control over precluding this problem.
Today we understand the psychological principle of Option Attachment more thoroughly than ever in history. And this mysterious experience that all of your clients and customers feel … is something that you can take charge of.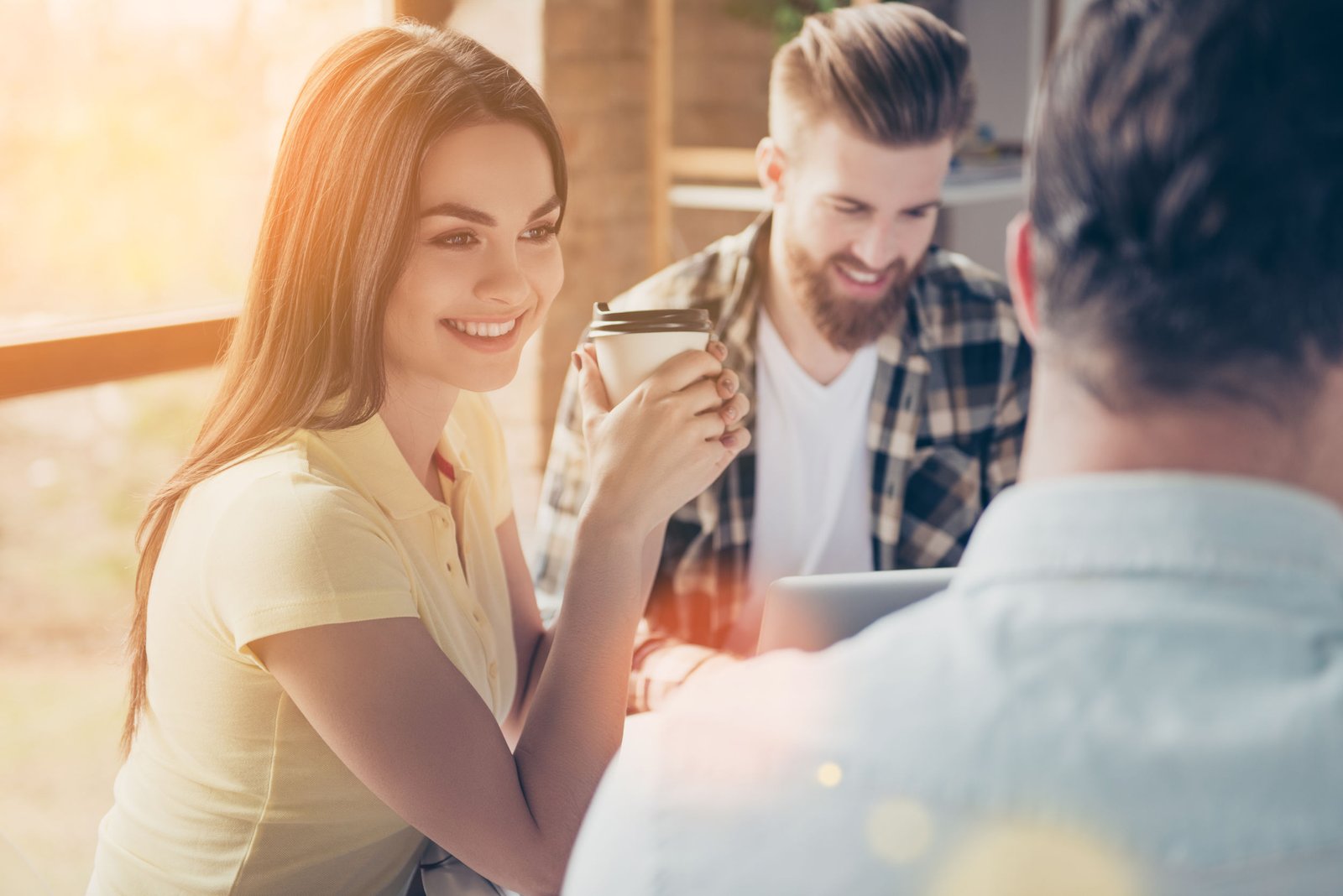 The guy at the computer is smiling but the girl with the coffee is all eyes on the gentleman you don't see.
Here's how that happens and what you have to do about it…
Turn the page.