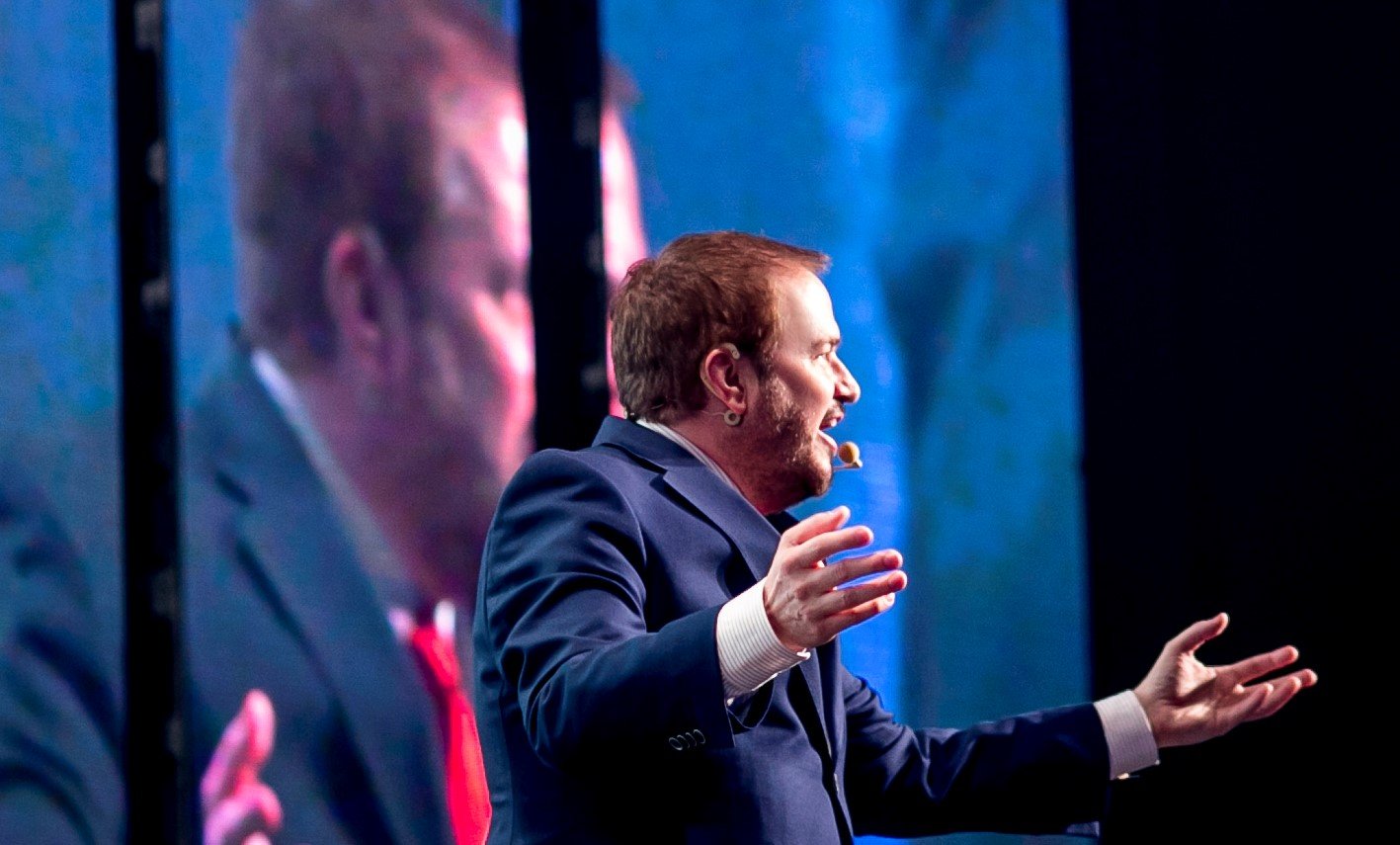 Charisma! Have you ever met someone (or many people) who you immediately connected with? Have you ever said, "He is really something, I'd like to get to know him." Now you can. At some level you recognized something very charismatic about that person. Sometimes they recognized that same something in you but then over time or maybe immediately, nothing happened and you went your separate ways. Connecting with people is more than just physical attraction, though to be sure that is important and very real. Connecting with people really is when one person sees another and recognizes kindred spirit.
It's virtually impossible to achieve true greatness as a lover, a teacher or a salesperson without being seen as charismatic to other people. In business, the ability to get along with others is something that corporate executives pay a great deal of money for! Today in the new millennium corporations spend billions of dollars per year to enhance communication skills of their employees. No one can get along with everyone, but those who can connect with the majority will always be more successful on average than others. What they fail to do is invest in building charismatic people. Fundamental error number one.
One of my favorite motivational speakers is Zig Ziglar. Zig always said, "You can get everything in life if you will just help enough other people get what they want." You are going to learn how to talk with other people so you can help them on their way to success. You are going to discover new ways to communicate with others verbally and even more important, non-verbally.
Connecting charismatically with people is a skill set.  As you walk through and experience life each day, you will come into contact with many people. Look at each person you talk with or make eye contact with and allow them freedom to be whoever they want to be with you. Give them the absolute security to know that they can be open with you. You will not judge them. Finally, allow them to be inter-connected with you and separate from you. If you do this, you will begin to become a magnet for other people.
People are attracted to the people who make them feel secure, free and happy. This is true in business and in personal relationships!
How do we accomplish such a monumental task of helping people feel secure, free and happy? We all are so different. Different things seem to make people feel secure, for example. We have so many different needs, desires and interests. It's not easy knowing what will make a person feel more free and at ease. In fact, we often don't know what to say when we in the presence of groups of strangers so we tend to simply look at the ground and avoid eye contact as we pass by. What specifically do we need to do to generate this love, this happiness, this sense of security with other people? Even when we know people, it is remarkably difficult to talk to them about certain issues and topics that are most important to us.
How do we talk about sex with our spouse or significant other? How do we talk about religion with the relatives? How do we talk politics with our friends? How do we communicate with those we love in an honest way and STILL keep the relationship intact? It isn't easy but it can be done.
If you are like most people you probably wonder why we all communicate so differently from each other. You probably would like some people to open up to you more and others to listen to you. Maybe most importantly, you probably already realize that as people we are more than animals, more than thinking machines and that there is something about us that makes us special. Finally, as important as our uniqueness is, there is also a collective quality that makes us feel as if we are related somehow to…everyone.
Understanding why people are the way they are, how they behave, appear as they do is fundamental to charisma.
The ability to accept others, to tolerate, to listen, to hear, to care for others is fundamental to lasting charisma.
There are reasons that we communicate the way we do.
We are all, in part, a product of our genes.
We are all, in part, a product of our environment including our peers and families.
We are all, in part, a product of our unique experiences. (Trauma's, Life Events, etc.)
We all have defensive attitudes that both help and harm us in communication. We all want love.
We all have suffered emotional pain.
We don't want to get hurt anymore.
Did you know that each word that is said to a person either strengthens or weakens the physical and emotional well being of that person? Your words and intentions are so powerful that you can change the state of being and the state of mind of virtually everyone you come into contact with. Your attention you pay to others can make or break them, in addition to a relationship.
We must all become conduits for nurturing ourselves and others. This trait is one driving force that makes successful people so successful. We can only do this through communication. For most people in the world our predominant forms of communication are verbal and non-verbal communication. There are, however,other forms of communication including reading textual documents like this manual and the very powerful communication in the realm of kinesthetics…touching.
Researchers have studied the value of various traits in those people that others find charismatic.
Beginning with personal relationships-
"The fitness value of potential social partners depends at least as much on non-physical traits — whether they are cooperative, dependable, brave, hardworking, intelligent and so on — as physical factors, such as smooth skin and symmetrical features," says Wilson. "It follows that non-physical factors should be included in the subconscious assessment of beauty."
To systematically consider the influence of non-physical traits on how people who are familiar with each other perceive physical appeal, Kniffin and Wilson conducted three studies of beauty involving people who know each other and people who don't. For all studies, the participants were asked to rate physical attractiveness and non-physical traits such as liking, respect and talent. Strangers rated only physical attractiveness.
In the first study, the participants rated people photographed in high school yearbooks, including one that belonged to each participant. In the second, members of a college sports team, as well as strangers, rated each team member. Finally, students in a summer archaeological excavation course rated each other on the first day of class and six weeks later at the end of the course.
"In each case, non-physical traits known only to familiars, such as how much the person was liked, respected and contributed to shared goals, had a large effect on the perception of physical attractiveness that was invisible to the strangers," says Wilson.
Each study provided an illustrative example of this finding. For instance, one middle-aged subject who had not seen the familiar person photographed in the yearbook for decades responded with absolute disgust when she recalled the person's character and described that person as ugly.
In the sports team study, team members considered the slacker to be ugly and one of the leaders to be physically attractive, while strangers, blind to the members' relative contributions, rated them as equally attractive on the basis of photographs.
And, after six weeks of working together on an archaeological dig, students' perception of physical attractiveness changed based on interactions during the course.
In a world where people are bombarded with messages about physical attractiveness from magazines, television and advertisements, the researchers say their results point to the influence of other traits on people's perception of physical beauty. Kniffin adds that he hopes these findings may encourage the consumers of this information to rethink the value of cosmetic surgery, especially if it involves risk.
At the end of their paper, the researchers offer this beauty tip: "If you want to enhance your physical attractiveness, become a valuable social partner."
Look at what that did for Abraham Lincoln.
"During his lifetime, he was regarded as so ugly that he once quipped, 'If I were two-faced, do you think I would be wearing this one?'" says Wilson. "Yet his physical features have become beloved, not because of their physical qualities per se, but because of what they stand for."
What you say and how you say it not only affects the experience of other people, but yourself as well. There is very little that you can say to someone that will ever be perceived as "neutral." Almost all communication is accepted at the conscious or unconscious level as "positive" or "negative." What this means for you and I as we talk to others is really quite profound. As we create positive and negative "energy" for other people, we accept the same creation for ourselves. (Jesus said it this way, "What you sow, also shall you reap.") In other words if the words and intentions we give to others are filled with positive energy then the effect on ourselves is virtually identical to that which was given. (Another famous quote, "The love you take is equal to love you make…")
This does not mean that if you communicate lovingly with everyone that they will love you. It means that if you communicate with love and integrity with all those that you come into contact with, that YOU will gain from the love and integrity from what you share.
Many millions of people are completely unable (with their present resources and understanding) to communicate in any way other than with a tone of hostility, for example. Your loving communication with an overtly hostile person will not likely result in the desired response. In fact, so many people have lost touch with their inner self that they are a detriment to society. These people often spend vast amounts of their life in prisons for crimes of violence against others. The difference is that their physical experience has led them for a multitude of reasons, to be careless in their actions toward themselves and others. The shell that encases that crying soul is so stone- cold that the pleading of the soul for attention and security is only understood at the conscious level as partaking in anti-social behavior. It is a sad and desperate state to be in.
Your true and inner self really needs to ultimately communicate honestly, with intention, with integrity, courage and confidence. We all need acceptance, and if you accept others as they are, you become a people magnet. In fact, you and I need both freedom and security. Your friends and family are craving for acceptance. They are cut from the same cloth that you and I are cut. Like you, your friends, family and fellow workers need your love, your kindness and your acceptance. All of us want and need love. All of us want and need to be cared for. All of us want to be independent. All of us want to feel safe and secure.
The charismatic communicator is that way because he is in tune with all of these feelings and states of mind. He has a powerful, "other awareness."
One element of communication I have found to be critically important is to listen. Listening for me is not a passive process. By this I mean, I don't wait for people to finish talking and then talk myself. In my practice I listen and write down questions and follow up questions on my note pad to constantly elicit more and more information about the person, their suffering, their internal experience, how others react to their illness and so on. In fact, in my first session with a client (whether therapeutic or as a business consultant) I might talk for 15 minutes out of two hours total session time. The reason is simple. People are sick in part because no one really cares to listen to them. I have found people feeling significantly better after leaving my office after a simple case analysis and not even having begun therapeutic "interventions." The reason? I really listen. I'm so curious and care so much about the people who I see that they know that they have a supporter in me. I'm someone who not only cares but I am an advocate for their health and welfare. I am a warrior for their future happiness and health. They know that I am really working with them to get better.
When you look around at your family and friends I want you to consider being an advocate for their happiness, health and welfare. How specifically can you listen better without feeling the need to add your own personal stories to theirs? How specifically can you create a "safe place" for communication with those you love? You see, we actually have to think about how to do this consciously because life hasn't always been good to us and we have had some experiences along the road that diminish our ability to communicate well.
10 Keys to Charisma
Have a virtually complete external focus of attention toward others.
Talk about others with your eyes and your words.
Talk about relevant issues to the current conversation at hand.
Avoid "I" language. Communicate with "you."
When people prod you go ahead and reveal one of your greatest personal resources whether a talent, skill, or ability that you have. But only with prodding.
Look appropriate to the setting you are in.
Intentionally care about each person you come into contact with. You can't fake this.
Walk with certainty. Not too fast. You aren't in a hurry. Not to slow. You aren't lazy.
Exude self confidence. When people see and feel self confidence they feel safe, secure and happy.
Be a beacon of personal mastery. You are confident, not arrogant. You have mastered your field, your niche, your product or service. You are THE go to person.
Help your customer, partners and those you care for,  feel special. They are worth it and you make them know it!
This is just the beginning. To master the experience of charisma, do look at the CD program below!
The Three Disciplines: Personal Mastery, Charisma, Self-Discipline with Kevin Hogan, Psy.D.

Discipline: "training, activity or regimen that develops or improves a skill".
There are many levels of excellence in life. Personal Mastery is a discipline that is developed over time and with experience; and with the help of the skill of Self-Discipline. The two work together to bring you to a level of excellence. Charisma and personal magnetism allow you to interact with others at a level of excellence and influential elegance that makes you the "go-to" person, the expert, the one in demand. For the first time, the Three Disciplines are offered as a package. 2 high quality digital audio CDs are dedicated to each area, for a total of 6 CDs plus a complete manual to accompany you on your journey.