Not only salespeople get burned out.
And burn out isn't only a business or work problem.
It goes way beyond that.
Today, in Part Two, you'll find out how to take down all three kinds of burn out.
Exhaustion. Plain and simple.
Wiped out…wondering if the dead have it easier and better…wondering what you are doing HERE…wishing someone would come in and scream and yell to break the monotony. Wondering if your brain will ever get back in its body….
It's hard to give a dictionary definition to "burnout"; but everyone recognizes it when they feel it.
And NO ONE needs to suffer from burn out any more.
There seem to be three basic kinds of burnout and there are very different considerations for the solutions to all three.
Which type of burnout you have will determine your path out of the misery.
The first kind of burnout is one of I've written about before. It happens when someone is working hard at something they don't "believe in" or even like. It's:
Living the Ethical Dilemma.
I talk to a lot of people who tell me that they are not happy doing what they do for a living …and then they go on to talk about their discontent; and I find out that it's not just one thing…or one problem that is easily fixed. Almost always, the problem is at more than one "level."
A lot of these people are in sales; which makes it doubly hard.
People suffering from Living the Ethical Dilemma see people in administration or customer service who don't have to actually sell an inferior product or service…then… they watch those other employees go home able to sleep at night…content to return to work yet another day….while they themselves go home after watching customers or clients go home with an inferior service or product.
Those who are Living the Ethical Dilemma, though…. are obligated to sell the product or service and not only pay for their own salary but those in administration…and that causes poor to mediocre performance in all but the most jaded of the individuals I've talked with in this "position."
If you are a sales manager reading this, and you see this in your employees, and your people have a misperception of your product or service, fix it NOW.
The resentment toward the company can easily cause self and other sabotage. The resentment toward the non-salespeople can also cause significant divisions in the company.
Here my suggestion has always been to ask for a transfer to another division where they would be selling something they were more on board with, or simply leave the company and take their talent somewhere they can stand themselves….
But here is where Living the Ethical Dilemma comes in.
It's not quite that easy.
What often happens is that (in this case) the salesperson is faced with leaving a job that is paying very well, even at minimum quota.
Trying to replace that income starting from scratch is going to be difficult, so they tough out the emotional/psychological aspects and produce at the bare minimum….often pumping up for the first week of the month and closing their eyes the last week of the month.
It isn't long before the person is "burned out."
Living the Ethical Dilemma is whether to take care of your family or "let them down" and go to work with significantly lower pay.
Not an easy dilemma…and yet…there is no long-term alternative. Eventually, the person with conscience must leave.
The person without conscience…develops a psychopathology where they are unfazed by their actions.
Little can be worse….
A second type of burnout doesn't happen for reasons of conscience, but for reasons of fulfillment.
We often do things that have some reward, but little fulfillment.
For example. A Psychologist might be rewarded by the therapy she does every day, but leaving the office after 9 hours of coping with depression is not fulfilling. It hurts.
This can all can accumulate and cause a HUGE dilemma…:
The Reward-Energy Dilemma.
The Reward Energy Dilemma leaves the person rewarded in some way at the end of the day, but drained of all energy…and a mid-afternoon nap isn't going to cut it in energizing the person, because this is about desires and motivations and fulfillment.
The psychologist might want to be writing books or riding horses for her livelihood when, instead, she does something she is "good at" and ends up…out of energy at the end of the day.
Here's a ….not "on the job"…but "back in school" example… that you may remember, as well…
I remember (vaguely) being in English Lit. or related classes, from 8th grade through college. Years of "English" and "Literature" were required to get in and out of college. So you took English/Lit. whether you liked it or not. Your reward? Getting into and out of college, of course.
I didn't like English Lit.
Didn't care about Shakespeare or Voltaire or any of the dead guys. (Gulliver's Travels, Dante's Inferno… and a couple others excepted…)
I remember (clearly) spending what were big bucks in those days on Cliff's Notes which were summaries of the various books that had an anesthetic-like effect on my brain.
Without Cliff's Notes, I never would have made it into and out of college.
I recently unpacked some old Cliff's Notes…ugh…and the faded yellow and black booklets brought back memories for this article…
Sitting in class, the various teachers of this…stuff…had a similar pattern. They would ask questions about the story line (which I could fudge when answering because of Cliff's Notes) and questions about "style" (which I simply said, "I don't have a clue how to describe….")
I worked as hard as I could to read the books, but my brain would often force me to read the same paragraph 10 times or more because the information simply wouldn't register or enter my brain.
8 consecutive years of English Literature and I don't recall one professor or teacher…their names, faces, nothing.
I had burned out….and early!
I didn't like what I was doing/trying to learn. I saw no reason or logical value in the classes. It made little sense to me why reading 400-year-old books would be relevant to just about any career I might find myself in when I "grew up".
STOP!
Read that again:
I didn't like what I was doing….
…trying…
I saw no reason…
…no logical value…
…made little sense….
…irrelevant.
That is the Reward-Energy Dilemma. If you hear yourself or someone you care about using those phrases, they are in a spin cycle that does NOT go up or recover on it's own.
Make sense?
Those are the code phrases and code words. Listen for them in yourself and in everyone around you.
My personal pain mirrored many others…It seemed like an exercise in futility to "label" various parts of sentences and paragraphs we would write. Subjects, predicates…and then gerunds, direct objects and participles that dangled.
I wondered as early as junior high, how any of these things ever could come into play in any part of life. Not only didn't I like any of it….there was no meaning or context in it for me.
I didn't like weeding the yard, but I could see a purpose to it. I didn't like shoveling the driveway, but I could see a purpose to it.
I sat there for hours… for a decade… doing work I absolutely abhorred and for what was almost certainly a total waste of life time…
Burned out at 12-years old…
Many people experience this in their work and become burned out.
There is a reward.
Money, perhaps.
Or maybe the person likes the people in the office. But they aren't being fulfilled and feeling good about their life.
The solution is for the person to eventually move into work that they like without creating a bridge that takes them out too quickly to destabilize their life…or too slowly to continue the burnout as it burns their life out.
The 3rd type of burnout; is this you?…:
Burnout Syndrome
Burnout Syndrome was named by Gail North and Herbert Freudenberger (I swear, that is the man's name!)
Here, the person can be burned out even when they find their work fulfilling and they love to do it. Over time, this person willingly puts in more hours, more time, more work, becomes better at the job and loves the work.
The perfect employee.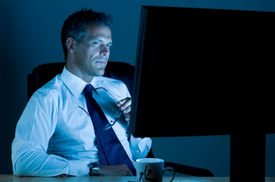 Unfortunately, this person leaves no time for anything except work.
This causes cognitive dissonance where the brain says it needs to have the family back or be doing yoga, but the body is working and working.
A revision of values takes place and working becomes the sole criteria for fulfillment. The person becomes isolated from friends and family and they become cynical and aggressive toward those in their environment.
This person becomes fearful, shy and apathetic and on the inside, they feel worthless. Their work after all serves no significant purpose at this point. They ultimately become depressed…maybe after seeking out addictions or wild behavior to solve the emptiness they feel inside.
There are a few ways to rise from burnout, according to Grit Vollmer.
First, simple things like eating well and getting enough rest go a long way. So often the burned out person doesn't take time for sleep or naps.
Next, a hobby or activity is a must.
Running, CD's, music, yoga, etc. Anything is better than the single-focus life that leads to depression.
Third, the person should attempt to bring a person or people into their life again. The burned out person needs to connect or reconnect with friends.
Finally, the ability to engage in self-hypnosis for things like progressive muscle relaxation can be very helpful.
Regardless of which of the three types of burn out you or someone you care about has…it's worth remembering that life is short, and, as John Lennon said, "This ain't no dress rehearsal."
And he was right.
Fix it now.
Eat Well
Get Plenty of Rest
Develop a Hobby or Regular Enjoyable Activity
Connect/Reconnect With People
Engage in Self-Hypnosis for Relaxation
---
Attend an online e-course with Kevin Hogan!
Learn about Kevin Hogan's Internet Marketing & Business Building E-Course
Details:
About Internet Marketing & Wealth Building
Apply Now: