(Oh…and Men Have a Problem, Too)
The differences between men and women, guys and gals, is one of the more fascinating areas of study.
There are the biological/genetic differences that influence behavior of men and women. Those differences fascinate.
There are the culturally influenced differences and those fascinate as well.
Then there are perception differences and real life differences.
Real life differences are, for example, how much money attractive women vs. unattractive women vs. men, in the USA control.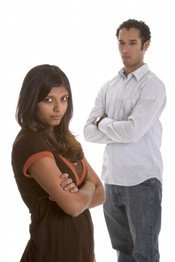 And there are perceived differences like how people feel about women losing their temper vs men flipping out.
(That's an intentional "MEN flipping out" for political correctness. If you pop that "flipping out" next to WOMEN you get streams of e-mail indicating insensitivity. I put it next to men, I get no e-mail from the guys because they know that they flip out. There will be fewer differences in negative perception of behavior when it's ok to write "women flipping out" but that will be awhile, so I'll stick with "men flipping out.")
Gender perpetuating behavior is also an area of fascination.
Just like we know that when the media release stories about how Christians tell their kids not to go see Marilyn Manson 10 years ago (he was in concert here)…and of course the stadium was packed because of the media telling about how evil MM is from the Christian perspective.
I loathe those days because people would rather air their opinion and suffer exactly what they don't want vs. shutting up and letting the stadium stay empty.
But you can't get people to shut up…ah well.
The article below is as important to read for men as women.
Why?
Because of the final conclusion of the study which reveals a scary fact about how people (men and women are both people) perceive men.
For both men and women the research is crystal clear as to what you need to do if you are to thrive in the biz world.
Study Shows Perceptions of Angry Men vs. Women
From Yale…
Studies suggest women, but not men, lose status in the workplace when they get angry.
Whether you are running for president or looking for a clerical job, you cannot afford to get angry if you are a woman, Yale psychologist Victoria Brescoll has found.
Brescoll and Eric Uhlmann at Northwestern University recently completed three separate studies to explore a phenomenon that may be all-too-familiar to women like New York Senator Hillary Clinton:
People accept and even reward men who get angry but view women who lose their temper as less competent.
The studies, published in the March 2008 issue of Psychological Science, provide women with recommendations for navigating emotional hazards of the workplace.
Brescoll says it pays to stay emotionally neutral and, if you can't, at least explain what angered you in the first place.
Does Being Seen as "Angry" Hurt Women?
Clinton's presidential campaign has put a spotlight on the question of whether anger hurts a female candidate. The answer, according to the studies, appears to be an unequivocal yes – unless the anger deals with treatment of a family member.
"An angry woman loses status, no matter what her position," says Brescoll, who worked in Clinton's office as a Congressional Fellow in 2004 while she was preparing her doctoral thesis on gender bias. She noticed over the years that women pay a clear price for showing anger and men don't.
In the studies, men and women were shown videos of actors portraying men and women who were ostensibly applying for a job. The participants in the studies were then asked to rate applicants on how much responsibility they should be given, their perceived competence, whether they should be hired and how much they should get paid.
Both the men and women reached the same conclusions: Angry men deserved more status, a higher salary and were expected to be better at the job than angry women.
When those actor-applicants expressed sadness, however, the bias was less evident, and women applicants were ranked equally to men in status and competence, but not in salary.
Brescoll and Uhlmann then compared angry job applicants to ones who did not display any emotion. This time the researchers showed study participants videos of both men and women applying for lower-status jobs. The findings were duplicated: Angry men were valued more highly than angry women no matter what level position they were applying for. However, the disparities disappeared when men and women who were emotionally neutral were ranked.
Can Anger Be Explained Away?
A final study showed another way bias against female anger could be mitigated. When women actors explained why they were angry, observers tended to cut them more slack.
Men: Pay Attention!
However, Brescoll noted a final gender difference: Men could actually be hurt when they explained why they were angry – perhaps, says the Yale psychologist, because observers tend to see this as a sign of weakness.
– adapted from a Press Release from Yale University, By Bill Hathaway



I've identified 12 of the life patterns which cause us to trip up – and make the same mistakes again and again. To discover which of the 12 patterns you have been the victim of and how to eliminate self-sabotage in your life (or those of your clients) you can pick up the CD program and workbook, LIFESTORMS: The Paradox of Overcoming Self Sabotage to Achieve Love, Power, Money and Happiness.
Lifestorms: 12 Obstacles to Achievement: The Paradox of Overcoming Self Sabotage to Achieve Love, Power, Money and Happiness.
by Kevin Hogan
3 CDs in this program – and it comes with a BIG WORKBOOK! And now, get a free Lifestorms DVD presentation with your order!
Discover why life often brings you exactly what you don't want…and how self sabotage can hide around every corner. Some people have guessed at the bizarre nature of self sabotage. Guess no more. Self sabotage is very real in everyone's life. It is completely devastating and 100% resolvable!
Do you ever know you should start on a project but don't?
Do you have projects that you have started but never finished?
Do you ever say the one wrong thing at the wrong time?
Have you ever had things going well in life only to have everything blow up in a day?
Have you tried to be so careful not to make a mistake that you were shocked when you made a truly costly one?
Have you ever promised yourself to stay out of trouble in some way only to find yourself in the same trouble or worse again?
Now you can discover your own life patterns so you can eliminate unconscious self sabotage immediately. This program will break the heavy chains that hold you from your dreams and your goals.
This program is the first program ever made public that shows you how to identify specific self sabotaging behaviors and negative life patterns. Better? You can ultimately erase those life patterns and rewrite new "schemas" into your brain that will allow you to meet your goals and experience fulfilling relationships.
Here is what you will learn:
How to identify which of the 12 negative life patterns you live.
How to find the triggers of the lifestorms that you just can't believe you experience.
How to change the self sabotage into success, happiness or something productive.
How to remove almost all obstacles between you and your goals.
How to understand those around you so you don't push their buttons.
How to predict your behavior and that of others.
How to actually achieve your goals so they are more than just a dream.
No one anywhere has ever put such a program on CD. There is not one person anywhere who can't utilize every minute of this insightful information. These three CD's are packed with the most powerful tools for getting past life's roadblocks and personal sabotage ever imagined. Anyone can utilize this information and I personally guarantee that if you follow the instructions you will not experience self sabotaging behavior anymore. Your goals become reality at speeds faster than you ever imagined.