Where did the concept of "affirmations" begin?
If you or your team are already winners, you aren't going to be "affirming" your Self in some semi-honest fashion, correct?
The Underdog – Can He Overcome?
The great team plays an average team this week.
The average team's fans go wild. Maybe they have a chance at the title…but the average team doesn't seem to be exerting their best effort to defeat the excellent team. In fact, the excellent team seems to be playing better than ever, and ends up claiming the title yet another time.
But wait a minute.
Don't teams "play up to their competition?"
Do Affirmations Have Power?
Doesn't the underdog work harder to win?
And if not, what about using affirmations? Certainly, affirmations would do the trick…
I mean…after all…EVERYONE KNOWS affirmations, especially positive affirmations, cause you to win, make more money, be smarter and even better looking…right?
Robert Lount of Ohio State and Nathan Pettit conducted a study at Cornell University, seeking to explore issues in motivation.
They found that members of a superior group will work on average 30% harder when competing against inferior groups, while the inferior groups will work less.
This seems counterintuitive at first.
Why would the superior, higher status group work harder when they probably don't have to?
Why wouldn't the inferior, lower status group want to work harder to perhaps win the competition?
More to Lose
Think about your real world experience.
In the last decade, the last two decades, people who are wealthy tend to get wealthier and people who have very little for whatever reason, tend to be less well off.
Politicians try to legislate behavior and "fairness" by penalizing those who work the hardest to compensate for those who don't.
But it has the reverse effect.
You can't tell people they are "middle class" and hallucinate they will "do better." That's not going to happen.
And in fact, where the middle class paid 11% of all taxes in 1980, they paid just under 5% of all Federal Taxes in 2010.
The researchers at Cornell might or might not agree with that assessment but here's what they specifically found happened when they did the research:
The members of the superior group have more to lose.
If they are defeated by a lower status group, they will lose their feelings of superiority.
This is a huge threat…if the better team loses, they will no longer be the best. They will no longer be seen as the best.
The members of the inferior group have nothing to lose, if they are defeated yet again, they are just maintaining their status.
Lount reported that members of mediocre teams didn't perform better or worse against superior or other mediocre teams. There was no big difference.
He also reported that it was only when pitted against weaker teams that motivation INCREASED.
And that brings us to AFFIRMATIONS.
Why Affirmations?
Why did people start using affirmations, anyway? Where did this concept come from? French pharmacist Émile Coué, back in the late 1880's introduced the phrase, "Every day in every way I'm getting better and better," as part of therapy for his patients. His thought was that this autosuggestion would assist people in healing themselves.
The concept caught on, especially with exponents of hypnosis. Many of today's movements (Law of Attraction/The Secret) gleefully promote the concept of affirmations as an easy way to improve your life!
What Does the Research Show?
In the Lount/Pettit study, before completing tasks, participants in the superior group either wrote a self-affirmation, group affirmation, or no affirmation.
Lount said these affirmations were designed to make the participants feel secure in their group identity (the group affirmation) or feel like they were personally moral and competent (self affirmation)
A control group did not write an affirmation.
The affirmations were centered around a core value of the group or themselves.
People that wrote these affirmations completed less work than people that didn't write the affirmations.
How could THAT be?
It was as if these affirmations protected the participants against perceived threat.
Affirmations Act as a Buffer
In the university press release, we found out that when students competed against a lower-status group, those who completed self or group affirmations finished less of the task than those who did no affirmations.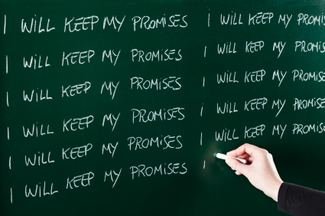 Writing the affirmations made the students feel like they were good members of their group, or that their group itself was good, Lount said. Because they no longer felt threatened, they didn't feel they had to work as hard to prove themselves when competing against the lower-ranked team.
"The affirmations act as a buffer against threat," Lount said.
Meanwhile, students in this study who competed against higher-ranked teams showed no difference in how much of the task they completed, regardless of whether they wrote affirmations or not.
"Comparisons with lower-status groups pose a significant and unique threat," he said.
The fascinating study that was reported in the Journal of Experimental Psychology once again revealed that "positive affirmations" backfire.
What Do You Have to Lose?
And it seems to be telling you that if you want your team to win or perform better…if you want to do better, it might be wise to consider what you have to lose as far as status.
Are affirmations always a disaster?
No, there is a proven way to use Self Affirmation in certain specific situations that can really pay off.
You'll find out about when to use and absolutely when not to use a "Self Affirmation" next time.
---
Attend an online e-course with Kevin Hogan!
Learn about Kevin Hogan's Comprehensive Wealth Accumulation E-Course
Details:
About the Wealth Accumulation E-course
Apply Now: