The arrow at the bottom of the last page was supposed to be pointing to the right. It interrupted your pattern. If you clicked on it, you went to page 3. If you clicked on the "5" you got here.
Rules can be valuable but rules don't always get you to your destination in life. Sometimes you have to yield your irritation about the roadblocks in life. Sometimes you have to take the alternate route.
It's not good or bad. It just IS.
Real Life Thinking
If you see the cup as half full, look again. That's before taxes, insurance and someone else takes a drink of that water…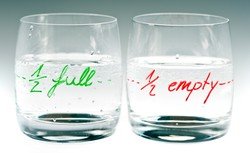 "The glass is half full."
"The glass is half empty."
Exactly. They are both correct. The difference comes only in that they are elementary frames. You'll think far more astutely than these remedial options.
When the waiter sees YOUR glass half empty, I hope HE doesn't think, "Ah it's half full, no need for a refill!" I would imagine that you prefer a "pessimistic waiter".
And whether he sees the cup as half full or not doesn't make him an optimist or a pessimist. He sees a glass that is 3/4 full and KNOWS it needs to be filled.
That's the difference between remedial thinking and real life thinking.
There is a time and a place for framing objective reality. But there is a time for viewing the world accurately as well.
Recent research has FINALLY teased out the answers to a lot of the "should I be an optimist" questions, or not.
Pessimism or Optimism?
Without both pessimism and optimism, there will be no achievement.
We'll use different words and phrases later in this series of articles to better describe specific attitudes and thought processes that generate achievement.
I don't like either word. They aren't all that useful as descriptors and they are both emotionally loaded.
I don't want to spend a great deal of time discussing popular notions of "optimism" and "pessimism," but it helps to ground yourself in Real Life Thinking by observing what the rest of the world is doing, and not doing all that well.
Let's start on the "pessimism" side of the Pessimism/Optimism spectrum.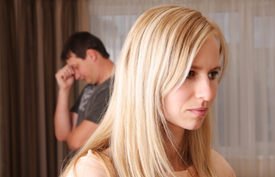 Pessimism can either be about yourself or others. In it's extreme, pessimism can move from doubt about others (their ability, dedication or likelihood to achieve, in our case) to a jaded negativity about their intent.
Cynicism has that almost sinister (catch the sound alike? I wonder about the etymology!!!) sound…. But there is no doubt that cynicism in tiny doses, doesn't have to be anything like an evil "filter."
In fact, without a few healthy doses of cynicism, the bad guys run over the good guys and the world isn't a better place. Being on guard is a useful place to be when it comes to your livelihood and what it does for your family. A lot of people are *not* well intentioned and don't have your best interests at heart.
You must move from pessimism and optimism to Real Life Thinking.
At the correct time, pessimism and even cynicism have value…but what about the big O…ptimism? Is there a difference between these three things and a "Positive Mental Attitude" or a "Negative Mental Attitude?"
Errant Attitude Choice and Wishful Thinking
For some people what I introduce here will simply be obvious. To others it will shake what you might believe. What's commonly referred to as a Positive Mental Attitude doesn't cause people to win. It doesn't cause people to perform better. It doesn't accomplish.
But before I dismiss it, I want to say it has a place.
When people are suicidal or in the depths of despair, there is nothing like Norman Vincent Peale's, "A Tough Minded Optimist" to help give them hope. Optimism has it's place and that place is more often than not in how you communicate with others and not how you communicate with your Self. Optimism does have a place.
That said, let's get to achievement.
Here are some results from research studies that dug deep into attitude.
1) Job Seekers who visualized finding their dream job – After 2 years they were much less likely to have a job than those who did not visualize at all. Those who did were making less money than those who visualized nothing.
2) Surgery patients who were pessimistic about their rehabilitation did better and experienced less pain than those who visualized otherwise.
3) Students who visualize doing well in school and getting good grades on exams, do significantly worse than students who don't.
Study after study shows that top athletes who rip on themselves after they have an event tend to go further in their sport than those who have a "positive self talk."
What you say to your Self DOES matter. The problem is NO ONE is telling you the right things to say to your Self or when.
The exception?
When the event is a long way off, it's good to see yourself succeeding. But as you approach the event you must find weaknesses in your performance and repair them. You must push your Self harder to be prepared to compete.
The brain that saw itself winning the game…already won…so be CAREFUL…it might not need to win again.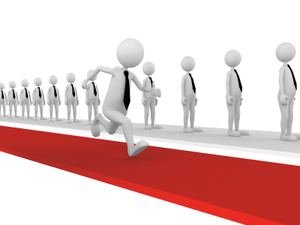 Beginning with The Psychology of Persuasion, I've shared with you that the most important factor in getting YOUR OUTCOMES is FOCUSING ON OBSTACLES.
Winners figure out WHAT the obstacles are going to be and WHAT they have to do to overcome them.
And then they creatively find more obstacles and more ways to overcome.
If a Positive Mental Attitude is about having a sunny disposition prior to or during performance, then it's something you don't want, if achieving or winning matters.
It's virtually guaranteed to cause you to lose.
If a positive mental attitude is something that says, "I have found a way to overcome the obstacles," then indeed this person will likely be a winner.
What most people consider "an optimist," I am not.
It makes no sense if these are the kinds of things you would be saying to your Self.
At no time do I say, "The lottery will strike here."
You will never hear me utter, "Just believe and it will happen."
I don't even consider, "Expect a miracle." (By definition miracles are miracles because they are rare.)
The common thread: When you are out of control and putting your life, your relationship, your business, your money into someone or something elses hands without an initial dose of cynicism, you are acting foolishly and discharging responsibility.
Control
Control is the focal point and personal generator of learned optimism which in my mind refers to "capacity" and "capability." In other words, you WANT to know that you have the capacity to accomplish and that you are personally capable.
This is my definition of optimism because it is REAL.
Real Life Thinking is about YOU.
When you are in control and decide to eliminate self doubt, you can and will create your own lottery in life. You will overcome obstacles and persevere.
Self Cynicism (which is really about potential competence and intention) when it comes to you must change NOW. You don't go there any longer.
Control means you have 100% responsibility for doing everything you canto meet an outcome. It doesn't mean you have 100% control. No one has that much of anything in life.
You can't change the storm on the sea. You can only maneuver your boat in such a way that allows you and those you love to survive and then thrive when the storm passes.
Bad things happen and they happen a LOT.
But because you have taken control, taken responsibility, and planned for the obstacles and their defeat, you virtually assure your achievement.
When you start to think that you "can't do it," when it's reasonable that you can, then you must recognize that and change by DOING. Only by doing do we take control.
Real Life Thinking
Real Life Thinking can be potent. It's not about some illusion or invisible magical thinking.
It is about evaluating results and refocusing for the future.
Real Life Thinking means you KNOW bad things will happen. Period. When those bad things happen, you will step up to the plate and work hard to pick up the pieces after the storm and get right back to moving toward your outcomes.
Real Life Thinking means you do NOT personalize and then generalize defeat. Sure it might be your responsibility that you lost XYZ. But that doesn't mean that YOU are "the problem." You tripped. Big deal.
Having lost at one thing today doesn't in any way need to mean you will in all aspects of life.
Real Life Thinking means you don't put eternal life into defeat. Today's defeat is today's defeat. Period.
Similarly, Real Life Thinking doesn't mean that you ignore your results. It means you go to work on where and why you failed. You correct. You practice. You rehearse. You rehearse with tough competitors. You rehearse in front of an audience. You are smart enough to know that talking to yourself in the mirror is NOT the same as talking to the client face to face.
NEVER let yourself entertain beliefs that today's failure is pervasive, permanent or personal. It's not if you begin preparing to achieve by evaluating then planning to defeat the obstacles that await..
There IS one surprising kind of magical thinking that pays off. Next week I'll take you there and you'll never be the same.
---
I've identified 12 of the life patterns which cause us to trip up – and make the same mistakes again and again. To discover which of the 12 patterns you have been the victim of and how to eliminate self-sabotage in your life (or those of your clients) you can pick up the program below.
Lifestorms: 12 Obstacles to Achievement: The Paradox of Overcoming Self Sabotage to Achieve Love, Power, Money and Happiness.
by Kevin Hogan
3 CDs in this program – and it comes with a BIG WORKBOOK! And now, get a free Lifestorms DVD presentation with your order!
Discover why life often brings you exactly what you don't want…and how self sabotage can hide around every corner. Some people have guessed at the bizarre nature of self sabotage. Guess no more. Self sabotage is very real in everyone's life. It is completely devastating and 100% resolvable!
Do you ever know you should start on a project but don't?
Do you have projects that you have started but never finished?
Do you ever say the one wrong thing at the wrong time?
Have you ever had things going well in life only to have everything blow up in a day?
Have you tried to be so careful not to make a mistake that you were shocked when you made a truly costly one?
Have you ever promised yourself to stay out of trouble in some way only to find yourself in the same trouble or worse again?
Now you can discover your own life patterns so you can eliminate unconscious self sabotage immediately. This program will break the heavy chains that hold you from your dreams and your goals.
This program is the first program ever made public that shows you how to identify specific self sabotaging behaviors and negative life patterns. Better? You can ultimately erase those life patterns and rewrite new "schemas" into your brain that will allow you to meet your goals and experience fulfilling relationships.
Here is what you will learn:
How to identify which of the 12 negative life patterns you live.
How to find the triggers of the lifestorms that you just can't believe you experience.
How to change the self sabotage into success, happiness or something productive.
How to remove almost all obstacles between you and your goals.
How to understand those around you so you don't push their buttons.
How to predict your behavior and that of others.
How to actually achieve your goals so they are more than just a dream.
No one anywhere has ever put such a program on CD. There is not one person anywhere who can't utilize every minute of this insightful information. These three CD's are packed with the most powerful tools for getting past life's roadblocks and personal sabotage ever imagined. Anyone can utilize this information and I personally guarantee that if you follow the instructions you will not experience self sabotaging behavior anymore. Your goals become reality at speeds faster than you ever imagined.
Learn More About Lifestorms or to order