A Woman's Body Language is Critically Observed
Men and women are viewed very differently by others.
A man performs behavior X, and he is perceived in a certain way.   When a woman does the same behavior X,  she is perceived dramatically differently.
A key challenge women face is the temptation to emulate men and anticipate the same response from those observing her.
How Are You Judged?
From the second you notice someone, you judge them. You judge them innocent or guilty of all kinds of traits and characteristics.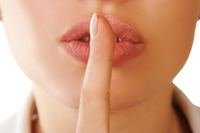 It's from this vantage point you'll learn how most women are perceived performing different kinds of behaviors.
1) Voice Judgments – As soon as a woman begins to speak, judgments expand and solidify. Here are typical characteristics and how they are experienced by others:
a) Nasality – The Boston/New England woman is at great disadvantage if she doesn't consciously retrain herself to speak with a more Midwestern tone. Nasality is perceived almost universally as bad.
b) High Pitch Tone – Women who speak at a high pitch are seen as dynamic and extroverted. There are minor negatives here but overall, this is a high positive.
c) Pompous/Bombastic sounding voices in women cause her to be seen as humorless but lively. Net: Neutral.
d) Throaty sounding women are perceived as ugly, boorish and uninteresting. Net is a high negative.
e) The Tense voice in a female is perceived as young and emotional.
f) The Flat Voice in women is perceived as negative.
g) The Thin Voice in women is perceived as emotionally and socially immature but it is associated with an increased sense of humor.
h) The Breathy Voice in women is perceived as feminine and shallow.
A Totally Different World
In most cases, men exhibiting the same speaking characteristics are seen in a completely different, sometimes opposite light.
Lesson: Be yourself from the point of view of character and integrity, *but* make shifts in your vocal expression to improve perception from others.
At University I took a Voice and Articulation Class. My problem? I spoke as if I was from Chicago because I was… The Midwest tones were fine, but my articulation was not so great. Six months later I had broken most of the poor speaking habits.
I would encourage women to take a similar class and train your voice to gain the results you want in life. Your voice could be a current asset. It could be a train wreck.
Eyes – A Window to….
2) Eye Contact – Women's Strength…Unless…
In Western Culture, good eye contact is a high positive. Women naturally tend to connect better than men. This is one edge women possess "over men" in communication. All things being equal, good, consistent eye contact is a natural trait that can be utilized skillfully.
However, if women try to emulate the Visual Dominance behaviors of men, they will be seen as coercive, and that is an enormous net negative.
A high Visual Dominance Ratio means that when speaking, your eye contact increases; when listening, it decreases. This is one evolutionary strategy dominant men are seen exhibiting. BUT, for women to replicate this is a Titanic mistake in the making.
The Way You Take Up Space
3) Space – Women take up about 2/3 as much space as men do. To begin with, women are smaller creatures than men. Their reach doesn't extend as far as a man's and this fact should be always in awareness.
Utilization of space is one of the most important factors in the perception of power. In this single category of nonverbal behavior, women should learn to sensibly "take up more space." Doing so will increase the perception of authority.
How?
Traditionally and historically, women cross their legs, cross their arms and tend to "fold in on themselves."
They condense. They place their elbows at their sides. IF the purpose in a given moment is to cause a change in the perception of a woman's power, CHANGE these key factors.
This is also true for the "social bubble." Women tend to require less of a bubble in business than men. For most women, this causes a reduction in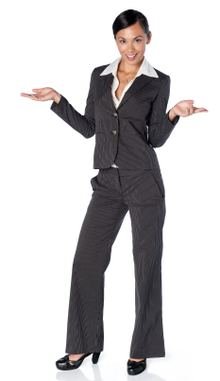 the perception of power. Expand the bubble out as much as one foot and notice the difference in how people communicate with you.
Learn How to Play "Chicken"
4) Women in Crowds – Expanding on the concept of space expansion, women have not evolved to get good at playing "Chicken." In crowds, women tend to completely give way in "chicken" 2/3 of the time.
This is one other area where behaving like men can pay off in the power department. There aren't a lot good options for women in displaying power. This is one that is.
Rule: When it's time to play chicken, don't give.
Pay Attention When You "Touch Yourself"
5) Women and Object Adaptors – Everyone fiddles. I fiddle with a pen. I don't wear jewelry, so I have very little to "hold" or "touch" in a high stress situation.
Women wear watches, broaches, jewelry, hair ties, hair clips, ankle bracelets and a myriad of other things.
Here's the simple rule: Don't TOUCH your various adornments if you want to be believed and respected.
Did you show this body language on purpose?
Maybe you thought you were just standing.
You may not have meant it but here's what "message you sent" while you were "just standing."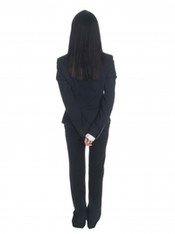 You had your arms extended down in front or behind you and you had your hands clasped together, creating a "V" shape.You were seen as open and innocent in the conversation you were having and viewed as involved by the person watching you from afar.
Of course you didn't *intend* for this message to be sent…but that's what it was perceived as in the other person's mind….and that's why it's so important to think about what message you really want to send.
You raised your hand to grasp your forearm, just a few inches from your hand, changing the "V" to a short "9", and now you are seen as less interested by the person you are talking to and more available by the guy watching you from the other side of the office or hallway.
You stood there and fiddled with your hands, scratched your forehead, itched your nose or perhaps touched your ear. The person you were talking with saw you as anxious or nervous and probably dishonest….whether you were or not. And the guy in the restaurant who has been paying attention to you believes you want to get away from the person you're talking with, male or female.
You anchor yourself to the wall, leaning against it while you talk, and the other person is certain you are interested in them. You are not going anywhere and are at worst required to listen and at best, comfortable being there with them at the moment. To the guy on the other side of the room, he sees you as unavailable and will put his efforts elsewhere.
Standing with hands on hips? You probably weren't thinking it mattered but it did. It was probably seen as being a bit overbearing, maybe even angry or hostile. If that was what you were shooting for you got it right.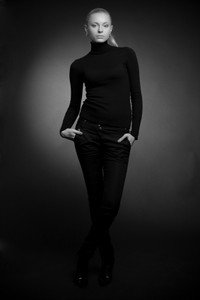 Standing with one hand in a hip pocket? They probably read that as having some interest, but not fascinated. You were a fifth wheel perhaps. You weren't experiencing anything intense. The guy on the other side of the room sees an opportunity.
Standing with both hands in hip pockets. That's a very confident gesture. You've fully exposed yourself and have offered vulnerability but probably feel much stronger. It's in-control flirtation and is an invitation to the guy watching (though obviously not while you're still talking to the gal at the water fountain.)
You begin to walk away and you are moving with short strides. That's an invitation for anyone to come and talk to you, even the guy across the way.
You walk with medium length strides and speed. You are on purpose, intentional, in control. You could certainly talk with someone and be approached but if you kept up at that speed, it's all business.
You answer your cell phone and begin walking quicker with longer strides and you are now unapproachable. You are in a hurry and have clearly sent the message to everyone including the guy watching across the way.
You stop and talk with someone else and you lean back away from them and you send the message that you aren't comfortable with them. Perhaps you were taken aback by what they said. Maybe surprised. But if you don't retract to vertical, you have sent your message of "not liking it," "not interested."
The next person you talk to, you lean into them, not your head on their shoulder, but just a little and you have now told them they are important, liked and that you are interested. Did you get TOO close? Then you broke into their personal space and you have sent a different message.
Later you connect with another person and you are seen touching your lower lip with your straight as an arrow index finger. You are perceived as being interested, thoughtful, pondering, considering. You are seen by the guy observing you as not remotely interested in him, but whatever is at hand.

Put that index finger one inch higher and you are telling someone "shhh" and that is a very powerful intentional message. If you were "aiming" that message to the guy on the other side of the room, you have given him
a great opening to come and say hello. If you were making that gesture with the person directly opposite from you, well, you've basically told them you want to talk but are locking down your mouth until their uninteresting story is completed. Then you will talk.
Now what about some of the strange behavior women exude?
When she's not moving her arms as she walks, clearly there is a tension in the body, maybe something is on her mind. Anger will often be at the root of this. This is true of other stiff behaviors. Extreme anxiety can also be at the root of this. When people are panicky they will often try and "freeze" to appear under control. General nervousness is better correlated to fidgetiness, scratch, itch and touch gestures.
The "slow walker," assuming they are physically able, is utterly unaware of how their behavior is impacting those around them and should be a good indicator that they live in their own world while finding yours unimportant enough. The same is true for the individual with short strides.
None of these women are perceived as comfortable to be with or even competent. Avoid these behaviors.
The "spring in your step" phenomenon is truly one of happiness or giddiness. There aren't a lot of behaviors that give away a truly "up" feeling, this is one. People who are sad, angry or nervous simply can't do this.
---