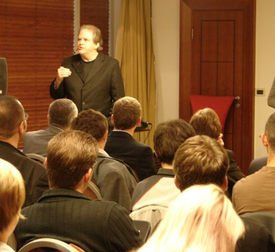 Kevin Hogan In Person
London, Thistle Hotel
Saturday 24 October (12PM-6PM), Sunday 25 October (9AM-4PM)
The Two-Day Seminar that gives you specific strategy and numerous tested tactics to grow your business. Because of the format and limited number of participants for this event you can get answers to *your* questions.
A unique opportunity to learn how to successfully launch, maintain and grow your seasoned or brand new practice or business.
It makes no difference if you are a tested entrepreneur or if you are simply getting ready to get off the hamster wheel. What's here for you is a remarkable weekend that will lay out specific strategies and laser beam tactics to watch your practice grow….on a shoestring.
I always believed that anything I did to promote my work needed to pay me or at LEAST be free. Having sold advertising, and left the field, I was well aware that advertising simply doesn't pay for the entrepreneur, the person with a small practice and frankly it fails for most larger companies as well. That's why all of your magazines are so much thinner this year than last year. It's just reality.
The skills and talents you possess are too valuable to let them waste away. Even more importantly, you deserve to live the lifestyle of your choice.
With the use of your voice, image, mind and certainly, the Internet… you can add thousands or tens of thousands of pounds per year to your practice. This is true whether you are starting from Day 1 or Year 30.
I enjoy consulting and coaching. It's fun to watch people grow their businesses and professional practices. I enjoy it. I've always been pretty good at looking at a problem someone is having and showing them what to do to solve it and then take the proverbial lemons and make from it, lemonade.
I'm coming back to the UK to show you exactly WHAT to do and then specifically how to do it.
Step by step, nothing left out. No mysteries.
Important: You'll learn how to optimize everything you do so that when you take an action you can "leverage" that action in several ways.
That means when you use the strategies and tactics I show you, you'll be able to get paid two and three and four times for taking one action.
If you do this you will achieve the income you want. If you don't, you won't.
Did you know that you can get paid for almost ALL of the advertising you do in the UK and Europe? (I do and I'm from the States…)
If there is anything I've taken advantage of in my career, it iss this: Get paid to advertise and market. I hated the idea of cold calling and once I quit, I never went back.
That becomes the first principle in growing a thriving practice/small business:
Get paid as often as you can and as much as you can to grow your business.
In the last 20 years, I estimate that I have spent less than £2000 on advertising and marketing. And still…a handsome income for years.
There is nothing I did that you can't do and do better. There are a lot of deficits and drawbacks that I possess that most people don't.
The tuition for this two day event is just £997.00
However, you will qualify for a significant online discount if you apply prior to October 4, 2009.
Early registration allows you to attend for half price, just £497.00 on or before October 4 – a 50% savings!
Book your place now: Register Now
If you are willing to be interviewed by media, mail about 10 handwritten letters per month, have a few small web sites with my VERY SPECIFIC instructions about design and strategy, AND if you are willing to return calls QUICKLY, you can start to do precisely what I have done.
In two days I will give you the tools that will enable you to market and promote your business.
Here's the one obligatory bullet list for you:
You will learn to:
Establish Yourself as an Expert so Media and Potential Clients Call you FIRST
Numerous Secrets to Writing Attention Getting Copy for your Website that will virtually guarantee people requesting your services.
Write letters that will land you 2-5 presentation opportunities for every 10 letters you send, to the groups of people you will serve.
Get on the radio FREE, for One Half hour per week…or more
Build A REAL Referral network among consultants and coaches internationally, building by reputation and not just where you live. (People pay you more money the further they work from where you are.)
Write articles that compel people to call you immediately upon reading them.
I want to give you all the "secrets" I have used to build a very large and profitable consulting and coaching practice. I would like to show you how to earn £200 per session hour in this recession.
You'll need the simple basics of letterhead, envelopes, a computer, the web, a printer and a phone. If you have that, I can show you the rest. You won't have to call potential clients or ask for referrals. They will CALL YOU.
It's a system.
It's not particularly complicated.
It is definitely counterintuitive and easier to make happen than you would have guessed.
The tuition for The Edge is just £997.00 at the door, and if you register NOW it is £497. That's it.
There are hundreds, perhaps thousands of testimonials at www.kevinhogan.com I will spare you the space and let you go there and look til your heart's content.
This event requires a smaller number of people to offer as much individual attention as possible. Therefore, there really IS limited space. If you don't know me or at least my reputation, don't apply.
If you DO, then I want to see you in London!