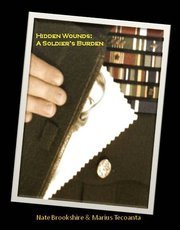 Thank you for your support of the book, Hidden Wounds: A Soldier's Burden. The book is currently slated for official release November 15. We will be holding an online promotion in order to take the book to #1 on Amazon that day! Your help will ensure the book's success.
On this page, there are two ways you can help:
1) Participate in the book promo by offering a free downloadable online item which we will offer to book buyers. And, 2) Submit a positive quote about the book for inclusion on the web site and/or inside the book!
Fill out the portion of the form that applies to you. You may submit both a bonus item and a quote (we would love that!) Thank you!
---
Submit a Free Bonus Item for the Promo (How It Works)
1) Submit the description of a bonus item that you will give away FREE to visitors that participate in our Amazon book promo in November 2011. Your free bonus item will be part of the package of free bonus items that people will enjoy when they participate in the promo by purchasing a copy of the new book, Hidden Wounds: A Soldier's Burden!
Please be sure to set up a special page on your web site where visitors will come and collect their bonus. Remember, the bonus must be free (no cost to the visitor.) You may collect their name and e-mail address for your e-newsletter, if you wish.
It's simple to submit your bonus description and photo (if applicable) and reserve your spot in our promo. Fill in the form below. Please enter a dollar value for your bonus. What would it be worth IF you were selling the item? Be as precise as possible. For example: $17, $47, $97. Then write a few lines of persuasive copy for people to get their bonus. Conclude with 1-3 lines about yourself, example: 'Kevin Hogan is the author of The Psychology of Persuasion.'
On November 1, you will be sent the promotion e-mail copy which you can use to send to your e-newsletter list on November 14/15. Please contact Katie at katiechogan AT aol DOT com if you have further questions.
Fill out the form below. Hit submit.
AFTER you have submitted the form with your bonus description, you'll see a link that says "Submit Photo". Click on that link if you'd like to e-mail a photo of yourself or of the bonus item.
Submit a testimonial/quote about the book!
2) Submit your quote in the appropriate box on the form. You must provide your name and e-mail address.
---
---
We're adding Partners Daily! Our partners have committed to offering their newest, freshest, most valuable bonuses released to date. Here's some sample ads of what they're offering or have offered in the past:
Sample Gift Ads
Special Gift from Kevin Hogan

Gifts From Kevin
Stress Vs. Success: Which One is Winning in Your Life? "Everything you now have or ever will have, become, do, or experience you will get with and through other people. Life IS persuasion." Kevin Hogan.
A one-hour interview on VoiceAmerica with Margaret Lynch. Get Kevin's take on Unconscious Blocks to Wealth.
Blocks to Money and Wealth
Unconscious Conflicts to Goals
How Much Wealth or Success Are You Comfortable With?
Fear of Success: How Much is it Holding You Back?
Are YOU Seen as a Credible Expert?
Showing Your Flaws: Yes, or No?
Authenticity is Key to Success
The Secret Language of Influence and Success
What it Really Takes to be a Millionaire
What about the "Law of Attraction"?

Listen to this special audio interview that aired on VoiceAmerica. Now presented here for you! Downloadable MP3.
(Value – $29)
Plus….get these signature items from Kevin Hogan…

Time for Love, Time for Money. Is your life in balance? Do you have a "to-do" list or do you have a "get-to-do" list? Would you like to know the secrets to spending more time with your family by providing a life of wealth and abundant time production? You get to listen in on a 2-HOUR teleseminar Kevin offered only to an elite group of Coffee with Kevin Hogan readers.

Covert Hypnosis: The Master's Techniques. What is Covert Hypnosis? Persuasion's most subtle and unseen elements are uncovered. An unusual and rare opportunity for you to hear Kevin Hogan talk openly about Covert Hypnosis and the techniques used by the masters. 60 Minute Audio.
Get your Preview of The Science of Influence: Influence in Action! This is Kevin Hogan on an hour-long interview that reveals what's offered in Part IV of the cutting edge CD program, The Science of Influence. This is material you will not find anywhere else!

Power: 27 Decisions that Will Cause You to Crush Your Competition. (The THREE FREE audios include the first six decisions you will make. This is part of a program that is slated to be released later this year.) Power. Change your life. Learn how to get power and use it. Rise from the competition and let them chase YOU!

Mind Access Kevin Hogan gives you his blockbuster underground hit e-book, Mind Access. This is the information your competitor wants and needs. You get it first! Sold in the past for $197, you get this amazing e-book for free!

Breaking Through the Barriers of Communication Kevin Hogan gives you his 179 page e-book, Breaking through the Barriers of Communication. You get some of the most closely held secrets of an internationally known speaker and communication expert. ($22 Retail)
The Gift Kevin Hogan gives you his very special e-book, The Gift: A Discovery of Happiness, Fulfillment & Love. This is a special gift, given only rarely for special promotions. ($9.95 Retail)
And…. the gift that keeps giving, a one year subscription to Coffee with Kevin Hogan, the e-zine that everyone reads about influence, selling, body language and personal development every Monday morning. ($97 Value)
---
Special Gift: When you Buy 2 Copies, You are Eligible for the Following Gift from Kevin Hogan:
The 168 Hour Week Audio Files
Seven Audio files on MP3! Each audio file is approximately 30 minutes long.
Read by the author, Kevin Hogan, the book comes alive!
Convenient downloadable MP3 files that can go anywhere with you! These will only be available as a gift to those who participate in this promo!
Here's some of what's covered on the audio files:
Can You Really Live Life Your Way?
Choosing a Real Lifestyle
Finding Yourself in Time: Whose Life Are You Living, Anyway?
Your Life, Your Time
To Live Life Your Way, You End Procrastination
Procrastination's Voice
How Your Current Goal System Completely Failed You
The Ultimate Key to Success in Your Lifetime
Bridging the Forced Life to Your Desired Life by Re-Shaping Your Mindset
The Only Goal Setting System That Works
For a limited time, and for this promotion only, Kevin is offering this audio version of his new book, The 168 Hour Week, when you purchase 2 copies of the book!
(Value – $47)
Maribeth Kuzmeski, author of the best-selling book, The Connectors, offers her Marketing Planning Guide. Take a time-out and plan for your marketing success today! The Red Zone Marketing Planning Guide is a template and blueprint for creating an impactful marketing plan. This workbook will become your customized Marketing Plan for new business acquisition as well as enhancing current client loyalty that you can implement immediately for results in your business! (Marketing Planning Guide, $39.95 retail value)
Keri Eagan. Healing in Troubled Times. This is a collection of the five most powerful techniques that you can do for free or virtually no cost. Want to save time searching out alternative healing techniques? Then this is for you! Keri Eagan has spent years exploring alternative healing and training in a variety healing modalities including breathwork, reiki/seikem, NLP, hypnosis and many more. (Download, $17 Retail Value)

Martin Wright. Strategies For Success coaching session with Martin Wright. Have you ever struggled with crucial events in your life? Do you have issues that are preventing you from achieving your goals? Have your ever wondered how wonderful it would feel to put your whole life in order? Imagine for a moment having a personal success coach to work with you, to assist you in leaping over the hurdles in your way, and accelerate you towards the future you want, now. How much easier and rewarding would things be then? Find out with two FR*E Strategies For Success coaching sessions via Skype or phone. Martin Wright is a consultant, coach and business owner, specializing in strategies for success. (2 Coaching Sessions, $244 Retail Value)
Vicki Hasemann. Wedding Planning Budget Mini Course & 30 minute Bridal Consultation. A start to finish road map that helps couples planning their wedding stay on budget. By completing a few exercises, they will be armed with knowledge before meeting with wedding vendors. By choosing their "Wants" and "Musts Haves" for their special day in advance, they lay down a sound foundation preventing the temptation of going over budget. Vicki Hasemann, business owner of Designs Unlimited, Formal member of Sewing and Design Professionals, has a degree in Fashion Merchandising and has been in the bridal business over 25 years creating and altering gowns for a custom fit. (Mini Course and Consultation $57.00 Retail Value)

April Braswell. Dating and Relationship Coaching -1 Sixty Min Session Dating Expert, April Braswell, gives a single 1 hour one-on-one custom coaching session on Dating and Relationship Coaching. Great as a Holiday gift for your single friends to jump start their dating lives with a system, strategy, and structure for creating and attracting lasting love. What are the characteristics of Long Lasting Loving Marriage Relationships? It's not what you think. And Good Dating can help! (Relationship Coaching Session $497.00 Retail Value)
April Braswell. DVD Online Dating Success. Dating Expert, April Braswell's GIFT of a DVD for Creating an Online Dating Profile That Wins. With over 20,000 new members per/month at the premier sites, how do you stand out and create a profile leading to great first dates? (DVD $97.00 Retail Value)
April Braswell. Online Dating Quick Start Guide. The distilled Online Dating Success Quick Start Guide which accompanies the DVD. Get started today with the easy and simple Quick Start Steps for Online Dating Success. Are you making these 3 errors in your set up without safety? Are you leaving out this paramount step in creating a winning profile? Don't miss out. Great as a Holiday Gift for your single friends. (Quick Start Guide $27.00 Retail Value)
Kate McKeon. 3 Hours to Launch. You are an Authority . . . now become THE Authority. How would it feel to have new business come to you without having to spend a penny on ads? You don't have time for blogging, twittering and the rest of that noise; you have a business to run. Don't try to follow the big dogs like Seth Godin. He didn't have a practice to run when he started blogging. You do! Think about it this way…
If your website is the car and blogging is what popular media is telling you is the gas . . . would your business fail if you ran out of gas? NO! You'd get out and walk! So instead of spending your time tethered to your computer, spend 3-hours with me and launch the website that will actually generate significant new business for you.
ONLY for folks willing to help my friend Kevin get his book to the best seller list, we are giving away:
Your website (not for sale)
Your content management system and hosting ($99/yr)
Your Online Marketing Strategy and Implementation steps ($497)
Your own email marketing account ($9.95/mo)
3 Hour live instruction – you will Launch! ($274)
Beginning to Intermediate traffic generation strategies – see them in ACTION!
Linking strategies to keep you in good graces with the search engines and boost your rankings
Multimedia on a budget
Permission-based marketing
And bonuses we can't even discuss . . .
Already have a site? Great! You can still benefit from the lessons on keyword selection and linking strategy. You may even decide to migrate to the site you create in class. You will not need to disrupt your current site to participate.
Paladin Principals builds authority sites for multi-professional practice owners (lawyers, doctors, architects, veterinarians) and B2B/B2C product business owners. Kate McKeon, MBA. Principal, Paladin Principals (Web Site & Marketing Package $990 Retail Value)
Kate McKeon. Looking Great, Feeling Great. In conjunction with George DeJohn, Get Healthy Headquarters's 6 weeks to Sexy program. Be the Envy of Everyone at your Holiday Parties! Never before offered, in conjunction with George DeJohn, Get Healthy Headquarters's 6 weeks to Sexy program begins just for you on November 9th. As a friend of Kevin, you can participate at zero cost.
What you get:
Online Journal to track your progress (Shy? Keep it private – for your eyes only!)
Daily or weekly e-mail (your choice) with your tasks explained in audio and video as needed
30 minute coaching call weekly to ask questions of our best trainers and nutritionists ($127)
Special guest broadcasts to encourage you on your path (wait 'til you hear who!)
Video of the exercise moves you need to get fit, FAST!($99 for the DVD)
Chance to win the Ultimate 21 Day Body Makeover and Fat Loss Kit ($432)
When you finish, a bonus that will blow your mind . . .
We are committed to your success to get healthy and to get sexy! How qualified are we to lead you through this? The Get Healthy Headquarters team has premier nutritionists and exercise physiologists here to help you, including George DeJohn, Personal Trainer to Michael Dell, CEO of Dell computers, Mark Cuban, owner Dallas Mavericks, Dennis Rodman, Dick Smothers of the Smothers Brothers. George also hosts a weekly top 25 show on Health and Fitness broadcast internationally.
We'll have you looking better than ever before for those holiday parties. Whether you will be with friends and family or looking to make new friends, don't dream about looking great…It is time you had the tools you need to do it. No more pseudo-science, let us support you. (6 Week Program $226 Retail Value)

Steve Chambers. How to use Body Language in the Sales Profession. Effective salespeople are powerful communicators, and nothing is more important to the communications process than understanding and controlling the messages we send with our body language. In this 60+ minute audio presentation, body language expert Steve Chambers will describe how you can make a great first impression, understand and control the nonverbal messages you're sending and read your customer's body language. In addition, when you sign up for Steve's free "Body Language Video of the Week" ezine, you'll continue to receive powerful body language secrets and persuasion tips. Steve Chambers provides real world sales training, keynotes, seminars, and coaching programs that focus on using both verbal and nonverbal communications to enhance your sales results. (60 Minute Audio $47.00 Retail Value)

Jennifer Battaglino. Beat Your Fears, Stress, and Anxiety With Hypnosis. Listen to two live interviews: The first on overcoming fear and anxiety so you can achieve your goals; and the second on tinnitus and getting your life back. Learn how to achieve success. Jennifer has worked with adults and children, top executives and up and coming entrepreneurs. Your gift also includes a 30-minute consultation with Jennifer Battaglino on the topic of your choice to kickstart a great 2010! Jennifer Battaglino, LCSW, CHT is a licensed psychotherapist who specializes in the use of hypnotherapy to treat tinnitus, fears, stress, and anxiety.
(Interviews + Consultation $300 Retail Value)
Harlan Goerger. Mastering Questions. The art of questioning is the most powerful persuasion tool there is, yet it is perhaps the most misunderstood, least used and most challenging to apply. In this audio the mystery is uncovered and simplified for you. Quickly become a more masterful communicator and "lead" others to your way of thinking! Harlan Goerger & Vince Harris peel back the mystery and expose the simple ideas that can change your outcomes! (60 Min. Audio Download $57.00 Retail Value)
Thank You Gifts in Exchange for Helping to Get Nate & Marius's New Book to #1 at Amazon and Barnes & Noble