Thank you for participating in the Street Smart Small Business Summit!
It's easy to get your bonuses!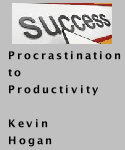 From Procrastination to Productivity. From procrastination to productivity: A guide with simple steps and techniques that will increase your everyday productivity.
Ask yourself: Why Do I Procrastinate? If you want to understand why you procrastinate, you must first look beyond the ancient concept that laziness alone is the root of procrastination. If it were, procrastination would be easy to eliminate…but….of course…it's more complicated than that… You are not TRYING to create a problem. Your problem may be that you are afraid to take on that new project for fear of failure, or that you fear success and attention and feel you are not worthy of that attention, or that you feel you will not do a good job and everyone will judge you harshly. At the nonconscious level, these drivers of procrastination are forms of self-sabotage. it's time to take the reins and wipe out procrastination now. This e-book will line out all the answers for you and get you started on the path to productivity fast. E-book. Format: PDF
Overcoming Rejection: Dealing with and Overcoming the Feelings of Rejection.
You can say the same exact thing to one person and they feel utterly rejected. To another it's experienced as unimportant. Some people are sensitive to rejection. That said, does rejection have benefits? Does rejection have ANY benefits? Oh yes! When people start to feel averse to certain situations, they tend to make a point of taking care of or repairing their current relationships. People want to do things or dress in ways that will increase their chances of being accepted. We go a long way to get attention, approval and acceptance from others. They want to be seen as likeable, attractive, competent and sometimes trustworthy. AND, people also want to be seen as UNIQUE and IRREPLACEABLE by anyone else in a group. Have you ever heard rejection talked about this way? Learn more! A must-read E-book. Format: PDF
And…. the gift that keeps giving, a one year subscription to Coffee with Kevin Hogan, the e-zine that everyone reads about influence, selling, body language and personal development every Monday morning.