Interview with Kevin Hogan by Ric Thompson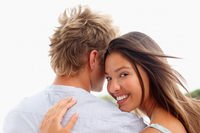 This is an audio interview being made available to Coffee with Kevin Hogan readers. Enjoy!
Note: We have made available a transcript in PDF format, plus an Action Guide, also in PDF format. The audio file is in MP3 format.
Audio Interview: Why You Fail When the Guy with the Model Said You'd Succeed

Listen to Interview
Format: mp3 File Size: Approx. 51 Min. (23MB)
Download Transcript
Format: PDF File Size: (3MB)
Download Action Guide
Format: PDF File Size: (492 KB)
---
…Where else can you get gold like this?
Secrets of Sales Success
with Kevin Hogan
FOUR DVD program
I've never believed you should just get out there and knock on doors or make phone calls. My belief is that you should let everyone buy from you. But almost no one sells like that. Sales is art and science and for people who want to sell more than the "average" you need better than average new information to compete. It's that simple.
Asked to put together an inexpensive program that incorporates what you want most to sell more, I've taken these DVD's and put them together into one program that is heavily discounted for your acquisition.
Here's what you get:
DVD ONE: Selling Yourself to Others: 21 Key Ideas in Selling (That No One Ever Taught You!)
People buy YOU not just your products and services. This brand DVD contains new selling strategies never released before based upon scientific advances in behavioral genetics and tested in real life selling situations! This one hour presentation will help you increase your sales in a scientific fashion. Best? It's amazingly easy to learn and apply this material!
DVD TWO: The 10 Laws of Persuasion
Taped "live" in a beautiful television studio at a Fortune 500 company, Kevin Hogan gives you the foundation for persuasive communication. Whether you are a leader in business, own your own business, or are a salesperson, you cannot successfully gain compliance without knowledge of the laws of persuasion.
In order to fully comprehend the process of persuasion, you must understand some basic concepts, or principles, of persuasion. These concepts provide the foundation for the paradigm of persuasion.
Included are the nine principles that come into play in daily life as well as in persuasion settings, whether you're a salesperson, public speaker, consumer, husband, wife, father or friend. These are the Laws of Persuasion.
DVD THREE: The Attraction Principle: How to Manifest Your Every Desire in Life
Learn the difference between success and failure in bringing about what you desire in your life. What is the EXACT formula that will enable you to manifest the dreams and desires you have been nurturing? Learn it all here. Kevin Hogan presents his Attraction Principle.
DVD FOUR: 21st Century Selling: Selling the Way People BUY!
Learn all the key triggers that cause people to buy in the new millennium. Based upon cutting edge research into sales psychology and years of experience, you will learn how to be the obvious answer to many of your clients' problems.
You will discover how to program the neurology of your brain so you literally FIND success in selling yourself. You'll also learn how to create the outcomes of sales interviews BEFORE they happen. Most importantly, you will uncover the secrets of developing personal mastery…the focal point of how most of your customers will judge you and deem you worthy or not of buying from.
Everything in this presentation has been TESTED in real life by real salespeople whose lives depend on their making the sale. Every concept, strategy, tactic and game-plan in this program has been PROVEN successful at raising your closing ratio and igniting your personal self motivation levels to new highs.
Altogether you get over four hours of truly astonishing information. Easily worth thousands of dollars, this is the equivalent of Kevin's $25,000 one day sales training.