Does the check you got from the President make you more likely to vote for him? If it does it would be a nice example of The Law of Reciprocity. But…

When someone gives you something of perceived value, you tend to immediately respond with the desire to give something back the other person would perceive to be of "similar value."  The Law of Reciprocity.
Of the 60+ Laws of Persuasion, this was one of 6 that I did not originally codify. The original work surrounding the principle of reciprocity was researched and collected by Robert Cialdini, the driving force of influence in the 1980's.
Fast forward to 2020 and humans have come to expect everything for free. The idea of taking with no reciprocation is not new to 2020. The last 12 years a number of disturbing trends have met that are reshaping persuasion and influence.
The first that matters for today's article is people have no problem stealing. That commandment was obliterated with the advent of torrents. Creative workers, artists, writers, all people related to film and television have taken massive hits because of the social acceptance of theft of their work, their earnings, their families future. It simply is no longer important to almost 1/2 of people old enough to know better.
That means inducing someone to gain their attention is more difficult than it ever has.
The second trend is narcissism. What is classified as a personality disorder and is biologically connected to other mental illnesses like psychopathology and sociopathology, is now becoming accepted, anticipated and normal. What's particularly challenging is very few people have all the characteristics of a psychopath but many have some of those aspects in their personality and behavior. In some contexts, the once abhorrent behaviors are now absolutely normal.
My opinion on these social changes is unimportant. What matters is that you see how they change the landscape of influence.
The psychopath is not the norm as far as human behavior. Most people still have the capability of experiencing empathy but planet earth is shifting away from normal toward pathology. That's important. Empathy plays a big role in influence and persuasion, but the influencer must be aware that reciprocation rooted in empathy will be experienced less. Reciprocation rooted in honesty and integrity will continue to erode in effectiveness. For the moment though, it's still on the list, with many caveats…
The planet got a bad cold called the coronavirus, and then those of us in the U.S. received a rare government check that was not a refund of money the government had over collected on.  That has never happened before. A pandemic hits, the government tells people to stay home in fairly strong terms and then like Pavlov's dog the reward arrives shortly thereafter. About $1,000.
The check came with a letter signed by the President of the United States. You should probably take a quick look at what it says and think, "from the point of view of being influential, and persuading me to like the President more or less how do I feel?" Before you answer do read the letter.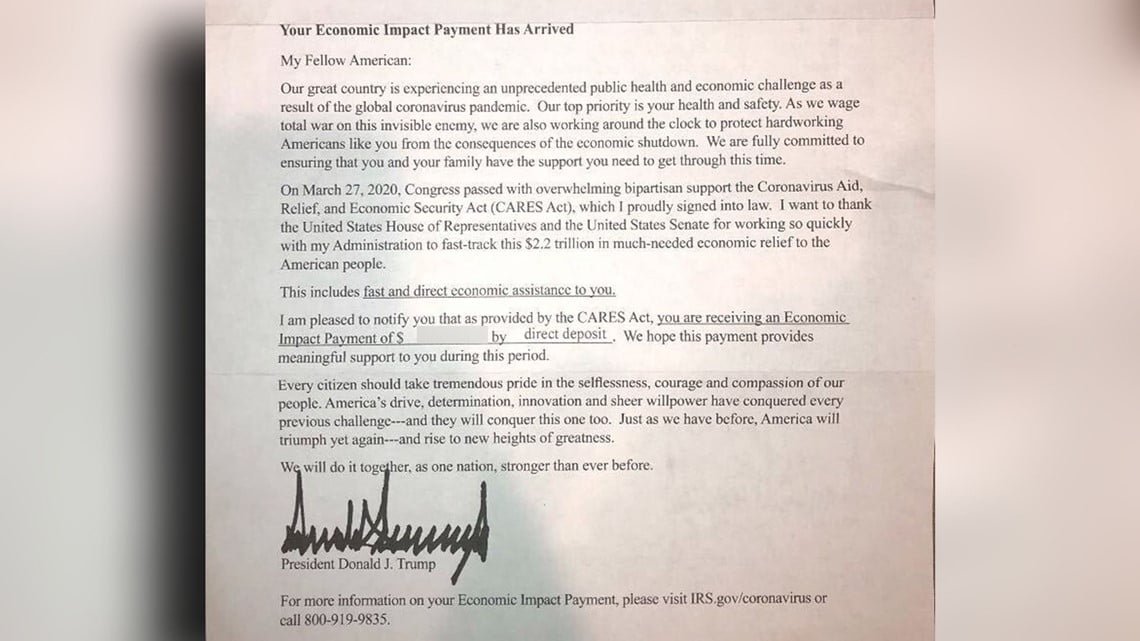 Why did The President sign the letter and send it out? You could say it was to let people know why they were getting a thousand bucks, give or take. That would certainly be logical and fair. But the letter was drafted with a non-journalistic flare as almost all news is in 2020.
For a man that is the butt of every joke on the planet everyone sees that he is always on brand.
The President has many faults. He "shoots from the hip" as the old timers said when I was a kid. He's a "First Second Responder," when it comes to answering hard questions. That can cause others who resonate (The Law of Resonance) with those utterances to take the statements as holy writ.
The same utterances that are experienced as disgusting or absurd by others, bring about the opposite effect. This audience is polarized by the message, the person and all those that agree with the First Second Responder.
Never kid yourself about The President's ability to brand.
When it comes to family names that brand brilliantly Trump is side by side with Kardashian.
I suggest to my clients to study these families, these brands, because you can learn more from their every move and how they handle every "mistake" or "publicity problem" and then observe those concerns to be vaporized by the loyal fans.
The letter was signed by the President, and the President attempted to induce reciprocity.
But did it work?
Regardless of the intra D.C. politics the question is about you and the other 330 million American's for whom can answer the question. Did it work?
The research reveals that "favors" like this can be VERY STRONG at inducing reciprocity which will be acted on QUICKLY. However, the more time that lapses from the "favor" to the givers hoping for reciprocation, the less like it is the recipient will respond.
Think of the last 3 times you loaned someone money. Did you ever get it back?
It's rare. And as time goes on it becomes even more rare. Once a few weeks or months have passed the recipient of a gift or loan feels no remorse or desire to repay a loan or reciprocate the gift.
It's December 24 and the mail has just arrived. You open a Christmas card from someone who you had taken off of your Christmas list! This is a crisis!
"Honey, are there any more Christmas cards left?"
"Yeah, in the drawer."
"Thank god." You go to the drawer and sure enough there is a card there but there are no envelopes to fit the card into! You search and search, finally deciding to use an envelope that isn't quite large enough but you have to use something!
You sign the card and yes, you personalize it! (You write something special just for the sender!) You stuff the card into the envelope that is still too small you slide a picture of the family in and you even find a left over "family newsletter" that tells everyone what your family has been up to all year. "I'll be back in awhile, I have to go to the post office and mail this letter."
Why do you have to go to the post office?
You have to go because the letter must be mailed with a postmark before Christmas! December 24 will show that you cared. December 26 will show that these people were an after thought in your mind, not worthy of sending before Christmas. You race off to the post office and you have just discovered the power of reciprocity.
You were taught to share your toys and your snacks and your space and your time with you all those around you. You were scolded when you were selfish and you were rewarded with kind smiles and pats on the head when you shared. The law of reciprocity was installed at a very early age.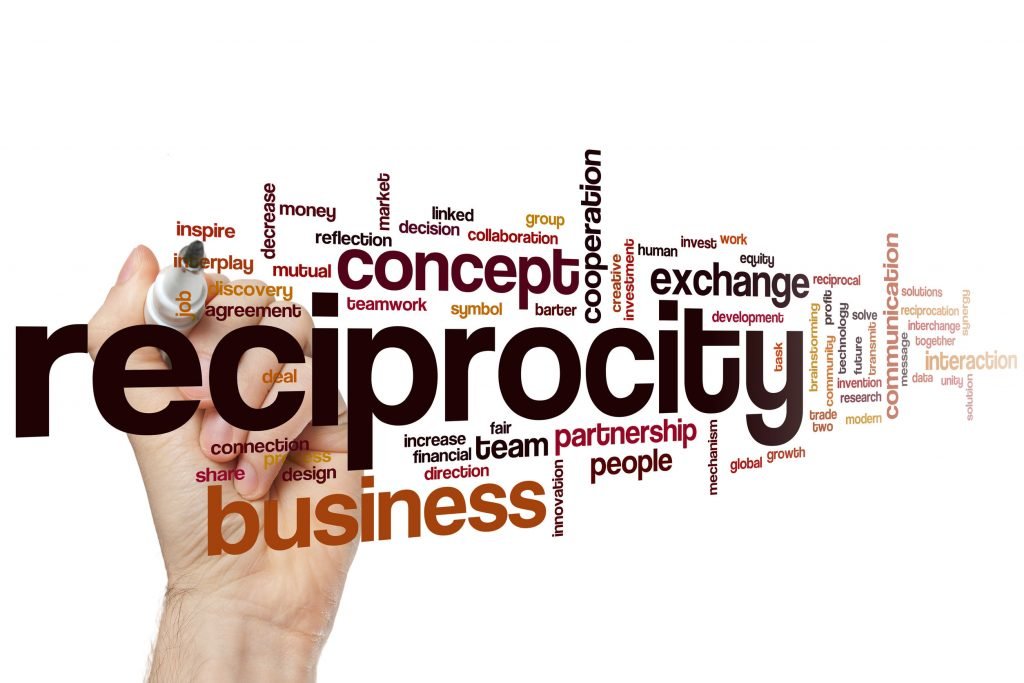 The world's greatest people and marketing mavens give something to their clients and I don't mean a business card.
The practice is very simple, yet absolutely brilliant, if you can get the act of reciprocation connected to the gift at some level. If your product is top quality and it is something that everyone can use, send everyone a small sample of it and they will be more likely to buy it the next time they go to the store for two reasons.
1) You will recognize it as something we have used. The brain picks up on what is familiar. (Have you ever noticed how many cars there are like yours on the road? What happened to all the rest?!)
2) Reciprocity has been induced when someone gives you something and you give them something back or you WISH you could give them something back. Reciprocity has also been induced when someone gives you something and you feel compelled to give something back. Kellogg's was nice enough to send you their free box of cereal and because it tasted good we should at least buy their cereal this one time. You return the favor.
Reciprocity, based on scientific research, was at one time the single most powerful law of selling persuasion there is, and as you've seen that is no longer the case.  But assuming there is still some punch left in reciprocity (and there is in contexts) is there a problem?
If you sell life insurance, you can't give away $10,000 of free coverage.
If you sell real estate, you can't give away bathrooms.
If you sell speaking services you can't give away free speeches.
If you are a stockbroker you can't give away 100 shares of Microsoft.
What do you do if you don't have sample size products and services? How do you take advantage of this powerful law of share and share alike?
Give away something of perceived value to someone and others are more likely to feel compelled to do likewise.
You do not have to give away free samples to utilize reciprocity. You MUST give away something that has perceived value.
LEGENDARY KEY: My favorite method of inducing reciprocity is taking someone to lunch or sharing a valuable tip related to building their business or income in some way. (I like these approaches because they are measurable and the person knows that you really helped them when they follow through on your suggestion.) Taking someone to lunch is usually an inexpensive way to induce reciprocity and you have the added benefit of meeting one of your clients 16 basic desires. (The desire to eat.) Sharing helpful secrets that are truly specialized knowledge is also an elegant way to induce reciprocity. One simple idea can often help someone earn hundreds or thousands of dollars per year more in income.
Can I share a secret with you? Turn the page…