When someone gives you something of perceived value, you immediately respond with the desire to give something back. That's called reciprocity.
It's December 24 and the mail has just arrived. You open a Christmas card from someone who you had taken off of your Christmas list! This is a crisis!
"Honey, are there any more Christmas cards left?"
"Yeah, in the drawer."
"Thank god." You go to the drawer and sure enough there is a card there but there are no envelopes to fit the card into! You search and search, finally deciding to use an envelope that isn't quite large enough but you have to use something!
You sign the card and yes, you personalize it! (You write something special just for the sender!) You stuff the card into the envelope that is still too small you slide a picture of the family in and you even find a left over "family newsletter" that tells everyone what your family has been up to all year. "I'll be back in awhile, I have to go to the post office and mail this letter."
Why do you have to go to the post office?
You have to go because the letter must be mailed with a postmark before Christmas! December 24 will show that you cared. December 26 will show that these people were an after thought in your mind, not worthy of sending before Christmas. You race off to the post office and you have just discovered the power of reciprocity.
You were taught to share your toys and your snacks and your space and your time with you all those around you. You were scolded when you were selfish and you were rewarded with kind smiles and pats on the head when you shared. The law of reciprocity was installed at a very early age.
The world's greatest people and marketing mavens give something to their clients and I don't mean a business card.
Have you ever received a bar of soap in the mail?
Have you ever received a box of cereal in the mail?
Have you ever received return address labels from a charity, in the mail?
Have you ever received a handful of greeting cards from a charity, in the mail?
Have you ever received a sample size shampoo bottle in the mail?
These are all examples of what we call "inducing reciprocity." The practice is very simple, yet absolutely brilliant. If your product is top quality and it is something that everyone can use, send everyone a small sample of it and they will be more likely to buy it the next time they go to the store for two reasons.
1) We will recognize it as something we have used. The brain picks up on what is familiar. (Have you ever noticed how many cars there are like yours on the road? What happened to all the rest?!)
2) Reciprocity has been induced when someone gives you something and you give them something back. Reciprocity has also been induced when someone gives you something and you feel compelled to give something back. Kellogg's was nice enough to send us their free box of cereal and because it tasted good we should at least buy their cereal this one time. We return the favor.
Reciprocity, based on scientific research, appears to be the single most powerful law of selling persuasion there is, but is there a problem?
If you sell life insurance, you can't give away $10,000 of free coverage.
If you sell real estate, you can't give away bathrooms.
If you sell speaking services you can't give away free speeches.
If you are a stockbroker you can't give away 100 shares of Microsoft.
What do you do if you don't have sample size products and services? How do you take advantage of this powerful law of share and share alike?
Give away something of perceived value to someone and others will feel compelled to do likewise.
You do not have to give away free samples to utilize reciprocity. You MUST give away something that has perceived value. My favorite method of inducing reciprocity is taking someone to lunch or sharing a valuable tip related to building their business or income in some way. (I like these approaches because they are measurable and the person knows that you really helped them when they follow through on your suggestion.) Taking someone to lunch is usually an inexpensive way to induce reciprocity and you have the added benefit of meeting one of your clients 16 basic desires. (The desire to eat.) Sharing helpful secrets that are truly specialized knowledge is also an elegant way to induce reciprocity. One simple idea can often help someone earn hundreds or thousands of dollars per year more in income.
Can I share a secret with you?
I keep some of my money in a Money Market account. It pays a bit more interest than a bank does and the money is relatively safe. You can write checks on your account just like a checking account and if you just knew that secret to make more money, I'd be happy that I shared that with you.
Can I share another secret with you? You can get a higher yielding account from the same company and it is even better as far as promised yield! It pays about 1-3% more interest and you can write checks on that account to. If you only took $10,000 out of the bank or CD and put it into the Fund you would earn 2-3% more per year on that money than you do in the bank or CD. Now, granted that only comes to about $300 per year, but how many free copies of this book can you give away to your friends in return for that one $300 gift? How will your friends feel about you when you give them a gift that gives them the most cutting edge selling power ever put into one book? Here are a few creative ideas for people to use as inexpensive give away items to your persons.
Life Insurance and Financial Product people:
Give away a free report that lists all of the top performing investments for the last three years. (Even if it contains information that is positive about your competitors!)
Give away a handy chart that people can place on the refrigerator that shows the ten questions to ask telemarketers to determine the legitimacy of investment opportunities and charitable donations.
Real Estate people:
Estimate the dollar of the loan the client will take out and run several amortization tables showing how small extra payments each month will cut years off the life of the loan, save the client tens of thousands of dollars and create long term financial freedom.
If the client is already putting every penny toward the 30 year mortgage, give away a handy booklet that shows how to do simple maintenance on the house, how to find good service people to work on the home in the future, and also tips on keeping the home in top dollar condition should they decide to sell.
Automobile people:
If you sell a great car, give away a recent Consumer Reports article to all of your persons comparing your car with others in it's class.
If you sell a car that is a good car, but not listed as one of the best, give away a list of the top ten strategies to keep the car running cheaply and it's re-sale value high.
The message to you is that everyone can give something away for free with nothing expected in return. It is a scientific fact that reciprocity is effective. The key is that what you give away must have perceived value by the part of the client. Traditional promotional items like personalized pens and date books may be useful or they may not be. You can test them to see if they assist in making sales. It doesn't matter what you give away actually cost you. What matters is the value the client places on the item, report or product.
Science of Influence CD Set Volumes 1-12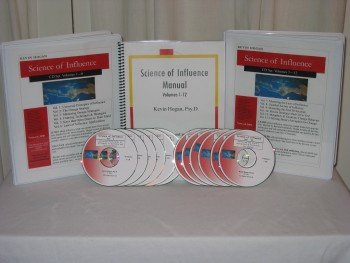 "Wow! The Science of Influence is the best information I have ever come across. I went to church with my mother this morning and instead of focusing on the sermon, I was thinking of ways the minister could be more effective in his PRESENTATION. By just taking the flock into the future, and appealing to the group mentality he might have gotten one yes, he did not get any. The fear of not being in the flock for eternity may have swayed a few heads, as well. The applications are endless. Lookout, because once I have absorbed this information thoroughly, there are no limits on my ability to influence. This information is so powerful, a license should be required to use it. Amazing. Thanks." Steve Hutcherson, St. Charles, MO
Universal Principles of Influence in Business and Relationships
The Omega Strategy
Mastering Omega Strategies
Framing Techniques and Strategies
The Keys That Unlock the Doors to Their Mind
The Laws of Influence: Applications
Mastering the Laws of Influence
The Guarded Secrets- Confusion, Amendment, The Dominant Value and Strategic Framing
Mastering the First 30 Seconds / Making Incredible First Impressions
Proven Strategies and Techniques that Get to Yes!
Metaphors and Emotions that Successfully Change Behavior
Utilizing the Brain's Perception and Projection to Change People
The Science of Influence is the place to begin. What makes the Science of Influence different from every other program about persuasion? This material is fresh, potent, tested, and has nearly all of what you will discover is new! There is no rehash of past salespeople or scholars.
Science of Influence Master's Home Study Course (12 CDs)
with Kevin Hogan, Psy.D.
This program is the culmination of years of selling synthesized with the last five years of academic research into compliance gaining, persuasion and influence. You won't find a program like this, designed for you, anywhere else.