Example 2 – Carmen Electra.
Whoa! Look at all the space between these two.
It's like they are afraid to touch one another – the other is infected with….something. Notice how they keep their most private parts as far away from each other as possible.
Considering the fact that these two split up after being "inseparable" in photos during their all too brief marriage, it seems at this point things must have been a bit shaky.
Most happy couples are a lot more giving and generous with their nonverbal communication.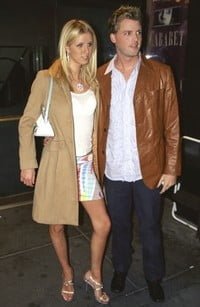 Example 3 – Nonverbal communication of Nicky Hilton with ex-boyfriend Brian Connolly.
Question: "Kevin, will these two last?" Answer…observe…
Notice Nicky's body language. The knee elevated against her boyfriend's right leg. Her left leg supporting her entire body. The expressionless smile as she poses for the other photographer.
One clue I always look for is, "Where is the cell phone." Pocket or hand.
Answer: Hand. No, this will not last.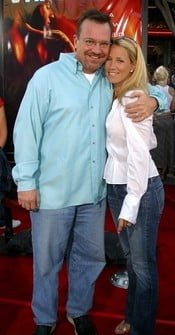 Example 4 – Tom Arnold and Shelby Roos.
Tom, one of my favorite funny guys is holding his girlfriend so tightly, she is like the caged bird that must fly away.
Notice you can see the white in Tom's fingers. Check out the facial color. Observe the closeness of his head to Shelby in contrast to where it would be if he were standing straight.
This is a classic photo sequence of "boy pleased to be with this girl." Unfortunately, I had to report the relationship would not last.
Example 5 – Bruce Springsteen and Patti Scialfa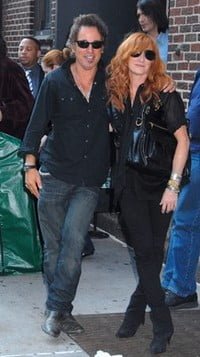 Bruce Springsteen and Patti for years were like yin and yang. Almost all photo's of these two together before 2010 revealed a mirror image of each other and this is no exception.
Even when they are turning their legs/feet are the same!
Then notice how similar their hands are positioned and of course, his and her sunglasses.
There's more in the program about these guys and this sequence of photos; but when two people mirror each other this perfectly, they are likely to stay together longer before divorcing than an average couple.
Fascinating, isn't it? Want more insider tips on reading body language?
Why Does the Media Refer to Kevin Hogan as "The Nation's Leading Body Language Expert?"
Hi, my name is Kevin Hogan. Most people say they known me as a body language expert. I've authored 24+ books, including "The Psychology of Persuasion" which has sold over a million copies worldwide.
I'm an international speaker and have given specialized training to employees of numerous Fortune 500 Companies. You may have heard of Boeing, Microsoft, Starbucks, Meespierson, Auntie Anne's, Cargill, Pillsbury, Mutual of Omaha Carlson Companies, Fortis, Great Clips, the State of Minnesota, 3M, The United States Postal Service and many others.
I've shared my research and work with all four major television networks and the nation's largest newspapers. Other media that have asked for my help include the New York Times, the BBC, Fox Television and dozens of popular magazines including Redbook, Success!, Selling Power, Cosmopolitan, Woman's World, Mademoiselle, First for Women, Psychologie, and Wprost.
The media says that I'm the go-to guy for everything related to reading the nonverbal communication of a person. It's flattering. In fact, the New York Post asked me in 1998 if US President Bill Clinton was being truthful about whether he had a relationship with Monica Lewinsky. I found one very specific gesture – that no one else picked up on – indicating that he indeed… I was the first person in the nation to make that public.
Soon after, I analyzed the nonverbal communication of Hilary Clinton, Judge Ken Starr, Starr's Staff, and numerous other figures in the news story of the year.
I accurately predicted for the BBC, the 2000 and 2004 elections when everyone else in the media got it wrong because I was able to calculate how people would react to candidates nonverbal communication. With President Bush the accurate forecasts for his victories weren't because of anything he "did right," but because of what Al Gore and John Kerry unwittingly did wrong….really wrong – with their body language.
I was well aware of how American Citizens would respond and react to what they saw in the debates and sound bites. The nonverbal communication of Gore and Kerry was offputting to the undecided voters. In both cases, I told the BBC, live, precisely what would happen.
In fact, I predicted for the BBC, that the US election in 2000 would be decided by less than 50,000 votes, an almost statistical impossibility. When it came down to ONE VOTE, everyone was shocked, except those who paid attention to what I had made it public days before the election with Bush and Gore, and then again with Kerry and Bush…and now we are watching Donald Trump, Hillary Clinton, Bernie Sanders and several other Republican candidates. Want to know who the next President will be?
What If You Can Learn to be a Master?
Once "armed" with the insights you're going to learn shortly, you have an overpowering edge in life. In fact, I never would have accomplished what I have, had I not learned nonverbal communication in depth. It's certainly a key component to the success I've experienced.
People refer to my ability to instantly recognize hesitation, liking, deception, and honesty, and that has become something I consider critical that I teach to others.If you show me the video of someone today and a video of that same person prior to some terrible event (a crime for example), I can often tell if that person is innocent or guilty with significant accuracy. I'll show you how.
>'m also able to send covert messages (through movements and gestures) that generate liking from other people that almost no one knows how to do. I'll show you how to do this as well.
And now, you have the opportunity to discover my deepest secrets so you can use it to be tremendously successful in life.
I tell you all these "accomplishments," only to share with you that I've taught thousands of others and I will show you how to use this skill set to achieve great results in life.
I feel fortunate that I've gained the trust and respect of the most reputable people and media outlets in the world.
And now, you can leverage that knowledge and years of experience to have the skills of a specialist in nonverbal communication... in almost no time flat!
I've been educated to know what really works. I have personally gone through 20 years of meticulous scientific research, studies, and practice.
So if you want to shave many years off your learning curve, start on the right track and have the ability to uncover hidden messages like a true expert, then you can count on me to give you the best step-by-step training towards nonverbal mastery.