Common Mistakes When Reading Body Language
Studies indicate you have realistically closer to 4 seconds to make a good first impression on those you come in contact with. And this is used as a yardstick for all future communication by those whom you meet.
In the first four seconds, people will make judgments about you and tell themselves:
I will (or will not) buy from this person.
I will (or will not) like this person.
I find this person kind (or not).
I find this person intelligent (or not).
You can't make a good first impression through your words alone. In fact, nonverbal communication is between 60 to 75% of the impact of a communication. But despite being the most important aspect, nonverbal communication is also the most misunderstood and misinterpreted.
Every action – or even the smallest micro-action – communicates subconsciously to others, so people would like (or not like) you through your gestures… without even knowing exactly why.
You could be making the most wonderful compliments or praise to people, but it's difficult to gain their trust or approval if your words contradict your nonverbals.
These body language photos will show you some of the basic and advanced techniques used to interpret nonverbal communication. This girl is flirting with you. "But her arms are crossed, that's defensive," some might say.
They are wrong.
Head tilt to her left, hard time not grinning too big while looking right at you. She likes you.
Flirting and sexual body language is something you can quickly spot in a woman's nonverbal communication in both business and personal contexts.
Revealing the liar is easily identified in both business and personal context when you know how to properly interpret the signs. I'll show you this later.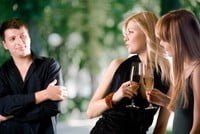 Whether you want to learn the real nonverbal secrets of love, dating or closing the deal, welcome!
The analysis I'm going to give you as part of this preview includes both "liking" and deception judgments. It is fairly complex to analyze human behavior in snapshots in time.
See this guy. By looking at him, that smirk should mean he's being perceived poorly and he's fighting for his life. But no, check out the over the shoulder look of the first girl. Women inspect over their shoulders with curiosity…until that split second where liking or not occurs. These two will connect…..BELOW…I made judgments on the relationships of the couples based solely upon these photographs and the context in which they were taken. (This is as little as you have to go on with most media. It IS a challenge.)
In this preview, my goal for you is to become aware of a few subtle cues that you are going to begin picking up from now on. Instead of telling you each little signal in a boring, clinical way, I'm going to let you have some fun and invest just a few minutes with me.
If you look closely, you will learn a great deal today about the nuances of nonverbal communication.( Photos appear under a license agreement with PRPhotos.)
What Can You Interpret About a Person's Nonverbal Secrets From a Photograph?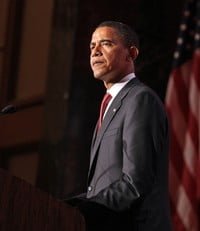 Example 1 – Barack Obama.
Barak Obama certainly is known for his striking IMAGE.
Notice the intensity on his face. That perceived strength was right for the elections.
This is an IMAGE that won two elections, but in a different context, it's a fail. You need to know the difference.
Turn the page for more examples…