Display your company contact information prominently on your web site — including address and phone number. I shouldn't have to say it, but it matters.  You exist in real time and space.
Give a gift that others would charge for.
Be waaaayyy better than your competition.
You don't have to have more visitors or likes, you have to have better relationships.
Display policies about shipping, returns, online transactions, and information privacy on your site.  If you don't display return policies you will not ever "win" with the credit card companies. You've read my work long enough to know that refunds can be counter productive but they are necessary for some products and for some services, sometimes. Get specific in your terms on your website. Good business practice protects your business as well as the consumer.
In other words, be transparent. Be authentic. Be real. Be You.
With more narcissistic people walking the streets daily, it sometimes pays to be …just you.
When you see a Facebook Live with Kevin Hogan you can know that is precisely what he is like on stage and everywhere else.  Try to be something you are not and it doesn't bode well for your psychological health in the future or your present business model.
I'm not all that bright.

People who know me personally know I have a habit of telling them just what I know nothing about. I don't know how to fix cars, or heating ducts, or anything three dimensional. Call my brothers. I'm a moron in these departments. I am constantly aware of how many things I don't know and don't understand.
And I know what things I do better than damn near anyone on the planet. That's getting 3 D MOVING in a 4D way. The fourth dimension is time. Moving things through time means causing and changing futures.
Make sure people get that you don't know everything about everything and you go a long way toward winning over the world.
Tell them WHY you are Doing What You are Doing
Legend Point: Telling people the REASON why you're doing something is one of the most powerful influencers of human behavior.
We could talk about relationships but let's go back to selling/buying.
Let's face it…if you're making a special offer — a 50%-off tire sale, a "Buy one, get one free" shoe deal, or a year of complimentary pool cleaning — people understand you are in business and the offering of a discount, even if it's a loss leader, is an opportunity for you to audition for this person.
In fact, if you are too generous, too often, it is likely to make people suspicious or curious. It's outside of the norm. If this is going to be you, then be certain it's understood why. Sad but do it.
If you don't tell people what's going on, they'll make up stories in their head and chances are they won't be flattering to you or your offer. Again, don't take it personally, it's just human nature — after decades of false advertising.
So never give people a chance to make something up about you. Let people know who you are so all of their resistance and defensive systems stay "below ground."
Be Transparent

Instead of trying to cover up the truth or put a happy face on your sad story…let people pull back the curtain and take a long, hard look at you or your company.
Be authentic. People have a lot less to gossip about you, your product, your service or you – if YOU tell people what they might think are your weak points.
You don't have anything to hide…so don't act as though you do!
Most people appreciate transparency in others, even if it scares the hell out of being transparent themselves.
Let's say July is traditionally your worst time to make sales and you're desperate to increase your business during this period to help your cash flow. Make a special limited time offer.
Don't be coy. Offer a special discount or a gift and say you're doing so because it's your "slow time" and you need to pay your staff anyway.
People then GET IT and THEN they will business with you because it MAKES SENSE.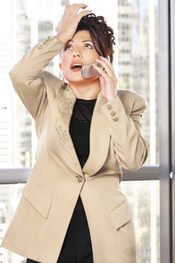 What if you "sound to good to be true?"
Here's the answer and here's how to handle it. Continue-