It usually happens to me in the summer.
My brain tells me it's fatigued.
It whines and grumbles when "it knows" full well that if it keeps spinning, it stays healthy. If it stops spinning…it probably won't get moving again.
So you crash for an hour and a half and then get back to working position (lying on the couch…oh, the poor brain has it sooooooo tough)and you wake the brain up out of the hot and humid summer air doldrums.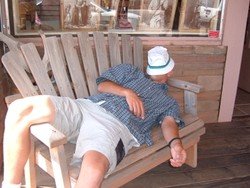 There are basically two kinds of people in the world that we are living in – those that are productive, and those who procrastinate.
In the fast-paced world that we are living in, productivity can be achieved in the snap of a finger. However, if you are slow even to bat an eyelid, someone may take away your golden opportunity to shine in life.
When opportunity comes along, it doesn't come looking JUST for you. It comes and you either seize it or someone else does.
It's as simple as that.
Procrastination is one of the most intense manifestations of self-sabotage that exists.
The time/money equation has never meant more than it does today.
In the U.S., people are getting laid off or fired every day because they aren't productive enough to justify their pay.
Businesses of all sizes are looking for good people who can maximize their time and produce results.
Entrepreneurs and salespeople are looking for those results from themselves of course, in addition to those who work with them.
In business, procrastinators are useless….and you do not let yourself ever fall victim to the whiney brain.
What is Procrastination?
Procrastination, defined simply, is when an individual delays completing their tasks intentionally. Over time, this turns into a habit as it is always easier to take the path with no resistance.
It is very easy to fall into the trap of habitual procrastination. The root causes vary from individual to individual.
The message of procrastination doesn't.
MESSAGE: You have chosen to not be in control of your life.
Forget the causes…that's the story that manifests…that everyone sees…that no one wants to hire, that no one wants to date…
While it should be easier to avoid these pitfalls if you are aware of them, more often than not we still commit the same mistakes. Procrastination is habit defeating choice…and you and I are fully aware of both the feeling of "whiney" and the rationale that go along with it, versus choosing to be valuable.
After all, I've only missed two weeks of Coffee with Kevin Hogan in the last year. That's better than the 5-7 I tell you I will take the week off.
I can RATIONALIZE the whineyness (cool word huh?) and go to the lake.
It is merely human nature to try to cover up our life value by procrastinating away….
If we actually said, "Ugh, I'm whining, I want to kick back and just let it go," that would at least allow the recognition and validation of giving in to habit and inertia.
But instead people say, "I deserve…" and of course that is a schema of entitlement and that is danger sign 101.
Procrastination is a real life problem. It is a POWERFUL habit.
What's the First Step in Eradicating Procrastination?
To overcome this devastating habit, people must first acknowledge the problem for what it is, instead of seeking the lay the blame somewhere else.
In other words, procrastination is a habit that can turn into an ADDICTION, for you to snowball your failure to accomplish, and a craving so intense that you will eventually crush yourself under the immense workload at the end of the day.
And that's what you remember when you go home.
Your brain conveniently shuts off the time you wasted Internet surfing, texting, talking, doodling and dreaming and hoping "The Secret" really will work.
Productive people on the other hand, are those who waste no time in completing their work as soon as possible. They know the power of focus and put their heart and soul into completing one tiny project after another, making them clear out before the end of the day so that they have time to watch Battlestar Galactica or go play ball or hang with the kids or whatever.
Productive people know how to handle their workload and also have time to do what is cool as well.
Productive people can sometimes do the same task in less time and with less effort than other people.
How?
Because they have experience and HABITS in place for getting stuff done.
No big revelation there.
The productive mind will accomplish project Z in 1/3 or 1/4 or 1/10 the time the person who procrastinates.
Productive people typically "work" "hard" but they are sharp by nature of habit and tend to work very "smart," as well.
People who sit at the desk day after day in Nowhere Land making all their plans with Nobody…get laid off. They have let their habits turn into an addiction… as it FEELS oh so much better to not do anything and just relax….like hypnotizing your life away.
Is the Procrastinator Happy?
Unfortunately the procrastinator isn't happy. They fall victim to their procrastination time and again.
They are late on their payments, they didn't expect to get laid off, they didn't think the partner would split, they didn't think to check their stock portfolio….
It's an addiction…a powerful one…that has glaring effects to everyone.
Causes and Effects of Procrastination
Procrastination is a bad habit and you are definitely not alone if you procrastinate. Many people are procrastinators, and over time, it can cause severe damage to your life and your overall mental well-being. You may find yourself feeling depressed, guilty or suffer from high levels of stress due to work piling up.
Even if someone is aware that they are avoiding, they are unable to pinpoint the exact reason why, and often "exist" in a "state of denial" (right next to Missouri), where we simply blame "our" procrastination on other things.
Procrastination is the habit of intentionally avoiding and delaying effective and valuable action, and it is very easy to get into this bad habit.
I look at people who procrastinate as having a life disease which can be wiped out or spread.
More often than not, by the time a case of procrastination is identified, the individual has already suffered huge blows to their self-esteem and confidence, and are likely to be depressed, guilty or suffer from anxiety disorders, among others.
It's time to do some personal repair work.
There are many causes of procrastination, and it certainly is different from individual to individual. It could be due to the person's character, or even be rooted in an event that was traumatizing on some level….or the simple habit(s)…the repetitive act of pushing off doing stuff over time which develops into procrastination.
And it can really pay off big time, to go back and unearth the initial cause that sparked off this bad habit. Insight doesn't always heal but it's always…insightful!
Below is a list of possible causes of procrastination, and by running though these you can possibly identify similar causes in yourself.
1) Fear
Fear is one of the three driving and motivating life forces.
Fear of the unknown.
Fear of the big animal.
Fear of the plane ride.
FEAR OF THE ELEVATOR RIDE.
***The fear of failure or success.
People who are afraid to fail, are fearful of putting in effort or to even try to attempt something.
It is much easier to blame failure on their neglecting to complete the task, than on incompetence on their part to do so.
Make sense?
Fear of success might seem far-fetched, but there are those that fear change.
And "success" and "change" are often interchangable terms.
They are "happy" where they are, and while they know that they are capable of building a life, they fear the change in types of work or scope of work that comes with their improved and new capabilities. Hence, they would rather hide behind their apparent level of competence rather than put in the effort and ultimately succeed, as they fear being unable to cope with the new workload and expectations.
It would be…hard.
2) Overload and Inability to Prioritize
It is very common for all of us to be swamped with work.
It is the nature of life that there is stuff to do and it takes significant effort and significant actions to accomplish.
The to-do list can feel never ending, and the tasks seem to not stop.
The individual fears ever being able to complete anything, if not everything, and is unable to decide which task to start doing. This is similar to an inability to prioritize between the urgent and important, and what is less so.
Also, in high-stress and fast-paced jobs, all the tasks may be urgent and important, and that makes it more difficult because the individual does not know where to start. The person might be scared off into not doing anything.
We'll talk more about this later.
3) Poor Time Management
This occurs for two main reasons.
First, people far over-estimate what they can accomplish in a day. If a person is overconfident in his own abilities, he may risk putting off an important or difficult task to a later date because he believes that with his capabilities, he will be able to finish it in time.
This is a common disaster scenario for a lot of people.
What happens in real life is there are lots of "emergency situations" that need to be handled, thus leaving little time to do what needs to be done.
Fact is that "emergencies" are something productive people PLAN ON.
Preparation meeting opportunity is luck.
Being prepared for the bad things happening is plain old smart.
Because they happen a lot…especially if others are dependent on you.
(If one person is dependent on you, you have twice the opportunity for an "emergency." 5 dependents? 5 times the opportunity…make sense?)
Another person might stretch the number of hours available in a day unconsciously. He may plan his time without taking into account fatigue, meals or short breaks needed to keep the mind in tip-top shape.
There are people who fail to prioritize their time effectively.
It is always easier to do the simple and unimportant tasks first, but this problem goes beyond that when the individual is unable to differentiate between what needs to be done first, and what is less important.
4) Boredom
An individual may also choose to procrastinate because the task is not challenging enough and he feels bored. He finds it difficult to concentrate on the task, and would rather be engaged in alternative activities.
This is especially the case for jobs which are repetitive and lengthy, and require very little thought. Not all work is exciting and stimulating, and certain tasks that are repetitive and unchallenging can cause the individual to be less motivated to excel and be productive.
There's a lot of reasons people can be feel bored, it's the response to the boredom that matters when it comes to productivity or what I've come to call "practicing for death" (procrastination).
5) Poor Self-Esteem
There are a lot of people who constantly harbor thoughts that they are not good enough, or that they always fail, and are probably just stupid and incapable. This kind of negative thinking makes it difficult for them to attempt projects, especially important ones, as they feel so inadequate that they should not even be doing a task of this magnitude or importance.
The deal is this: People are as stupid as they want to be, RIGHT NOW. They are as EFFECTIVE as they want to be, RIGHT NOW.
The root cause of this form of thinking could be previous failures, or abrasive and abusive comments from people around them, causing them to be labeled with their own inadequacies and perceived shortcomings.
When people have stereotyped you, USE THAT AS LEVERAGE TO SHOW THEM THEY ARE WRONG.
Showing people how good you are is fun, showing people they are idiots is …well…intoxicating.
In the past, people have underestimated me.
"He'll never have a successful book…should get a 'real job'."
🙂
And then the warp drives kick in.
People who suffer from low self-esteem become unduly affected by people's comments putting them down. They genuinely believe that they are inferior and incapable of working well which is RARELY TRUE.
I meet VERY FEW people that can't achieve great things.
Unfortunately, believing prolonged condemnation from peers and the people around have caused them to firmly believe that failure is the only thing they can excel in.
It's time to CHANGE (Success) WHO YOU LISTEN TO, WHO YOU HANG OUT WITH and WHO YOU BELIEVE IN.
6) Perfectionism
Some people have unrealistically high standards and expectations, and this causes them to procrastinate as they feel that they do not have the skills and abilities that are needed to complete it satisfactorily. They are afraid of attempting it, and not doing it perfectly, hence they make excuses that they need to acquire more knowledge before they can attempt it.
Sound familiar?
The best way to break out of this cycle is to tell yourself that you can do it, and the task is easier than what you think it is. Or perhaps, you need to speak to your supervisor at work to draw up an accurate and realistic level of expectation.
If you are a perfectionist, your boss will probably be thrilled to tell you they admire your good work and would rather have you accomplish 100 tasks very well vs. 1 task perfectly.
7) Anger
This occurs when you find yourself avoiding the task, or simply refusing to complete it. The cause of this could be an argument with your superior, or your teacher or project team. The feelings of anger and resentment against them can translate into an unwillingness to do what they have assigned you to.
Another common reason for procrastination could be the anger felt at having the task forced upon you, when you are either unwilling or uninterested in it, and have expressed so and been ignored. This would cause feelings of resentment and result in avoidance.
And the "list" goes on…
There are many different reasons why people tend to procrastinate, and this is a bad habit that many people participate in. …that MOST PEOPLE…participate in…
PLEASE NOTE:
There is a difference between being momentarily lazy, and procrastinating as a habit. By identifying the reason for your procrastination, you will be able to turn things around and finally get to get stuff done, enhance your productivity and feel a new sense of accomplishment and self esteem.
Specific steps?
Next week.



Decoding & Interpreting Body Language
Reading, decoding and interpreting body language is a science! Every action or micro-action takes place within a context and in reaction to other actions that go on around the individual. Body language has meaning that few understand and most mis-interpret. This course about body language will probably teach you more than you have ever learned!
Flirting and sexual body language is observable in a woman's body language as well as a man's in both business and personal context. Body language revealing lying is observable in both business and personal context.
Nonverbal communication is the least understood and most important facet of communication. The course from which this article is adapted, will take you through step by step so you will be understanding body language quickly and accurately.
Whether you want to learn the body language of love, dating or closing the deal, you have come to the source. The analysis I'm going to give you as part of this course combines "liking" and deception. It is fairly complex to analyze human behavior in snapshots in time. I made judgments on the relationships of these couples based solely upon these photographs and the apparent context in which they were taken.
My goal for you is to become aware of a few of the subtle nuances that you can begin picking up from now on. Instead of telling you each little nuance in a boring, clinical way, I'm going to let you have some fun and invest just a few minutes into being a body language expert with me. Welcome to this preview of the Decoding and Interpreting Body Language Interactive Home Study Course! Let's begin:
Photo 1 – Arnold Schwarzenegger and Maria Shriver.
Arnold has a straight back, thumb up, and focus on someone in the audience. He is engaged with both his wife and fan at the same time. His smile, however, is not his normal limbic smile. It's forced as you can see by the lines between chin and cheekbone. He is in control of the setting but he is pushing his smile.

Maria Shriver (wife) is also engaged with someone else while completely happily in love and comfortable with her husband. That smile is a genuine limbic smile and she couldn't be happier with whatever the setting is and her husband. The hand to the heart is a sign that she adores this man when the smile is in place as it is. Her body posture is leaning toward Arnold and it would be tough to do otherwise as it appears that Arnold's left hand is making sure that she is leaning into him. Nevertheless it is natural and she is brilliantly happy.

These are two people, very much in love who have a different agenda for the day. The mix of business and pleasure is obvious from the body language point of view. Both are going well. She appreciates the crowd more than Arnold and she appreciates Arnold, at this moment more than he does her.

What can you learn? Go back to Maria's smile. See those two lines that go back to her ears? When the smile is genuine (with the vast majority of people), you see those lines go back to people's ears and you see two or more. The more the better.

This couple is happy and nothing is likely to get in their way.

Photo 2 – Chelsea Clinton and Ian Klaus.
This is a very interesting picture of the former President's daughter. Again, a snapshot in time. First the boyfriend. Notice where his hands are. They aren't up in the air, they are "holding the ceiling up." Generally when a man does this kind of "Samson" gesture (holding/pushing the pillars) you can read it as an intentional show of strength (which usually actually means quite the opposite!) Next look at his eyes. They are looking right down at his….correct. What he is seeing is anybody's guess but his facial expression indicates he is pleased with it…

Chelsea is close to this young man…but not as close as you might suspect given the depth perspective of the photo. Her eyes do NOT attend to her boyfriend but something/someone else off to the side. She also (in this snapshot in time) does not actually touch her boyfriend and that is interesting.

She appears happy and yet uncomfortable with the setting. A bit shy for this really now outgoing girl. Perhaps because of the camera in her face? You can't tell but the overall chemistry plays out like this. Samson and a distant Delilah. There is no talking going on between the bodies and although it appears they have fun together on some levels, this looks short-term from this moment in time forward. A full body shot would have added a great deal to the context. Her smile is genuine. Notice the lines…
Photo 3 – Liz Hurley and Arun Nayur.
Look at the power Liz Hurley has here. Start with her body position. She is holding him like a man holds a woman. Her right hand cupped tight against his right side. Very masculine. In charge. Her smile is irrelevant. It is only for the audience. There is no sign of anything in the smile that leads you to believe she likes what she is looking at. It is a prefrontal cortex smile. A smooth face with a smile is a sign of polite boredom. Notice where Hurley chooses to put her hand for the photo? Not like Maria Shriver with Arnold right? Correct. Her hand goes to her hip and unconsciously gives the feelings she has deep inside for this man away. I suspect they enjoy their intimacy and little else.

Looking at him, you see no happiness, not even contentment. Why is he here? I don't know. Whatever the context, it doesn't matter. The affection he shows for her is miniscule and forced.

These two have a short life expectancy together based upon only this snapshot in time.
Photo 4 – Nicky Hilton and ex-boyfriend.
This is a great photo and you don't need me to analyze it all that much for you so I'll let you do this. What is his body posture compared to hers? Is her affection level comparable to his? Do they appear to share the same level of desired connection? Compare facial expressions. Which one appears adoring and admiring?

Right on all accounts. Notice that she gives her cigarette in the right hand far more physical attention than he does from her. She is sitting in the shade but her face squints as if she's in the sun. This is usually a sign of dislike or annoyance. Difficult to tell without another snapshot in time.

Notice his right leg that he has positioned right into her legs. She has given nothing back. This poor man will be with another woman very soon.
Photo 5 – Tom Arnold and Shelby Roos.
Does this photo remind you of Nicky Hilton's and to a lesser extent Liz Hurly's? It should.

Tom Arnold is being held on a string here. He might actually be married to this woman now, I believe this is the case. Let's look at affection. You work this out with me:

Does her face indicate she is appreciating Tom's affection?
Does her face seem to want to look toward Tom?
Does she appear to be grabbing Tom tightly and pulling her close to him?
Does she give more attention to the handbag at the end of the arm which appears to have a dead weight attached to it than Tom?

The affectionate touch to the stomach like Maria did is nowhere to be found. Tom clearly is very fond of this lass. Her smile is a combination of the prefrontal and limbic. Only one line usually means that there is some "truth" in the smile but not joy or happiness. The young ladies rear end is far too far back there for her to be feeling intimate toward Tom who appears that he could ignore his outdoor surroundings at any moment and ….well yes.
Get Body Language CD/DVD Program – 75 more pictures + – Closeout Price