I've got a big project I'm working on in July. It's the new Body Language Home Study Course.
Now, this is June, and I'm telling you that I'm "working on" this project in July.
It's almost a present tense sentence. (Don't ask me about tenses beyond this unless it's related to intensity or tension.)
So I bet you have a big project you are working on in July.
Here's what is going on:
I'm closing out the Body Language Home Study Course currently in the store. It has evolved into quite a cool program. (Keeping all the masters because I've learned that sometimes the first time is best!)
…closing it out and making a NEW Body Language Home Study Course.
I don't have a completion date, but I imagine it will take me a good two weeks of busting to get it out after I get back from Las Vegas.
It will be….awesome.
A few DVD's, online video footage, lots of photographs to analyze, all kinds of cool info. It's going to be something special…maybe edgier than what I've done in the past.
It will be put together probably by the 12th or 14th and made available in Coffee the Monday after that.
How Should You Talk About Your Goals?
Now, when we talk about "goals" today, realize that what I just did was tell you my "goal(s)" and it didn't really sound like it.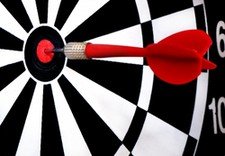 I want you to get used to thinking in this fashion.
At first it's a little clunky and once you think like this, you'll never think of these things as "goals."
One reason I rarely use the word "goals" is there is an aura of failure that surrounds the word.
It COULD happen. You could fail. But I have a program that is going to be out July 14.
If an earthquake happens, or maybe the Second Coming, well then I probably won't have it out, but I can't control stuff like that.
I only control everything I control and therefore, the program will be out July 14, or I will probably have died.
There's no difference between this goal and getting dinner tomorrow night in Las Vegas, or my speaking event presentation… or getting to the plane or ….well….anything.
"Goals" are simply things you are going to to do.
Goal = What you are going to do and in your mind it's essentially all laid out and all you really have to do is finish the process and make it real.
It's not very hard once you break the anti-goal habits and fill your mind with pro-goal directives to action.
Make sense?
When you talk to me, you don't need to use the word "goal." Just tell me what you're going to do and when it's going to be "out" or finished or whatever.
If you make a baby today it will be out in APPROXIMATELY 280 days.
Plus 10 or maybe minus 30 is a 90% probability. That's a goal, that's what I'm talking about.
Something you're going to do that has a semi-fixed timeline.
It doesn't matter if the NEW Body Language Home Study Course comes out the 14th or the 21st, but it does matter after that because there's a lot of other stuff that has to be communicated to Coffee readers, like the Wealth Week that will happen in Las Vegas, October 16-19.
You can book your tickets now, it's going to be spectacular.
Making Goals Happen
So, let's get to what YOU are going to do.
I'm going to move away from how I've been talking into a transitional form of goal communication. More formal, if you will.
Ready to make this summer a great one?
Step One: Specify the Goal
In order to achieve any outcome/goal, you have to first know exactly what you're trying to achieve. And you must be at LEAST as SPECIFIC as I was above!
Most of us make the mistake of being vague with our goals. We say things like:
I want to lose weight.

I want more money.

I want a better job.

I want to be happy.
That's like going into a restaurant and telling the waitress, "I want something to eat."
It's stupid.
I can't remember the last time I said, "I want more money."
What's the point?
If you say that, it simply won't happen.
WHAT ARE YOU ACTUALLY GOING TO DO?
WHAT RESULT WILL ACTUALLY OCCUR?
That's what I mean by specific.
You'll need to be a LOT more specific when you set your goals.
Each goal you set should include this information:
What
Where
How
Whom (if others are involved or affected)
When
Why
Here is brief explanation of each point:
What: this should identify the "meat" of your goal. What you want to accomplish.
Where: location, if applicable (like getting a job in your local area or moving to a new area).
[I confess I don't like these kind of "job" goals because they do NOT rely almost solely on your personal effort. Where others are significantly involved, you are HOPING and not DOING.]
How: you may have a preference as to "how" events will unfold (this may not always be within your TOTAL control, but having a general expectation is good).
Whom: if your goals involve others, you'll want to highlight your expectations. And remember to address what happens when they bail out, get sick, die, have to go to a soccer game with their kids….you get the idea.
When: a general timeline for the fulfillment of your goals.
Why: your reasons for wanting to achieve your goals. Be pretty specific on these reasons and try to focus on the BENEFITS and the avoidance of what you DON'T want.
So, for example, I want the NEW Body Language Home Study Course to be FRESH. I might have a couple of shots of Clinton and Gore and Kerry and Bush because I've analyzed them so many times but we need to be looking at a LOT MORE CURRENT stuff… to bring this out of 2000 and 2004 and into 2008.
Also…it's going to be far more valuable to the owner of the course as far as total knowledge learned. We continue to use celebrity stuff I've analyzed, but we expand on the knowledge dispensed in the course so that people go, "DAMN that was GOOD," when they are done.
WARNING: Do NOT proceed with the rest of the steps unless you are very clear about what you want to accomplish. Clarity is the deal! I don't have to have the tracks scripted in my mind, but I need to have things pretty specific as to what I want to have happen in the course.
A vague idea will not cut it; you'll just end up wasting your time. Not only will you be confused about how to accomplish such a vague "goal," (there really isn't such a thing) you also won't be able to generate the level of motivation and tenacity needed to see it through.
If you're having trouble figuring out what you want, take the time to find out.
Keep working your day job and then when you get home start formulating your LIFE.
And by the way, you have LIFE stuff and you have PROJECT stuff.
Your projects make up a big part of your life. (You could easily argue that your projects ARE your life depending on how broad we want to define project….)
Life big.
Projects small.
The NEW Body Language Home Study Course will take about 40 or 50 hours that are currently not on the schedule. That's about 4 extra hours per day over and above all the other stuff that gets done.
No problem.
Make sense?
Broaden Your Horizon
OK, let's broaden the scope and go wide.
Think about every area of your life and ask yourself what you would change if you could. What would you ADD to your life, and what would you TAKE AWAY? This line of thought will lead you in the right direction for creating better circumstances.
Once you are crystal clear about what you want and how you want it, put it into a neat, concise statement:
I will get _________ done in July[what]

at _________ home [where]

by __________ my self [how]

by __________ July 14 [timeline]

with _________ just some web help and video help [other persons]

because ____________ it's time for the best NEW Body Language Home Study Course possible. Fresh, fun, interesting, edgy, detailed. [why].
Step Two: Breaking It Down
Every large goal is comprised of smaller parts. Sometimes these smaller parts are different facets of a bigger goal, and sometimes they are simply identical, measured increments of the big goal.
Here's what I mean:
A goal like earning a college degree will have many different facets that make up the final goal, such as researching and applying to degree programs, taking and completing the required credit courses in your chosen field, completing a research project or thesis, and finally graduation. These activities are all components of the larger goal.
A goal of losing 25 pounds will involve setting clear action steps such as eating less junk food, eating more veggies and fruit, exercising regularly – and simply repeating these SAME steps over and over until you reach your goal weight…and then keep doing it…forever.
There are exceptions of course, depending on the specifics of your goal. How many parts each goal has will vary widely depending on the goal itself, as well as the amount of legwork and preparation you have already done.
It's best to really break your project down as much as you can.
My plan might be…
I want six to eight audio CD's.

I will need about an hour of video footage at a website.

I will need to have a couple of DVD's.

I will need to put together tip and strategy sheets.

And then add stuff in as I think about it.
Next Week, we set it all in motion…
---
I've identified 12 of the life patterns which cause us to trip up – and make the same mistakes again and again. To discover which of the 12 patterns you have been the victim of and how to eliminate self-sabotage in your life (or those of your clients) you can pick up the program below.
Lifestorms: 12 Obstacles to Achievement: The Paradox of Overcoming Self Sabotage to Achieve Love, Power, Money and Happiness.
3 CDs in this program – and it comes with a BIG WORKBOOK! And now, get a free Lifestorms DVD presentation with your order!
Discover why life often brings you exactly what you don't want…and how self sabotage can hide around every corner. Some people have guessed at the bizarre nature of self sabotage. Guess no more. Self sabotage is very real in everyone's life. It is completely devastating and 100% resolvable!
Do you ever know you should start on a project but don't?
Do you have projects that you have started but never finished?
Do you ever say the one wrong thing at the wrong time?
Have you ever had things going well in life only to have everything blow up in a day?
Have you tried to be so careful not to make a mistake that you were shocked when you made a truly costly one?
Have you ever promised yourself to stay out of trouble in some way only to find yourself in the same trouble or worse again?
Now you can discover your own life patterns so you can eliminate unconscious self sabotage immediately. This program will break the heavy chains that hold you from your dreams and your goals.
This program is the first program ever made public that shows you how to identify specific self sabotaging behaviors and negative life patterns. Better? You can ultimately erase those life patterns and rewrite new "schemas" into your brain that will allow you to meet your goals and experience fulfilling relationships.
Here is what you will learn:
How to identify which of the 12 negative life patterns you live.
How to find the triggers of the lifestorms that you just can't believe you experience.
How to change the self sabotage into success, happiness or something productive.
How to remove almost all obstacles between you and your goals.
How to understand those around you so you don't push their buttons.
How to predict your behavior and that of others.
How to actually achieve your goals so they are more than just a dream.
No one anywhere has ever put such a program on CD. There is not one person anywhere who can't utilize every minute of this insightful information. These three CD's are packed with the most powerful tools for getting past life's roadblocks and personal sabotage ever imagined. Anyone can utilize this information and I personally guarantee that if you follow the instructions you will not experience self sabotaging behavior anymore. Your goals become reality at speeds faster than you ever imagined.
Learn More About Lifestorms or to order