In Money Secret Episode 1, we found out that only a couple of people chose to be in selling/running their own business. One selected a profession.
The premise was that our reality TV show friends would be in the mansion for a long, long time. Decades. And there were only 10 selected with their families.
Each of the original 10 were now in their early 30's, a decade having passed since beginning their reality life experience. Some had married, some divorced, some changed jobs along the way, but only two were in selling/entrepreneurial and one in the medical profession. (The house needed a doc.)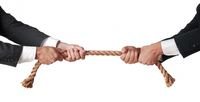 A politician emerged convincing the other six that because it was unfair that the salespeople made so much and they only made enough to get by, that there should be a redistribution of wealth in the home. The salespeople had less time with family and friends. They worked longer hours and sacrificed significantly for the future of their families. They played and partied very little, delaying gratification for similar perks later in life when they would likely be less able…
The Two who earn a million dollars annually because they selected professions where they can largely determine their own income, were disgusted that they had half of their money ripped from their families to give to those that party. Nevertheless, although they worked for 60 cents on the dollar, they still had something to show for their work.
Sitting down one afternoon on the beach, both of the wealthier individuals put their Blackberry's down and pondered their fate…
Money Secrets 'They' Don't Want You to Know
"Figure two more years and stash a million bucks and retire."
"You're going to retire on a million bucks? You're kidding right? You're 31."
"Well, I'll keep working a little, but yeah I've paid my price. I think it's time to kick back."
"You are an idiot. Do you realize that a million bucks is next to nothing?"
"Oh come on, you invest a million bucks and in 10 years you have two million and in 10 more you have four…and in 10 more you have…"
"Hold on there Mr. Astrology Man. You think you're going to double that million every 10 years? How much has the market returned over the last 10 years?
"I dunno know how much?"
"Last decade? Since mid 1997….60%…if you look at the Dow…nothing if you look at the NASDAQ."
"There ya' go, 60%. That's not so bad."
"Ever hear of inflation?"
"Of course, you telling me inflation is more than 60% the last 10 years?"
"Over 60%?! How much did a house sell for 10 years ago?"
"I dunno….half of what it does today? That's 50%, pretty close."
"You truly are a moron. Let's pretend you are right, which you aren't. Houses sold for a lot less than half 10 years ago…but for the sake of discussion, let's say a house sold for 1/2 in 1997.
That would mean that the price of a home doubled, That's 100%, not 50%. But that's not what really happened. 10 years ago, houses were selling for about 1/3 of what they were. That's 300% inflation."
"But I read that the Consumer Price Index was …."
"…was a government figure that doesn't include housing, food or energy. What do people spend 80% of their money on?
"Housing, food, energy and inflation?"
"And taxes."
"So what are you saying?"
"I'm saying that a million bucks 10 years ago buys less than half of what it did 10 years ago….a lot less. Look, let's look at in an easier way for…In today's dollars how much you gonna need to retire on?"
How Much Needed to Retire?
"50,000 per year."
"Living that simple life…How much were your property taxes last year?"
"Maybe $10,000…but wait, that's not so simple. 50K is a lot money and I've been kicking in to Social Security just like you."
"You're one of those people who THINKS you've been paying into Social Security, but that my friend is an illusion at best, an unkind joke at the worst. For decades we've known that the government slot machine will quit paying out in about 10 or so years. And if they do pay out, sure, you'll get your $2000 per month, but it will be worth only about the equivalent of $100 per month in today's terms."
"But I paid in $15,000 into Social Security each of the last 10 years."
"See, you have to get this right…that is not correct. You don't have one penny saved in the "government." There is *nothing* there. It doesn't exist. You have an IOU that is almost worthless. For all intents and purposes, it IS worthless. You've been suckered….but let's move on….One bedroom condo payments on say a $350,000 place in today's money?"
"Maybe $30,000."
"And you're going to live on $50,000?"
"OK, $100,000 in today's money."
"Closer. So that means you get to live 10 years from the date you retire with a million bucks… from the day you retire…assuming the markets go up and not down and inflation is zero. What do you think the odds of those two things happening are?"
"Not great."
"But let's say that the markets are up and that inflation is in check somehow. You have 10 years from the day you retire. When do you want to retire?"
"I was thinking 40."
"You got a special 'going to heaven party' planned for age 50?"
"You're exaggerating this."
"These are your numbers. You aren't even close to what's likely, but we're using your numbers."
"OK, so I retire at 65."
"Why 65?"
"I don't know. Doesn't everyone?"
When Should You Retire?
"Typical answer…everyone…that's part of why 'the system' can't work….because people quit working at 65 and not 75…I'll come back here another day…. Ok so now you have a special going away party at 75? Do you realize if you make it to 65, even though you are a man, you still have a decent shot at 80? You wouldn't want to bet on it but it is possible. If you were a woman, you'd be a virtual shoe in for 80 if you make it to 65."
"Five years in a nursing home?"
"Fun way to leave the planet…but you haven't budgeted for even one year in a nursing home."
"OK but at 65, I have MOST of the rest of my life taken care of."
"Let's pretend for a second that you live to 100."
"What are the odds of that happening?"
"For an idiot like you, you'll run a red light in Boston and get killed but for most people in your shoes, certainly something to be prepared for."
"OK, then I'd have to prepare for 35 years of income."
"Which is?"
"Ummmm…3.5 million dollars…oh my gahd…that is a lot of money…"
"So I understand…"
"So how are all the rest of the people going to live 35 years after retirement on their savings…I mean it's not possible."
"It's not even close to possible.:"
"But seriously, what will they do?"
"There is no plan for such a thing."
"You're kidding right?"
"Nope. Social Security was originally designed for women to live a few years after their husbands died at 65."
"You're kidding?"
"No, and in fact, the average black man in America alive today will live on average to about 65."
"That means he gets nothing of what he paid in. He's totally ripped off…"
"That was the irony…but it doesn't really matter because there isn't going to be anything for any of us.
"So, are you a pessimist by nature?"
"No. I think in spite of nature. This isn't about pessimism and optimism, it's about taking care of your family and yourself and I'm optimistic enough to know I can do it if plan properly. If not, then I'm in the same boat. If you want me to go around thinking, 'Oh yes, Uncle Sam will take good care of us…' no, I'm not a moron."
"But what about everyone else back at the house? They all make about 50K per year and if even if they save 10% of that, they…"
"They will need to plan their death two years after they quit working or they will be completely out of money." "That just seems so unreal. I mean we've all read about saving money in our IRA's and 401 K's and we'll be able to retire with plenty to live."
"Yep…and the fact is in 2030, people who do only that will have only two things they can do."
"What's that?"
"Die or steal more of ours."
"How could they tax us even more than they are now?"
"Easy. They pass a law and they are the 95% and we are the 5%."
"But they would have to take almost everything we earn to be able to…oh my gahd…they have to take EVERYTHING we earn or there is no way out for them."
"Welcome to the real world…but there are two ways out…neither of which is all that pleasant…"
"What are they?"
Upcoming articles will show you the way. For now, let's get back to work….



Yes, the Time Is Now to Figure Out Your Money Future
The Psychology of Wealth: How the Unconscious Mind keeps you from money.
Whether you want to help others build wealth or do it for yourself, you're going to need the information in this new and exciting program. The answer is NOT out there. It is not some metaphyical concept. It is real. The unconscious mind (the part of you that most often determines what you do in life) is not wired to accumulate wealth. This Psychology of Wealth Accumulation will show you how to change that…to re-structure your thinking for a lifetime of abundance.
Fact: The same part of the brain the keeps people from losing weight keeps people from great wealth!
I'm going to take you through your unconscious mind and and make sure every change you need to make takes place. I'm going to take you through a process whereby any doubts you have about wealth accumulation are either restructured to be used as leverage to accumulate wealth or as a tool to prepare for future challenges related to money.
Accumulating wealth is going to become a mind game that you win every time.
How you think at the conscious and unconscious level will determine how much you will accumulate. My job is to get you to instantly respond to money and how it is directed… in very specific ways. Once you can do this, it is remarkably easy to accumulate it.
Wealth is an elusive thing for most people. People start on programs to make money, and, much like losing weight, they fail within weeks. Here is a fact: There are critical factors involved and you will discover them all.
When you think about it…there are probably more get-rich programs available than just about any "self development" theme. This is NOT one of them. I've seen very few ways to get "rich" quickly that were legal…or even ethical.
I think one of the most important turning points of my life was when I discovered that I had (at the unconscious level) self-sabotaged myself. I had used and heard that term many times. Never did it really sink in that with some powerful processing, I could isolate those causes and "unhook them." Once I was able to do this, accumulating wealth was just about as basic as accumulating dust. BUT none of it would have ever happened had I not ventured deep inside to discover just what was holding me back. This is what you are going to be able to do, by yourself in the privacy of your own home.
This program is unique in approach and more importantly, it works. This is NOT a get-rich-quick scheme nor is it a savings program. It is about changing subconscious conditioning in less than one month and literally accumulating wealth.
Learn the golden key to the thinking process that makes wealth accumulation possible.
There are 12 fears that run your life decisions and behaviors as they relate to wealth accumulation. You're going to learn how to see these fears and begin to unplug them. Without uprooting the causes of making the wrong decisions at the right moments…people are going to continue making them … forever.
Kevin Hogan shows you how to go back, deep into your past, and find the critical sensitizing experiences that have dramatically shaped your life as far as making and accumulating money. (There is an enormous distinction between making money and accumulating it. It is quite easy to make money. It is substantially more difficult to accumulate it…a critical distinction that we make in the Psychology of Wealth Accumulation!)
This program will literally show you how to build a bridge from self sabotage to prosperity!
Discover counter intentions and how to change them to parallel systems of achievement. Less than 4% of people are been equipped to deal with all six of the psychological paradoxes that cause people to fail in growing wealth. The reason is simple. Most of these paradoxes are "new." For the most part, they didn't exist when you were a child. They do now. The roots of some of these paradoxes lie within the evolution of how you "experience work," how you have built the beliefs about your life and your work and how deeply your programming about change has been ingrained into the depths of your mind. Now you will discover how to defeat all six paradoxes that are operating in your mind and finally move forward on your quest to accumulate wealth.
You will have the complete formula to accomplish reframing and begin adding the dollars to your treasure chests. And I'm going to walk you through the entire process.
The Millionaire Mind: Complete Wealth Package