Does sex = money?
Sex is one of those lovely words whose definition isn't well defined or agreed upon. When I think of sex, I think of well…people experiencing…it's not a one person deal…in my mind. And…hey…enough of what I think about….
As we've seen in previous research reported here five weeks ago, most American women, think of a sexy girl…as "sex."
If you are a man, I already know what you are thinking.
Realize that the two genders are waaaaaaaaaay different at the level of "think" and "brain" and the like.
Sexy women = sex, has never made sense to me, but what makes sense to me is flat out not important.
Conversations with European women offer small sample sizes but the American woman sees a sexy woman and thinks "sex." The European woman sees a sexy woman and thinks, "sexy woman," unless she thinks she's better looking than the sexy woman. (An entirely different article.)It never dawned on me until about a decade ago when I was writing Irresistible Attraction that Sexy Women = Sex IS REAL, at least in the minds of American women.
Understanding what people think matters a lot. Knowing how they define specific words and thoughts, however, means just about everything.
Researchers wanted to find out if "sex" (to be defined in this article only as, "seeing a sexy woman") really motivate as much as we think they do. Do they motivate people to buy? To decide more quickly?
The researchers wanted to find out the impact of sexy women on men, as far as decision making is concerned.
Smile = More Sales?
One recent study gave us a glimpse about what a woman's face smiling did for a direct mail piece.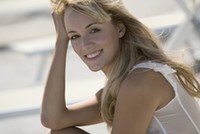 Put a very small photo of a wholesome smiling woman in the corner of your letter and, sure enough, response goes up… …way up.
In a test letter for mortgage rates, the smiling woman got the same response rate as a mortgage offering of 3 1/2%, which was FOUR points less than the control piece at 7 1/2%. Interesting?
Obviously, the smiling woman isn't worth hundreds of thousands of dollars, but she causes as monstrous a response as an almost free mortgage!
And that didn't have anything to do with sex.
(In case you're wondering, a photo of a man had no impact on the response rate of the pieces.)
But the photo of the woman was hardly sexy. It was only a head and shoulders shot and the woman was simply smiling.
Back to Seeing a Sexy Woman…Cues
New researchers already knew that men behaved impulsively in the presence of images of sexy women. They now wanted to find out if anything else came even close to sexy women in motivating men.
And they wanted to know more…a lot more…
If men were motivated by sexy women, would they also be motivated by cocaine, cigarettes, money, gambling, etc. etc.
AND
…if the men were motivated by seeing sexy women and they were rewarded, not with the sexy woman, (rewarding men with women in research studies would make for major challenges, as you can imagine…) – but, say, the men would be rewarded with money after being motivated by the sexy women or similar cues….would the urges and impulses generated by sexy women be slowed or stopped?
In other words, a subliminal image of a sexy woman flashes on the meeting's power point screen for the sales staff. We know that triggers impulsivity and aggressive behavior. BUT when we add the reward of a spiff (bonus money) at the end of our sales meeting, will that cause more or less sales?
Now THAT'S interesting….something I never even considered.
See, the deal is that when the brain is set on a goal, it will go get it…IF it is REALLY SET.
Then when the brain GETS the GOAL it stops "going."
Every man reading this should well comprehend this with no difficulty.
And it works like that for other "goals" as well.
So if a man is goal-triggered by a sexy woman, will he be equally as "satisfied" with money instead of the sexy woman?
You with me?
Answers? Turn the page…