How would you like a fail-safe method to raise your prices and increase your sales at the same time?
I'll show you what the latest research later in the article. Before we get there we need some foundation.
Each week I receive a few books in the mail that people want me to review for you in Coffee with Kevin Hogan. They know if I like it, a lot of people will go buy it. If I don't, I almost certainly won't review it because as a rule, I don't do negative reviews. So they risk $20 and send me a copy. They have little downside and potentially big upside. That's just good promotional thinking.
But….what happens when they tell their audience, "We just sent a review copy to Dr. Kevin Hogan for his perusal…." or "We're so excited that we sent a review copy to Dr. Kevin Hogan so he might consider putting the book in his online store."
Is that going to help sell the book?
Would the consumer be happy to hear that I got the book for free and that they have to pay $20?
And what if I didn't actually REVIEW the book?
How would YOU feel?
Does it boost your confidence when they tell you they sent a copy of their new book to me?
Does it make you feel you got shorted?
Well the thing is that we know we are lousy predictors of our emotions and feelings, so I'll show you what the latest research says you SHOULD and SHOULD NOT do when promoting your products and services…
Groucho Marx famously said that he wouldn't want to join any club that would have someone like him as a member. But if you are on the outside of some deal that benefits another group more than you, would this make you more or less interested in the product?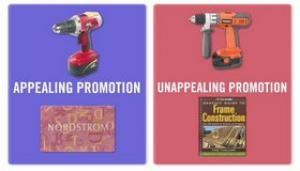 Researchers asked study participants to choose between drills and other products with different promotions. (Credit: Image courtesy of Duke University)
For example, guess how female Victoria's Secret customers would react if they found out that male customers got better deals on the same items.
How would plus-sized women react to a dress that is sold for less in smaller sizes?
According to research from Duke University's Fuqua School of Business, the excluded consumers would be turned off and would be less likely to make a purchase.
But how would competitive swimmers react to a product claimed to improve speed if they knew the product is given away free to Olympic swimmers?
How would vodka consumers react to superpremium Belvedere vodka if the company offered free tastings exclusively for bartenders?
In these examples, the consumer ends up wanting the product more, said Alison K. C. Lo, a recent doctoral graduate at the Fuqua School of Business. She and marketing professors John Lynch and Richard Staelin explain why in the article "How to Attract Customers by Giving Them the Short End of the Stick," published in the February 2007 Journal of Marketing Research.
KEYPOINT: "As consumers, we sometimes buy things when we feel clueless in telling good-quality products from bad but we think more savvy consumers can tell the good stuff simply by inspecting the merchandise," Lo said.
"In such cases, naive consumers are attracted to a product with a freebie that is not available to them but is offered to a more savvy group of buyers, like bartenders or Olympic swimmers. These savvy buyers presumably would turn up their noses at low-quality merchandise, so the naive consumers reason that products promoted to experts must be good.
"On the other hand, if we are excluded from a deal and the group benefiting is not more savvy or we are more certain of the product's quality, we are put off," she explained. "We buy less — like the woman who sees that Victoria's Secret is offering a better deal to men than to women."
What happened in another experiment?
In another experiment reported by Lo and her colleagues, student volunteers in Duke's master of business administration program were asked to choose which of two cordless drills they would prefer to receive as a gift.
The researchers tested the effects of varied promotions by pairing the drills with either a $15 Nordstrom gift card or the book "Graphic Guide to Frame Construction: Details for Builders and Designers."
The study participants overwhelmingly preferred the gift card, but they thought the book would be more appealing to people with expertise in construction and carpentry.
Participants then were asked to guess the prices of the drills, and they gave a higher price to whichever drill was paired with the book compared with the one paired with the gift card.
"This is important because even though the book was not as valuable as the gift card to our participants, they realized the book would be valuable to someone who might know a good drill when he or she sees one," Lynch said. "They reasoned that only a manufacturer of a high-quality drill could lure such an expert to buy."
The research team found similar results in experiments focusing on other products, including camcorders and headphones.
The researchers say the findings challenge some long-held notions regarding consumer reaction to targeted promotions. "Our findings apply to a specific set of circumstances where the customer is not able to judge the quality of a product, but believes that other consumers are expert in judging that product," Staelin said.
"But a lot of marketers sell in exactly those kinds of categories, so our findings can be used to sell products from wine to jewelry to home electronics to financial services."
And now you know how to make it happen too!
You heard it here first.
Become More Aware of the Triggers of Influence!
What Makes a Person Decide? Find out!



The Science of Influence, Part V
Volumes 49-60
Kevin Hogan
It's here!
I'm very excited.
I didn't release a Science of Influence set in 2006 because I wanted this one to be something special…
I wanted THIS to be the one everyone remembers.
12 HOURS of new information and we have some fun along the way.
The one area I've left open for speculation in the first 48 CD's, I've closed in Science of Influence 49-60.
Impulse Activation moves your hand from their pocket to the shelf holding the magazines, candy bars and nail clippers when you're in line waiting to check out your stuff at the store.
Impulse Activation is what causes you to push "Buy Now" instead of surf away to a different web page.
Impulse Activation is what causes you to give a meaningful contribution to a charity even when you considered to not do so.
And almost no one is able to INTENTIONALLY cause Impulse Activation.
Except You.
I've taken a decade of research and put it all to the task of Impulse Activation.
I show you the Covert Psychological Triggers that are the most likely to succeed and then I show you HOW to use them.
Then I take you into the world of women. No one has ever written about the Covert Psychological Triggers that CAUSE women to act or decide in your favor.
I have.
I take you through step-by-step and itemize those Triggers, then, I show you the EXACT WORDS and PHRASES that work when communicating with women. To my knowledge, no one has ever done this before.
And there is a lot more.
In the last year there has been a LOT of research done in what persuades people…in what unspoken (covert) factors CAUSE people to spend more money, come back more often, buy more products and services.
And I lay it out for you in easy-to-understand fashion.
You are the first to have this incredible program and I am proud that you will.
Because as you come to understand the mind of the other person; you'll also be learning :
How to create the "gotta have it" feeling in consumers
How to melt away sales resistance
How to tap into the "primal" buying emotions
How to literally and instantly establish rapport
How to 'cause' consumers to obey your hidden 'sales push'
How to infuse "proof power" into your sales letters
How to arouse your prospect's inner buying drives
How to influence your prospect's mind to trust you
How to bypass your prospect's conscious mind
In a nutshell, you'll learn how to create influential messages that hold customers captive from the first words you say to the signing of the check.
In Science of Influence 49-60 you will learn how to:
Cause Them to Identify with You
Combine Two Key Drivers that Will Cause Compulsion to Comply
Form Questions that Will Cause Compliance When Asked
Never Have That "Phoney Feeling" Inside Again…and Instantly Watch Your Income Increase
Use the Power of the Invisibility Intensifier
Take Advantage of Kevin's Full Christmas Tree Technique
Optimize the Use of Their Feeling of Fear
AND…
Determine Which of the Five Basic Fears to Utilize in Your Presentation or Copy
Adopt Key Characteristics of God that Make You More Persuasive (even if you are Agnostic!)
Use Features instead of Benefits to Close The Deal
Send The Energy of Being THE Problem Solver to Those You Influence
Use Sex and Sensuality to Sell. Clear and Simple
Modify Old Sales Strategies to Become Influential in 2007
Be THE Person That Imbues Them With Good Feelings…They Won't Want You to Leave!
Link Good Feelings with Buying Now
PLUS…
* Take Advantage of The Impulse to Instant Gratification With You, Your Product and Service
The Science of Influence 49-60: Triggering Compliance in the Buying Sequence is UTTERLY UNIQUE among all programs about persuasion and selling.
Because, for the first time, you will find out EXACTLY how to influence women. (Whether you are a man or a woman doesn't matter. What matters is how you will use what you discover here!)
Women react and respond VERY DIFFERENTLY than men to influence attempts.
The chances are very good that your business is HEAVILY WEIGHTED with either 80% male or 80% female clients and customers.
I'm going to show you how to gain compliance from the women you've been missing out on.
I'll give you THE EXACT WORDS that are REQUIRED to influence and sell women.
I will show you the PRECISE ATTITUDE that is REQUIRED to market effectively to women.
You're going to have it all in your copy of Science of Influence: Triggering Compliance in the Buying Sequence.