with Kevin Hogan and Larina Kase
Apply by April 25 11:59 PM
Go Directly to Application Form
You walk into the Hilton in Philadelphia May 3 with little evidence you are a successful and competent professional in your field.
2 days later, you walk out with all the things necessary for your demo kit, personal promotional material or web site.
You leave with STUFF in your HANDS that you need. Not directions on how to get the stuff.
You'll walk out with stunning glossy photographs of YOU, high resolution video of YOU, your own IMAGE PROFILE, professional copy for the top of your web page…
…and everything you need to present yourself on the web, in a demo kit, a media kit and in the brochure to, or for, the company. This kind of event has NEVER been held ANYWHERE in the United States before.
Develop and Present Your Persona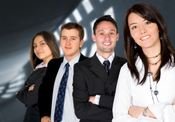 Developed by Kevin Hogan and New York Times Best Selling Author Larina Kase, we finally filled in all the holes that people have in business. Everyone knows they need a beautiful 8 x 10 but it never gets done. It does here.
Everyone knows they need themselves on video in front of a cheering audience to show the people in corporate or the meeting planner who will hire you for a training or speaking keynote. But you'll go HOME with it here!
Everyone knows you need great copy for your website or you're just another web page. Here you go home with the crucial "above the fold" content that it takes to cause response to YOU multiply.
This is the first ever TAKE AWAY WEEKEND.
Yeah, you used to take away cool ideas…but this is something unique, uncharted territory.
Instead of getting the best professionals at thousands each, because of this new plan, you can get professional work done for you at a fraction of what you would ever spend.
When you leave the Philadelphia Airport Hilton on Sunday, you will take away all of this:
Over a half dozen beautiful, professionally shot portraits, (perfect for 8 x 10 glossies) of YOU that you can use on your website, as part of your demo kit, for showing that you are the best hire, on your business card. Best: They are all done with your IMAGE in mind. Your persona.

To do this outside of our event, this would cost you approximately $1000. Best? YOU retain copyright of your own photographs so YOU HAVE ACCESS to your IMAGE forever. That's not how it works in the real world. Out here you have to pay over and over again.

We changed the rules…

A 7-minute demo video of YOU in front of an enthusiastic and excited audience. Show that you can captivate hearts and minds. Kevin Hogan shows you how to be brilliant in front of an audience. Larina Kase gives you the confidence boost you need to put your best foot forward forever. Whether you want to show the V.P. at the Company you are the right person for the promotion because you can command an audience, or you are using this as a professional demo video, or even promotional material on your website…this is special. Included in your package….you go home with YOU on VIDEO, LOOKING GOOD and BEING ADMIRED.

(Yes! Bring your best clothes for this opportunity.)

Anywhere else in the country, this demo will run you $800 to $3000 depending on what market you are in. Again, it's INCLUDED as part of your TAKE AWAY package.

A Knock 'em Dead Web Page. Your web page needs to be powerful and unique to separate you from the crowd. Our professional copywriter is being flown in from 2000 miles away to show you what the content on the top of your web site needs to be. He's not teaching you what to do, he's WRITING IT FOR YOU. Our pro charges $997 for the "above the fold" copy. But not you. It's included in your TAKE AWAY package.

A First Impression Coaching Session. Know what you need to LOOK LIKE for the next five years. Our superstar Image Consultant is uniquely qualified to tell you what you'll be wearing from now on, what colors, what hair style. This powerhouse has helped some of the biggest names figure it all out. And for you, it's all included in the IMAGE TAKE AWAY package. Depending on market, this level of professional Image consultation costs from $700-$2000.

Dr. Larina Kase will personally coach you on presenting yourself in one-on-one interview like sessions. You'll find out what's right and wrong about how you are talking to the person across from you.
In TWO DAYS, you will leave with everything above. Depending on your market, the above TAKE AWAY's completed at the Highest Professional Level run from $5000-$15,000.
Because this is a "beta weekend" where we are working out the logistics for future events where we can charge triple this weekend's fee – you can walk out with a PERFECTED IMAGE for $1,997!
Really!
Air and Hotel Separate
You do need to get to the fabulous Philadelphia Airport Hilton and book your own room, but we take care of everything else. You bring your best clothes, and we do the rest!
The fact is that people never have the time to put together this kind of stuff. People DON'T get themselves in front of a professional videographer.
They don't hire the best professional photographers.
They don't hire copywriters.
We've been living in a do it yourself era and THAT IS GOOD, BUT not in this case.
We've taken everything you need and put together the weekend that makes it all happen.
And you go home with your pictures, your video for your DVD, your above-the-fold copy for your website, your PROFESSIONAL IMAGE RX and the coaching required to take advantage of all this material in your field.
If you can find ANYONE, ANYWHERE who can give you an audience that will give you thunderous applause for less than $5000 shot by the highest level pro, go for it…or be here with us.
Hint: Kevin and Larina are getting everything you are getting, too!
Put Your Best Image Forward
And Kevin and Larina will both show you how to put your best image, your most effective persona FORWARD, onto video, onto an 8 x10, onto your website, and into every meeting and event you get hired for, for the rest of your life.
This opportunity has NEVER been given to you or anyone. We are the first ever, and because it costs an insane amount of money to put these people all in the same hotel, it may not happen again.
Limited Offer?
Yes.
First 50 people to register, and then we're done. We only have two days and can't take any more than 50 (sorry this is all real time stuff).
The event will definitely be exciting and for being part of our Beta Group (that means we're working out the scheduling challenges in real time and might need your patience at some point) you get to go home with your TAKE AWAY'S for 1/3 what we will charge the next go 'round and for 1/9 of the cost if you put this together on your own.
Register now. It IS a VERY LIMITED OFFER, for real. We do reserve the right to turn away ANYONE for ANY REASON.
The earlier you register, the quicker we can get you the instructions you need to know about what you'll need to bring to Philadelphia.
Note: There are a couple of things you have to do before you come and a couple of things you have to bring from home, so please do register now. As soon as we are full, we are full and we will need to pull this promotion and not honor the space or price once we are full.
There are no refunds as we have to pay the best people on the East Coast for their time and work. There's no margin here. If you aren't comfortable with Larina Kase and Kevin Hogan, do not come.
Complete a Personal Survey After Applying
After you register, you will receive a brief personal information survey that you will need to either bring with you for the photographer, videographer and writer, or email in advance. It's not lengthy but having this information will crystalize what you want the professionals to do for you in conjunction with what we tell you (I mean suggest….) you do.
The event will run at LEAST 9-5 each day at the Philadelphia Airport Hilton. Rooms are very inexpensive and lunch is on us.
Register Now and Save!
Your Professional Image Take Away Weekend is $1,997.
If you register this week, you also have the option of choosing an easy-on-the-budget installment plan.
Register here now and you'll receive a pre-confirmation almost immediately.
Your official confirmation will come within 48 hours.
Apply by April 25 11:59 PM

Dr. Larina Kase, PsyD, MBA
LARINA KASE, PsyD, MBA, is a psychologist and the President of Performance and Success Coaching LLC, a national career and small business coaching company. She has helped executives from companies such as Verizon, Intel, and Ernst & Young. With expertise in marketing, she has helped dozens of professionals to build their practices or businesses.