Ready to rub the Lamp?
…
Ever been to Ikea?
I can't tell you how many times I have heard people complain about Ikea. (From those who've never experienced Ikea …)
"How are they so successful?"
"They sell cheap products that only LOOK good, that aren't made to last. Why would they make their customers retrieve their bookshelves from the warehouse themselves, then load them into their cars … by themselves, then put the bookshelves together?"
Waste of time for you, lousy long-term biz strategy for them, right?
WAIT!
If YOU use the Ikea Effect in Sales, Marketing, Your Business, it might have the same effect as Aladdin and the Genie in his lamp!
The first paradox about Ikea is this: Ikea is able to lower their costs and boost their efficiency as a business by transferring the labor to their customers. But is that going to help in customer retention?
Here's the deal … they have one of the most ingenious business strategies in the world.
Here's why …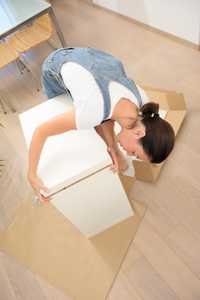 "I did it myself!"
Is there something to be said for the significance of "building something?"
When you work for/toward something, perhaps it's more valuable?
That is a question.
That is NOT an answer.
The distinction of WHEN and under what circumstances, is critical.
Read this carefully.
It could change the way you run your business and your life.
In the June issue of the Journal of Consumer Research, Ying Zhang and colleagues published an interesting study examining what motivates people to achieve their goals.
They found that when people exerted more effort in obtaining their choice of a movie ticket (climbing 6 flights of stairs versus 1), they were nearly TWICE AS LIKELY to attend the film, and rated the experience as more valuable to them.
However, when they were told which movie ticket they would be working for, the more effort they exerted, they were far less likely to attend the film, and had a negative attitude towards the experience!
WHAT?!
That's new and completely counter-intuitive. Most people stop reading when they read a headline. You aren't most people. Let's see what this MEANS to YOU…
What does this reveal about people YOU deal with?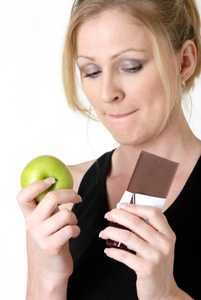 Let Freedom Ring
This tells us two things about ourselves, our kids, and our employees:
People love choices. Choices cause people to feel like they are making independent decisions, feel in control of their lives and experiences.
BUT, when a goal is forced upon a person, they are more likely to devalue the goal and put less effort into making it happen. When they make a choice of free will, they are more motivated to carry out and COMPLETE the task.
When you choose the topic of the paper, the book, the project you're working on, there is a higher chance you will feel more attached to it emotionally, will feel more involved in it, and will value it more at completion.
People like to earn their way (well, people like you and I … there are always exceptions).
When people feel like they've earned something through hard work and effort, they are likely to value the finished product highly.
Now if that isn't old fashioned sounding … what is?!
The more effort put in to a project, the more motivated a person becomes to complete it and feel pride about their work.
As long as the effort required is within the scope of the person's ability… that is … it is challenging, but not overly difficult … the person is more likely to enjoy putting effort forth and will be more likely to complete the project and value the finished product.
KEYPOINTS:
The more effort you put into buying a product, the higher the value it is to you intrinsically.

If you made the CHOICE to buy that particular bookcase, you will be more motivated to buy it.
Ikea hits these two concepts right in the bullseye.
They have a variety of products to choose from on any budget … most requiring self assembly … and I truly hate self assembly.

They make the customer go through a process to obtain and enjoy their product.

They make it fun.

They show you how their product would fit well in your home.

They make it autonomous. You have the freedom to walk around the store, not pestered by staff, taking the time you need to make a decision.

You have written down on your little slip of paper where your items are in the warehouse and you go on a little hunt to retrieve them.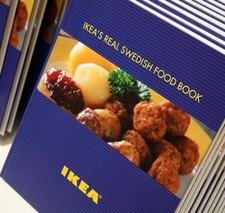 You make your purchases, and on the way out, are tempted to reward yourself with an ice cream cone or various Swedish Foods after a long journey at Ikea, and to prepare yourself for the eventful night you have ahead of you.

The product is relatively challenging, but not too difficult to put together. Anyone (except me) could do it. You slave over it for about 45 minutes, feeling the sweat on your brow, reveling in your competency at this adult game of Legos. Finally, it is finished.

You stand back to admire your hard work and feel a sense of pride in your new purchase. You feel a strange sense of affection … for a piece of furniture.

You feel some loathing for Ikea, you're exhausted, half of your night gone, but damn that bookcase looks good.
Would you have felt the same attachment to this product if you would have had it delivered and assembled for you?
Probably not.
Is there something about sentiment?
There's Something to Sentiment
My family and I still eat at the table I watched my stepfather build when I was a kid in Chicago. It became one of the few things in our home that was not shoddy. Today, in my rather ostentatious over-sized home, where all the woods are a dark, rich cherry wood … well … the dining room table is absolutely out of place.
It's said to be ugly.
It's creaky, and has been since I was 10. It matches nothing in my home … absolutely nothing.
But I wouldn't get rid of it if someone paid me a million bucks.
It has sentimental value. It's a part of me.
Think about it:
Do you still have anything you made from childhood in your home?
Hmmm …
Now how do you incorporate this genius strategy into your business?
Ask the customers what THEY want.

Let them make choices.
Tangentially … let's make life a lot better:
Have them answer …
For what do you want to be known as the obvious expert?

What is the one thing you always wish you'd learned?

What do you feel would be a good fit for you and your home, your family, your lifestyle?
Make them work for it … not so much that the task becomes aversive.
Obviously, there are people who avoid Ikea like the plague because of the effort involved.
And in your business?
In YOUR business?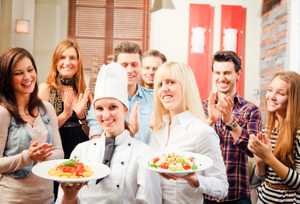 Have your customers go through a series of steps, either to buy the product, or after they buy it.
Think:
Pampered Chef or Tastefully Simple

Build a Bear Factory

Legos

Books that require people to write in them about themselves, be creative, or making plans for their lives or businesses

converse.com where you can design your own sneakers in about 2 minutes
What should you do, specifically, in your business?
After you've implemented the Ikea Effect, follow through by:
Telling them they have made a good choice.

Praising their style.

If you want them to come back, praise their loyalty.

Why would they want to go somewhere else when they have invested time and money into your products? (Remember the sunken-cost fallacy- continuing to put money and resources into failing projects or ideas – the mistake managers and execs make too often … a story for another day!)
They have been making excellent choices independently with your products already.
If you're trying to persuade someone new to buy your products when they are currently loyal to a competitor, point out they have options – better options – with your products.
After all, why would they stay stuck with those products when they could be liberated by yours?
---
Reserve your spot now!
Kevin Hogan Personal Appearances, Classes, Seminars & E-Courses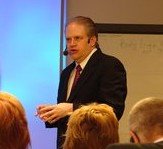 See Kevin Hogan "Live" in person, or participate in an online E-course with personal attention from Kevin Hogan! Attend an online tele-seminar!