Page 5
The Critical Factor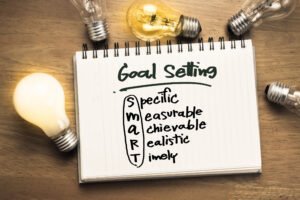 Hi Def Clarity is critical in goal-setting for several reasons:
If you only have a general idea of what you want, you can only get a general idea of how to achieve it. It's like driving: If you know you want to drive from Duluth to Dallas, you have a general idea of how to get there – and you may end up in the Mississippi River or on the wrong side of the tracks. But if you want to see Dallas, you can fine-tune your approach to get yourself exactly to the point you want.
Hi Def saves time. You will intuitively be able to sort through opportunities that are presented to you and know immediately whether they are in line with your goals or not.
He Def helps your mind create a vivid picture of what you want. Once your mind can picture it, it's much easier to achieve it. Vivid. Crystal clear and set your brain to the task using the "UNTIL" switch. You pursue UNTIL and don't deviate.
If you're having trouble specifying what you want, here are some questions to ask yourself:
What does it look like?
How will you know when you've made it?
When do you want to achieve this goal?
What does it feel like, taste like, smell like?
What would a day in your desired life be like, from the time you get up until the time you go to bed?
Write these answers down and revisit them as you work on projects that drive you to them. It never hurts to remind yourself of what you're working toward!
Next, remind yourself that you have not made ENOUGH progress toward the outcomes you are choosing and that you WILL complete projects you've assigned for the day UNTIL they are done.
If you don't?
You'll get comfortable when you make a little progress. Your brain will switch to lizard mode and you'll take "a break."
It's at that moment you can know one thing.
You won't return…to the road to success.