How do you determine who to vote for, for President this year?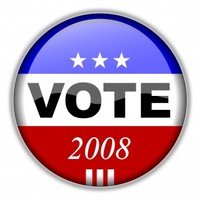 There are some basic fundamental facts and problems that citizens of the United States should demand transparency about from their government, especially their leaders. The person who tells the truth about this stuff gets the right to be President.
Let's start at the top and work our way down in the issues department….
1) Own up to the great "Social Security" Lie.
Any candidate who does this is going to get a lot of kudos.
The Lie?
The lie is that you have been "paying in" to Social Security, for all these years so that when you retire you can have something. Except you haven't. And you won't.
There is no "Social Security* Fund with any money in it. You have paid taxes to the government. What you receive when you retire is NOT insurance. It is a scam. Insurance is something that is guaranteed to pay out. Not "social security." If you die at age 65 and were going to retire at 65, your kids don't get YOUR MONEY (as I told you it really isn't but the government propaganda makes you BELIEVE it is YOUR MONEY). I paid the maximum, over 15,000 to the government. In what was labeled as "Social Security" or "FICA" this year. It is mathematically impossible that I will ever see a penny of that if I live or die.
Finally, there are lots of other "scammy" things about social security. Here's the disastrous one. My step-dad wanted to take a menial job last month and then found out the ugly truth that for every TWO DOLLARS he earns while collecting HIS SOCIAL SECURITY, he would have to GIVE the government ONE of those DOLLARS.
Stop the "social security" now. Let the people who are getting checks keep getting them but then it's time to stop the sham.
Are you a black American male? Is the average mortality of a black man in the United States still age 65? Interesting: "Social Security" can begin at…you guessed it…65.
How ya' feelin' now? Get it?
Wouldn't it have been interesting if the "Federal INSURANCE Corporation of America" FICA would have actually set aside money for you in an INSURANCE fund or ANNUITY that you would receive when you retire?
It's a shame that they didn't.
I read recently that black men in America may be living to age 67 on average soon. I promise you when that happens the age of receiving Social Security won't be at 65 for long…
But remember, the government demands you do NOT WORK or they will take YOUR MONEY BACK!!
Who takes back INSURANCE MONEY if you work? State Farm? Prudential?
Nope, the Federal Insurance Contributions Act (FICA).
The social security scam is a disgusting piece of political verbage. It makes me sick to tell people they are "saving for their retirement." You aren't. Get used to it. It is a big chunky lie.
You can't get out of paying it or you voluntarily go to jail, so keep paying, it's the law, but get ready to not rely on the government for your future. That is the single most foolish mistake you'll ever make….
2) Tell the truth about the National Health Care Lie.
Same as above. The government has scammed the citizens of the United States into believing they have "money coming," but as you can see you DON'T have money coming. SOME PEOPLE have SOME MONEY in SOME CIRCUMSTANCES but it has NOTHING to do with getting back what you PAID IN.
National Health Care to be run by….THE GOVERNMENT? So stem cell therapy won't ever be used to save children's lives or restore devastated kids lives to closer to normal? So government can decide what is treatable and what is not? So we can have 4-minute doctor appointments like they do in the U.K.?
Ask people in Europe what they think of their taxes that they pay and the return of "National Health Care" they get. Email them NOW. They will tell you it is a con. You can't get second appointments for the same medical problem in many cases. There's more. I'll spare you this go 'round.
There is NOTHING appealing about national health care. Remember it will COST YOU A FORTUNE to have national health care and that care WILL 100% certainly be significantly WORSE than the care you have today as an American.
People have been led to believe it's "every American's right to have health care." (It's not, but that is besides the point.) The reality is that to ENFORCE this will cost ENORMOUS AMOUNTS OF ADDITIONAL TAXES that will break middle class America, cause foreclosures and bankruptcies, and, if the burden is placed on the small businesses of America who employ MOST people, then unemployment rates will jump to the highest rates ever seen in this country, wages will decrease, minimum wages will be forced down….way down. There won't be a recession, there will be a depression.
National Health Care is insanity. Do not BELIEVE ANYONE WHO SAYS YOU "DESERVE"….because that is code for, "you will pay to make a bigger government which will give you the same service they have in all other financial sectors."
And deserve is a powerful word from the Persuasion Dictionary that politicians use to any end.
3) The United States government MUST bring troops engaged in war home.
Now stop.
This is NOT BECAUSE they aren't doing a superb job. All accounts indicate that IRAQ is overall a MUCH better place than it was under Saddam. I have first-hand reports from friends in Iraq that life is dramatically improved.
But, there is NO WAY for you and me to pay for the war in Iraq. YOUR CHILDREN and GRANDCHILDREN will pay for this war in 10-20 years. The government has once again determined that THEY don't want to balance their checkbooks, so they will tax your children into poverty to maintain expenses in 2008.
That's crazy. No one has a right to make those decisions for people who will be adults in 10 years. What's going to happen?
2018: Social security benefits collapsed quicker because 10 years ago we had a war in Iraq that flat out broke America…literally.
I believe my friends. They've seen good, they've done good. They've been humble about it in fact, to a fault. But all of that is secondary to the fact that it's a war that we literally can't afford. It's going to have to stop whether or not the country of Iraq were to de-stablize or not.
You and I haven't spent ONE PENNY on the IRAQ WAR. ALL of that will be paid by your CHILDREN in 10 or 20 years. Or your neighbors' kids.
We can't put our bills on our kids' credit card. It's illegal…and it should be.
NOTE: The U.S. military is literally exhausted. They are AMAZING men and women. They deserve WAY MORE than our thanks. AND if something were to happen here or to a neighbor we have agreed to protect, THAT is going to be a problem because is there really any national defense for the U.S. at this time? Really? Aren't the best people deployed? Think about it.
4) It's time to 'fess up to global warming.
I am not a global warming temperature expert. I read a lot of scientific articles. I noticed that a HUGE piece of Antarctica just split off from the main…"ice." (So to speak.)
Look, the poles are changing dramatically and weather patterns are becoming less predictable. I do not know whether this is all caused by emissions. I do not know whether these are simply statistical variances that are normal for a planet.
I don't know WHY it has happened. I do know that IF we can slow it down somehow, it's worth looking at that option. I look at the NOAA climatological data every few months and it doesn't look pretty. (I'm a novice and confessed Weather Geek) I don't know or CARE WHY it's happened(ing). I hope it's past tense….
Look…There is a fire and it needs to be put out. Ya' don't sit and argue about WHY the damn thing STARTED, you PUT THE FRIGGING THING OUT. Again, it doesn't matter to you and me, we'll be dead (maybe) when it turns into a total disaster (assuming it indeed is caused by human interaction with environment).
Now, don't go writing me telling me the Republican party line that the world is not getting warmer. That said, we don't know why and I certainly WILL accept that the data can be statistically within the function of randomness. Regardless, things are changing that we might be smart enough to slow down. And we might not.
Our kids don't deserve you and I to make a mistake on this one. We also might not be able to repair whatever has happened. But we could give it a crack….
5) The Housing Crisis
It sure is a crisis and three groups of people have succeeded in bringing a nation to the brink of recession and maybe depression.
1) Stupid people who want houses they can't afford – to keep up with the Jones's.

2) Banks who know YOU AND I will bail them out if the loans go bad. (Cool business model, huh. Bank gives out tons of loans. They either a) will make tons of money or b) screw up and not. If b) then YOU AND ME will have money taken from us, without our permission and have it transferred to the banks and maybe to the people who were stupid enough to get the loan in the first place.)

3) The government. (Tell me you do not want national health care…)
Anybody who says "government should help…" is full of… Once again, that is CODE for, "we the people in the government have the power to steal money from individuals who were not involved with the problem, who were absolutely responsible and showed good stewardship in difficult times, and worked their tails to the bone and we will now STEAL THEIR BUTT-BUSTED EARNINGS and hand it to bankers and other individuals who were irresponsible and didn't bust their butts…and the people will believe we were good guys and we'll get voted for in the elections."
Sorry. That's wrong no matter how you slice it.
Any candidate that says, "government (steal money from you and me…starting to sound familiar?)" the answer is NO.
6) 401 K/IRA Choice Crisis
Ready for a reality check? If you had 50,000.00 in your IRA or 401K, 10 years ago, you know how much you have today? Yep, $50,000. Enough to live on for ONE YEAR when you retire.
So plan on living to age 66.
People must be able to 100% privatize their IRA's and 401K's and take care of themselves. Hoping that their company or the government (sound familiar) has a good plan, is NOT working. You are BROKE because you believed LIE #11. Don't believe it anymore. DEMAND OWNERSHIP of your own retirement plan. …All those nice people at Bear Stearns? How much will they have in THEIR RETIREMENT? Yep, about enough to last ONE YEAR.
There is a HUGE retirement crisis because of our "job society" mentality. When the U.S. flourished it was because of entrepreneurship and nothing else. Entrepreneurs didn't like the idea of being taxed or having stuff unreasonably (think back in your history about tea party's and stuff) taxed.
You can't solve anyone's retirement problem but your own. Start a business NOW, not Amway, a *small business* and develop it over the next few years while the rest of the world goes to hell in a hand basket. There is only one group of people who thrive in a recession/depression. You guessed it…entrepreneurs who solve problems.
7) Stop paying people to have children.
I have two. But what is insane is the government sends "child credits" and exemptions and all kinds of money to many BECAUSE they have children. And it gets crazier.
If you are a parent and have two children and are flat broke, you get MORE government money to have ADDITIONAL children for food, housing, etc. In fact, here in Minnesota choosing to be unemployed with children is a $25,000 per year free ride on, yep, YOU and ME.
Are there SOME people that truly can't work? You bet. HELP THEM. The 90% who can work and won't, can't get paid more to have more children. Period.
8) Abortion
Make it a State issue so people can live where they choose. This is not an issue of logic. It is an issue of strong belief. Polarizing people because of beliefs is pointless and creates distress where there doesn't need to be any.
9) Gun Control
Make it a State issue so people can live where they choose. People should have the right to own guns and weapons. Problem is they use the dang things. I lean toward stronger controls but this is a sticky issue and to legislate out weapons makes ME nervous inside.
10) Religious Freedom
Once again last week I'm reminded that the government takes a tank and automatic weapons and aims them at buildings with children in them. That is dead wrong. That group of people in Texas don't seem to have caused pain to anyone around them. They appear to have been good and QUIET citizens. They don't appear to have stolen stuff, killed people. Let people who are PEACEFUL alone. It reminded me of Waco all over again. A CULT is the CHURCH down the street from YOURS.
Don't ya' love how media calls where they lived "a compound?" In Minnesota it's town houses or twin homes…you get the idea. We don't need religious persecution in this country. That's a very, very scary concept. If people are behaving themselves, have a community of 1500 people that aren't causing crimes.
Oh, I heard there was a phone call from someone inside "the compound." one of those "yet to be identified" people…. shoot….good point…it's always smart to bring the tanks in when a phone call comes from a teenager….
Ignore the call? If there was one, of course not. You check it out. THE phone call, THE issue. Find the specific abuse – not destroy the lives of 400 little kids and take them from their parents who obviously love them and then redistribute them to other people like they are money.
400 children stripped from their parents all in one fell swoop last week. I think one of the more recent times that happened was Nazi Germany. Is it just me or is that the most arrogant and horrifying thing that's happened in this country since 9/11? Did that shake you up and wake you up, as much as it did me? Taking kids from their Moms is the worst kind of child abuse. Being raised in a peaceful sect by parents who love you is not evil, it's a damn good thing. Polygamy is debatable, (well OK, there is no logical argument against polygamy, but for the purpose of Coffee…) but it's far from a punishable offense. However, taking 400 kids by force and sending them away PERMANENTLY is *Nazi-evil.*
This wasn't about a legal issue, but it's now a permanent mental health, love and life issue. Drop your Senator a note and let her know how you are voting in the elections in November.
Religious freedom and freedom for children to live with their parents are what this country used to be good at. These people loved and took care of their kids, and well. Too many people in this country completely abdicate their responsibility to their kids.
Start where the real problems are, not with the imaginary stuff. These people didn't blow up buildings or do anything stranger than live a life much like the Amish and Mennonites. In fact, in everything I've read, I think I'd be more than happy to trade my neighbors to have them "next door!" There's a lot *good* to be said about living in a community away from people who…well…take children from their parents for zero good reasons….
In a parallel story, John Gottman, the renowned marriage and relationship expert revealed findings from a study this week that "gay" relationships are actually healthier than heterosexual relationships, on well, just about every level.
Perhaps…. just because people aren't COMFORTABLE with how others live or believe isn't a good enough reason to strip their kids away from them…or destroy the lives of innocent children. I remember too well when my Mom was faced with the possibility of my brothers and sisters not being able to live together as a family…faced with having to split up the family and some of us being orphaned. It's brutal…not something that is ever going to heal…. And why this "new problem?" Because some idiot made it a "law," and another decided to enforce it…"they're different."
Yeah, they are… I like 'em better than most already…let me go shout really loud and I'll be right back. Letters to the editors to be written today….
How screwed up can a country get?
Film at 11….
So, who gets my vote?
That's one hell of a good question.
---
Where can you get more of the most innovative and cutting-edge influence and persuasion strategies and tactics?
First Look! Just Released on CD….
Covert Influence: Hidden Persuaders They
(Your Competition) Don't Want You to Have
I want to show you one of the most surprising and perhaps one of the most uncomfortable….and powerful phenomenon in Covert Influence. In fact, I want to share with you all the latest research available (well, almost all…!)
Influence Without Resistance. What's the Key Factor? You'll have most amazing, truly stunning tactics in predicting what and how your client (spouse, child, customer, read: anyone) will choose. Thus, you are a step ahead of anyone else in implementing the most powerful phenomena in consumer research today. Find out with this program!
Creating Irresistible Impulse. The button is there (for everyone); it just needs to be pushed. What are some of the irresistible impulses marketers are using on you? How can you take advantage of these tactics yourself? It's all here in this section. Kevin details the marketing phenomenon that pushes the buttons…all the way to irresistible.
Tapping into Human Desires & Emotions. With just ONE change in strategy, a non-profit organization can get 5 times the donations. What can this strategy do for you? You can't afford NOT to implement this tactic now.
Desires and Emotions… That Influence. You've heard some rumors, I'm sure about negative emotions and positive emotions in the influence process. But do you know what actually works, and what to emphasize in the process, and when? Find out once and for all!
Tribes. You've heard the term. What does it describe? How does it come into play in the influence process? Most important, how do you utilize the concept of the Tribe in order to make more sales? It's all here… Kevin explains about subgroups and how to make appeals based on whether a group is "in" or "out". This is cutting edge research that benefits you.
Covert Influence…to Control Behavior. You've seen the signs. Above the candy jar, tacked to the break room wall. Even posted on a fence, or highway. How do signs really influence? What elements should be used in signs to covertly control behavior? Fascinating new research uncovered for you!
Low Introductory Price