Information Processors vs. Verbalizers
Some people process their "thoughts" through their "feelings." You can ask them what they are thinking and they will say things like:
"I don't know""Nothing"

"Not much"

"Nothing important"
… and so on. These people aren't planning major life events in their mind, they are simply in the moment…in their feelings; and because they process information differently from Verbalizing Thinkers, they often feel inadequate in a relationship or are pegged as poor communicators. In fact, they may not be good communicators, but they can improve their communication skills if others don't put an enormous amount of pressure on them.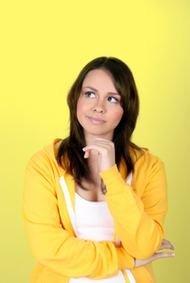 If you are a person who takes time to process external information and you don't communicate well about information you have just received, a good strategy to appear more competent is to say things like:
"I need to consider what you've said…to ponder it.""Let me think about what you've said. I'd like to talk with you tomorrow about it, when I've taken the time it deserves."

"My initial reaction is positive and I'd like to take some more time to consider it."
What this does is allow the two parties to know that there is no problem with what was communicated by the verbalizing party and that they are indeed considering the information, not ignoring it; as Verbalizers often feel others are doing "to them."
"Nonverbalizers" or "Information Processors" (people who use few words in the course of a day or a conversation) often become angry when they are asked to express more than they already have said. This leads them to argue from their feeling base. You would hear things like:
"Why do you always make me feel bad.""You're mean."

"You don't respect my feelings."
..they might raise their voice and repeat the same sets of feelings or thoughts over and over; and they are now arguing.
Instead, the "Nonverbalizer" can share information like this:
"I'm starting to get upset but it's because I'm not able to put my feelings into words yet. I'm not upset with you and I don't want to be, so let me ponder this and let's talk again tomorrow about it."
Verbalizers
Meanwhile, the "Verbalizer" (people who share lots of information…almost streams of information in communication) get upset and angry when others don't respond in like kind. Someone who communicates 50 out of 60 minutes will feel the other person is "holding back" or "covering up" or that they just don't care. These things upset the "Verbalizer" and once upset, as with all communication about to go wrong…emotions will get the best of the Verbalizer and communication will deteriorate rapidly. Because the Verbalizer is able to deliver words in large volume and speed, the Verbalizer also is more likely to be deemed argumentative when he/she gets upset. Her voice will raise and become angry.
The Verbalizer needs to share their feelings now.
"I'm starting to become angry because I feel as if you are not sharing with me what I'm asking you for. Am I reading you right?"
It's very important that the Nonverbalizer doesn't take this communication as "blaming" because the Nonverbalizer is, by definition, someone who doesn't communicate as much and certainly not as quickly as a Verbalizer.
What can you do if you are dealing with an argumentative communicator?