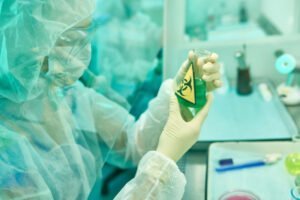 How You Can Get the Coronavirus: The Science of Luck Explained (pt. 1 of 3)
You COULD be the one!
Right now we are preparing for the Decision Making Course, now in it's 14th year. Getting lucky is part of making good decisions turn into good results. Today you get a serious look…at the Science of Luck Explained, in Simple English.
I'm going to show you how to improve your chances of getting this incredibly rare, hard to find virus and then die from it.  Don't worry, it takes a lot more work than you might expect and, it will require a lion's share of luck.  Hmmm… now how do you get a better chance of getting this so you can make your own hospital meme, get famous and then depending on just how badly you want to…you can figure out if you'd rather ship out or not.
Like all luck, you can control some of this and can't control the rest, so I'm going to show you every little trick in the book to get lucky. Then later in the article and the series, I'll show you how to get lucky with the right girl, the right job, the right business, the right life.
Lots of people confuse luck with randomness (throwing two dice and getting two 6's…when you're making that bet in a casino) and improbable stuff happening like meeting someone cool who changes your life forever.
Randomness is part of some kinds of luck (yep there are different kinds of luck) and understanding what is probable so you can change the rules in life so you can end up in the "lucky people" section.
People all around the world are wearing masks so they don't get the "coronavirus."
Now we'll talk about just how lucky it would be to get the coronavirus. I'll show you how to improve your chances of getting the coronavirus and then I'll show you how to LIVE through the Coronavirus so you have a cool story to tell on how you beat the deadly coronavirus.
First let's get the virus. How ya' gonna do that?