Do not confuse Body Language with Nonverbal Communication.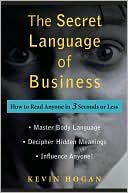 Body Language is just what the phrase implies.
Nonverbal communication includes body language, but also includes all the far more important aspects of communication.
The least important elements in communication and selling are words and body language.
Far more important is the context in which a sale is being made. That context includes both the meeting, the meeting place, the perceptions of the person's name, the perception of the company the salesperson works for, the perceived authority and status of the sales person and all of the same perceptions from the salesperson's point of view, about the customer.
And there is more.
The distance between two people changes "yes" into "no" and "no" into "yes" far more quickly than any words you can speak or gestures you can make.
The duration of time spent within spatial regions around another person or within a group have the same effect.
This is all nonverbal communication and this is all part of The Secret Language of Business.
Here is a specific application of the Secret Language of Business that you can use five minutes from now.
Intention: Optimize your location from your customer's point of view to cause a "yes" response if it is possible. (Where will you sit, exactly? Where will you stand, precisely?)
Background: The right brain hemisphere of a right-handed person stores emotional and autobiographical memory to a significant degree. The left hemisphere has Broca's Area, and accomplishes much of the logic, spatial and analytical thinking.
The right hemisphere of the brain is largely activated when a person looks to their extreme left. (cover your right eye with your hand, look "hard left" but don't turn your head) In two minutes you will report some form of anxiety or fear. Some people experience panic. (assuming you are right handed!)
The left hemisphere of the brain is largely activated when a person looks to their extreme right. (cover your left eye with your hand and look "hard right." but don't turn your head) In two minutes you will report some form of "calm," "comfort," "fine," "no problem, why? (again this assumes you are right-handed)
Utilization: With right-handed customers, you will sit to their right so they look right, activating more of the left brain. Logical, non-emotional, non fear and non anxiety producing…
Research in selling situations shows calm exhibited in contrast to discomfort and anxiety when the salesperson is seated to the left of the customer.
Similar research has been done for attraction and attractiveness. People seated to the right of someone are perceived as significantly more attractive than if they were seated to the left of the same person.
And in therapy you see similar but more dramatic results. Calm vs. anxiety and fear.
Results: With right-handed individuals, you will accomplish more in a shorter amount of time, get to "yes," much quicker in a significantly greater environment of trust, attraction and perceived credibility.
Left-handed people?
You'll have to pick up a copy of The Secret Language of Business. I'll tell ya' lefties can be a challenge until you know how to set them at ease.
Cool?!
Today you can pick up the book at amazon.com : Get Secret Language of Business – and forward your receipt to slb@kevinhogan.com.
You'll then receive a fast response from Kevin's staff that will email you the secret website where you can pick up all kinds of fresh bonuses and gifts. And do check them out because the value is significant (I don't like naming outrageous numbers, forgive me) and the information, like this article, is unique, and not your everyday barrage of "stuff." I think you'll be pleased…oh…and the book itself is pretty good too!
The Secret Language of Business is all about bringing the science of nonverbal communication into the office and the selling environment. My guess is you'll be recommending it to friends and family next week.
Kevin Hogan, Psy.D. is the author of 19 books. The Psychology of Persuasion is Kevin's best known and classic book. It has sold well in excess of a million worldwide copies, having been published in almost three dozen languages. Today Kevin offers keynote and half day presentations to businesses ready for new information and a new approach to adding greater profit through the secret language of business. www.KevinHogan.com is the place you can get over 300 articles just like this one.
How Can You Always Tell When Someone is Lying to YOU?
BODY LANGUAGE: Decoding, Interpreting & Mastering Non-Verbal Communication
with body language expert Kevin Hogan

This is a Complete Home Study Course. (A portion of this course is interactive with your computer!)
The Advanced Home Study Course in Analyzing Nonverbal Communication!
When you discover the secrets of body language, you can be the one who:
Never gets lied to
Knows when they are attracted to you
Knows when they are uncomfortable
Is in control 100% of the time!
The exact same nonverbal communication that gets people to buy from you are the same ones that get them to buy you. Whether you want to master body language to make the sale or get the girl (or guy) this program reveals all the secret codes hidden for so long! Absolutely no one has all of this information. Period. My proprietary research (which you are going to receive!) brings you to the cutting edge of having people fall in love with you in literally a matter of seconds.
You are going to discover what really gets the sale, the promotion, and what seals or kills the deal.
Between 60% and 75% of all of your communication is nonverbal. Are you attracting or repelling people around you? Are you making every sale you could be? How are people reading you?
In the first four seconds people will make judgments about you:
I will or will not buy from this person.
I will or will not like this person.
I find this person kind, or not.
I find this person intelligent or not.
And now for the most amazing part of the course: 6 CDs and Video are INTERACTIVE with our secret website filled with photographs to analyze!
You move through a catalog of photographs and nuance by nuance analyze the small lines, wrinkles, facial expressions, hand and body placement. All these details are explained to you by body language expert, Kevin Hogan.
The first two introductory CDs are geared toward helping you make an incredible impression in those first four seconds. This advanced portion of the home study course is all about the other person! Now you can discover whether they are lying or not. You can find out the cues of annoyance, covering hidden feelings, and whether they like you or not.
You are going to learn to read people in virtually an instant. Kevin will introduce you to what he does when The New York Post, First for Women, Cosmopolitan, Playboy, The Star, Maxim, Success, Selling Power and the rest of the media call!
Over the past two years we've collected over 100 pictures of celebrities that he has analyzed for the media. Jennifer Lopez, Ben Affleck, Bill Clinton, Hillary Clinton, Chelsea Clinton, Angelina Jolie, Arnold Schwarzenegger, Maria Shriver, Faith Hill, Tim McGraw, The Sex and the City girls, Drew Barrymore, Kurt Russell, Goldie Hawn, Beyonce Knowles, Liz Hurley, Pamela Anderson, Stephen Spielberg, and dozens more.
As you progress through the course, you will become proficient at reading and analyzing body language! And of course, I'm giving you the keys to my password-protected secret website with over 100 photos of the stars ready to analyze!
This is a complete seminar in reading, decoding and interpreting body language from the source. Nothing is missing and YOU have access!
You will receive my complete analysis of EVERY PHOTOGRAPH on Six (6) Digital Audio CDs. Your Secret Password to the Hidden Website for the Interactive Photo Gallery will come with your package.