With the success of Lie to Me and The Mentalist, everyone wants to know the answers about how to read and interpret body language.
Did you show this body language on purpose?
Maybe you thought you were just standing.
You may not have meant it but here's what "message you sent" while you were "just standing."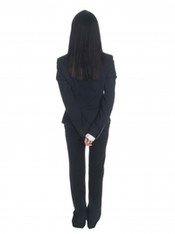 You had your arms extended down in front or behind you and you had your hands clasped together, creating a "V" shape.You were seen as open and innocent in the conversation you were having and viewed as involved by the person watching you from afar.
Of course you didn't *intend* for this message to be sent…but that's what it was perceived as in the other person's mind….and that's why it's so important to think about what message you really want to send.
You raised your hand to grasp your forearm, just a few inches from your hand, changing the "V" to a short "9", and now you are seen as less interested by the person you are talking to and more available by the guy watching you from the other side of the office or hallway.
You stood there and fiddled with your hands, scratched your forehead, itched your nose or perhaps touched your ear. The person you were talking with saw you as anxious or nervous and probably dishonest….whether you were or not. And the guy in the restaurant who has been paying attention to you believes you want to get away from the person you're talking with, male or female.
You anchor yourself to the wall, leaning against it while you talk, and the other person is certain you are interested in them. You are not going anywhere and are at worst required to listen and at best, comfortable being there with them at the moment. To the guy on the other side of the room, he sees you as unavailable and will put his efforts elsewhere.
Standing with hands on hips? You probably weren't thinking it mattered but it did. It was probably seen as being a bit overbearing, maybe even angry or hostile. If that was what you were shooting for you got it right.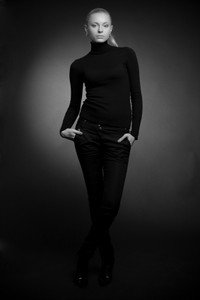 Standing with one hand in a hip pocket? They probably read that as having some interest, but not fascinated. You were a fifth wheel perhaps. You weren't experiencing anything intense. The guy on the other side of the room sees an opportunity.
Standing with both hands in hip pockets. That's a very confident gesture. You've fully exposed yourself and have offered vulnerability but probably feel much stronger. It's in-control flirtation and is an invitation to the guy watching (though obviously not while you're still talking to the gal at the water fountain.)
You begin to walk away and you are moving with short strides. That's an invitation for anyone to come and talk to you, even the guy across the way.
You walk with medium length strides and speed. You are on purpose, intentional, in control. You could certainly talk with someone and be approached but if you kept up at that speed, it's all business.
You answer your cell phone and begin walking quicker with longer strides and you are now unapproachable. You are in a hurry and have clearly sent the message to everyone including the guy watching across the way.
You stop and talk with someone else and you lean back away from them and you send the message that you aren't comfortable with them. Perhaps you were taken aback by what they said. Maybe surprised. But if you don't retract to vertical, you have sent your message of "not liking it," "not interested."
The next person you talk to, you lean into them, not your head on their shoulder, but just a little and you have now told them they are important, liked and that you are interested. Did you get TOO close? Then you broke into their personal space and you have sent a different message.
Later you connect with another person and you are seen touching your lower lip with your straight as an arrow index finger. You are perceived as being interested, thoughtful, pondering, considering. You are seen by the guy observing you as not remotely interested in him, but whatever is at hand.
Put that index finger one inch higher and you are telling someone "shhh" and that is a very powerful intentional message. If you were "aiming" that message to the guy on the other side of the room, you have given him a great opening to come and say hello. If you were making that gesture with the person directly opposite from you, well, you've basically told them you want to talk but are locking down your mouth until their uninteresting story is completed. Then you will talk.
Now what about some of the strange behavior women exude?
When she's not moving her arms as she walks, clearly there is a tension in the body, maybe something is on her mind. Anger will often be at the root of this. This is true of other stiff behaviors. Extreme anxiety can also be at the root of this. When people are panicky they will often try and "freeze" to appear under control. General nervousness is better correlated to fidgetiness, scratch, itch and touch gestures.
The "slow walker," assuming they are physically able, is utterly unaware of how their behavior is impacting those around them and should be a good indicator that they live in their own world while finding yours unimportant enough. The same is true for the individual with short strides.
None of these women are perceived as comfortable to be with or even competent. Avoid these behaviors.
The "spring in your step" phenomenon is truly one of happiness or giddiness. There aren't a lot of behaviors that give away a truly "up" feeling, this is one. People who are sad, angry or nervous simply can't do this.
Kevin Hogan, Psy.D. is the author of Irresistible Attraction: Secrets of Personal Magnetism. You can learn more about body language at kevinhogan.com/bodylanguage where you can read over 20 articles about what you are communicating nonverbally. Visit www.bodylanguagetalks.comfor additional information.