Reading body language…They are interpreting your body language and you are interpreting theirs. This special program shows you hot to send the right messages from now on and gives you an introduction to decoding body language. Are they lying? flirting? It is sexual? Being deceptive? A Woman's? Is it business?
Would you like to be able to:
Read and interpret body language? Determine if they are they lying, flirting, thinking sexually? Preparing to say "yes?" The body language of a man and woman are a little different and you need to know how! Body language is also different in a relationship than it is at work. You need ot know! Reading body language is a powerful communication skill few have.

Would you like to send clear signals which are processed only in their unconscious mind? Everyone else in the world is sending random signals. Some are processed as liking, some as not liking. Some as deception. YOU are going to send all the signals you need to in order to get to "yes."
What's that mean? It means everything revolves around people liking you. Period.
Body Language: Attraction and Liking
Liking is the foundation of what makes the sale, gets the girl, gets the proposal accepted and closes the deal. People don't buy products, they buy YOU. Nothing proves this like research in nonverbal communicaiton.
Here is what happens: Their "instinct" tells them, "I don't know why, but I really like him (her)! I just have a feeling this is 'right'!"…or…the opposite.
Did you know that when you nod your head, you literally increase agreement between you and the person you are communicating with? You probably did.
Here's what you didn't know. Research just completed shows that when you nod your head, you magnify the feeling and belief about what you are currently thinking about. Depending on what you are thinking, this could easily cause you to send incredibly powerful positive OR negative signals through other unconscious gestures and cues…and you will have no idea what they are if you don't prepare ahead of time!
It's this kind of cutting-edge research that puts you at the forefront of understanding and utilizing non-verbal communication elegantly and intentionallyin order to get the girl or guy, make the sale, or get the proposal accepted, NOW.
You must be sending all the right messages and decoding their fears, anxieties and deceptions as they occur. Now, you get the edge over the competition. If you don't send ALL the right messages people think, "I don't know I feel uncomfortable with this guy…"
With just a little practice you can send the right messages and WIN!
Internationally-known body language expert Kevin Hogan, Psy.D., (Kevin was the first body language expert to expose to the public the hidden message former President Clinton sent to the world exposing his relationship with "that woman, Monica Lewinsky" in the New York Post.) finally reveals the fundamental reading skills of what makes him a body language expert.
Between 60% and 75% of all of your communication is nonverbal.
Are you attracting or repelling people around you?
Are you making every sale you could be?
CRUCIAL: How are people reading your body language?
In the first four seconds, at the unconscious level of thought, people make the following judgments about you:
Whether or not they like you.
Whether or not they will say "yes!" and buy from you.
Four seconds…In other words…
Before you even open your mouth and say your name they have decided "yes" or "no."
In Kevin Hogan's introductory home study program about body language, Body Language: The Secret Code to Communication, Kevin Hogan is going to reveal to you in great detail cutting edge secrets about specifically how to :
Make a dazzling first impression. Use body language to create your own covert (unconscious) messages.
Know if (s)he's flirting with you. Read signals from the opposite sex. Be absolutely certain if they like you and are attracted to you (or not).
Where to stand to be perceived brilliantly by one or 1000.
How to sit so people instantly feel at ease with you.
Changes you can make immediately to increase you face value.
Read them like a book.
Know what they think before they even know!
Get the edge – in business or personal relationships.
When you have mastered the secrets of reading and sending body language communication, you will know :
How to understand what their hands are saying to you!
How to read another person's eyes.
Read flirting signals.
Don't want them to know what you're really thinking? Be in control of your body language and get what you want – be completely believeable and congruent.
How to interpret attraction cues.
What gestures signal deception.
And, wouldn't it be amazing if you could do one incredibly simple thing to actually cause people to like you, and it only had to do with where you sit, stand or move? This secret will be revealed to you!
You will learn 4 High Impact Greetings to help you dazzle them from the start.
And you get 5 Powerful Tactics to Gain Rapport Effectively.
The cutting edge research revealed to you in this program gives you the golden keys to success. With it, you have the edge. Without it, you will continue to fail at reading the signals you need to know. .
O.K. What is the difference between this and every other body language program out there?
Other programs teach you what was already known in the field of non-verbal communication up until the year 2000. This program gives you cutting-edge research that nobody else has – or if they do, they aren't willing to reveal it!
BODY LANGUAGE:
The Secret Code to Communication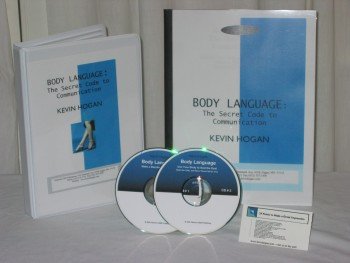 This is truly the first body language program designed to give you the edge!
Whether you want to master body language to make the sale or get the girl (or guy) this program reveals all the secret codes hidden for so long! Absolutely no one has all of this information. Period. The proprietary research in this package brings you to the cutting edge of mastering that critical first 30 seconds in meeting someone new. You will have this information for mastering your own body signals for every future communication you participate in!
What will you receive? You're getting two CD's packed with everything we've talked about here.
You are going to get Kevin's brand new VIDEO…
Video: Body Language: Get the Edge in Business and Relationships…absolutely Free!!
In this brand new video Kevin Hogan literally gives away almost all of the secrets of body language that haven't been released to date.
Learn to read signals like a pro. What gestures signal liking? What are people saying by their choice of hair style and their choice of clothing? What does it all really mean?
Kevin will show you how President Bush, with the help of Al Gore's blundering body language, narrowly won the 2000 Presidential election and made it internationally known on the BBC October 12, 2000. If you make the same mistakes that Al Gore made, you will lose the girl, the sale, and the proposal.
Best: You get to watch Kevin Hogan interact with Beth Bednar (former ABC TV anchor) "live" in the studio! Discover just how Kevin positions himself to put Beth at ease and in rapport instantly. Find out how you can use this information to seal the deal, get the date, make that promotion happen!
The 42 page manual that comes with the power packed 2 CD Set is designed to help you chart your progress at making a brilliant impression on everyone you meet.
Bonus: The Successful Communicator Body Language Evaluator is a simple yet comprehensive checklist that helps you evaluate your own and others' body language to give you the edge! You receive this $15 resource absolutely free when you order today!
Added bonus: As a free gift to you, we will send you a special wallet card with the 20 Strategies for Making a Great First Impression. You can carry this with you to remind you of what you have discovered before each date, interview, sales meeting, or any important interaction. This wallet card will be included FREE with your order.
Order today and within one week you will be getting the response you always wanted from everyone you meet! The video ALONE retails for 99.95 in the catalog but you are going to get it FREE with the purchase of Body Language: The Secret Code to Communication. Total value? $199.90. Your price including postage: $99.95. You save $100 off the retail price, more than 50%! Place your order now and become an unconscious expert at reading body language!