Is Chauvin guilty or innocent?
12 people will determine that in Minneapolis this week and you and I are glad that it's not us that has to make the decision, because we didn't hear all the testimony. I believe your question might have been guilty/not guilty as you can't really come up with "innocent" in trials. It's not appropriate for people not in that court to make this call as regardless of the outcome, it will have a strong influence internationally. The lesson for everyone is to INCREASE your self regulation AND personal judgment and compassion toward all people.
When are you coming back to Poland? [When are you coming to Romania?]
I'm ready to go but Polska has some work to do as far as covid. I can't imagine anyone going in or out of Poland without evidence of being covid free, for quite some time. I'd like to come this fall to both countries. It is POSSIBLE that could happen. It's more likely that we'll have live events in these countries in 2022.
Hogan at Hogan in Harrod's, London, 2018
When is The Rule of Persuasion coming out? You know, a lot of people want to know how many books are coming.
It's not in the data base yet but my best guess is we'll have a release date of October 2021 or April 2022. The book is going to clock in at about 300 pages and the original direction of the book shifted a bit during covid as we see that the world has changed, persuasion has changed and we'll be the first to get out the new Bible of Persuasion.
In the webinar, you said that new research is coming out about the Placebo Effect that will be helpful in influencing others. What is it?
Just last week it was FINALLY published and yes, what I've talked about for two decades turned out to be right. (Whew) Yes, you can say to people, "This is a placebo" OR give them something they believe might be either a placebo or a prescription medication, and the results of each in patients (in this case with IBS) are the SAME.  We'll probably put together a video or two for You Tube on just this. What I was almost certain would happen is what happened, it's exciting.
Can I get your programs in digital download?
Yep. It's not in the store at this point but we have everything in digital download. We're in the LONG process of going program by program and deleting what needs to be deleted and what needs to be part of the upcoming digital catalog.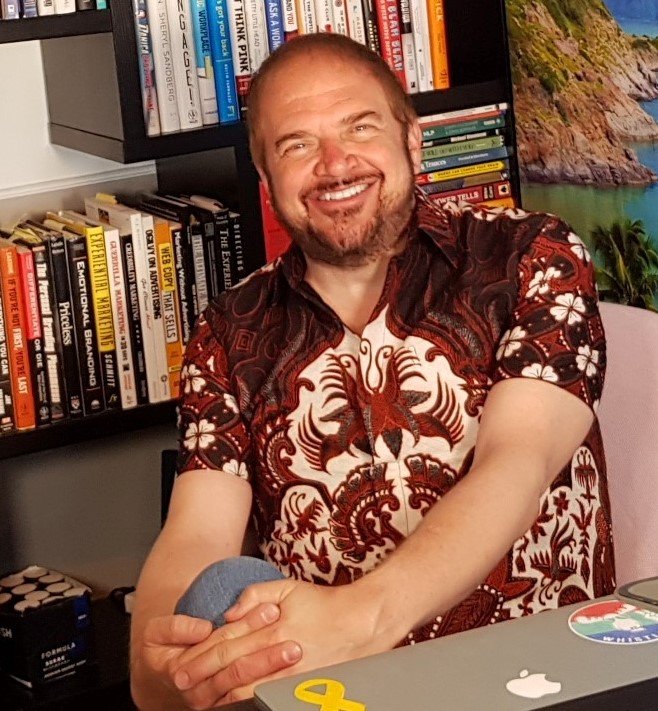 Kev at Deb Cole's in 2019
How do I know what programs to buy first? There are so many.
There are. Do the online video courses for all things success and wealth related. We'll probably delete all of the early programs on these subjects. The online courses are comprehensive in nature and they're pretty impressive in what you'll gain. Courses like Acquisition and Persuasion Protocol are pretty amazing. The Science of Influence 1 – 72 is something that will change your life if you listen and drill it in over and over. The Covert Hypnosis courses are excellent.
You said 2/3 of psychological studies aren't replicated. Does that mean that 2/3 of the time the studies are wrong? What are some examples? How do I know what to believe? Have you ever been wrong about what to believe?
It means that researchers TYPICALLY find answers that they expect to find. They INTERPRET data through political and emotional filters and rarely in the context of history. They find the current trend in thought and have a format they have to do their research in and then report. And that's just the beginning of limiting factors in how valuable (or not) psychological research is. Typically research is done with college students and for that demographic we DO have a lot of data that is quite valuable for the culture it is completed in. But to believe that psychological research is representative of PEOPLE (worldwide of different beliefs, cultures and contexts) is ridiculous. Blessedly we're leaving the positive psychology movement phase of psychology now which has been particularly dangerous. Sadly psychology is now entering ism-psychology and this isn't going to be better, just different.
When I evaluate a study I'm looking to see who paid for it, where it was done, by HOW MANY DIFFERENT psychological researchers were involved, how often the study has been replicated, what is the culture(s) the study was done in. What is the probability the research was poorly done or simply had data changed from x to not x.  I've looked at thousands (and thousands) of psychological, marketing, social psychological studies, lab studies, real world research, you name it. There is so much bias in the work it's very tough to get past "self report" which is largely useless because it's so easy to do this kind of research contrasting to real world behavioral research which is far more often tot be honest and accurate than what people "say" they will do or "why" they did something or not.
Sadly psychological research is generally written up with hypotheses at the beginning of the paper and the report on the study validating every hypothesis further down. That is a recipe for disaster. I almost never read a paper where the hypotheses aren't ALL CORRECT by the end of the study.  Yet, when the study is done elsewhere, we find the opposite results over half the time.
At kevinhogan.com we won't report it if we see too many holes in a paper. Example, we won't report it if the paper is using "self report" data, particularly about what people say they will do in the future or speculate based on their thinking, feeling or memory. It's also a tragedy that scientists are considering, for example, learning programs successful if students are "satisfied" instead of using measures of LEARNING. "Mommy I don't like my teacher," "Daddy, I don't like learning visually." (BTW, Learning styles don't exist.)
I absolutely have been wrong about what I believed and when that is the case I change. Ability to change is a critical skill to develop. I have no affiliation to liberals or conservatives. I have no religion in a box to defend and I have no social agenda to "equalize" the world which is unique from culture to culture. Where many see dramatic needs to completely reform or rehab cultures around the world, I see fewer problems and more to learn.   I need to see a lot of data to accept and the same amount of data to reject. Every subject is approached with the understanding that most work is framed to fit the "expected response" and thus are wrong (not replicated) most of the time. I look for real world results vs. lab as the very best research has shown us that context…influences as much or more than anything.
Finally, check out how many "A" students there are at the university that did the study. Compare it to how many there were 30 years ago. Those numbers should remain stable but they don't. Universities are pressured to award "A" and "B" to students who haven't come close to earning those grades and statistically there is no way that the numbers of students that are getting those kind of grades are being measured and reported in a sensible fashion.
Next up: Covid: racism and hostility, Kevin's upcoming projects