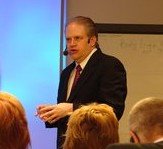 See Kevin Hogan "Live" in person, or participate in an online E-course with personal attention from Kevin Hogan! Attend an online tele-seminar!
Upcoming "LIVE" Events
Breakout '08 Las Vegas: The Science of Affluence – Developing the Mindset of Wealthy Choices
Go Directly to Application Form
Las Vegas
October 16-18, 2008
Join me LIVE….
October 16,17,18 at the Luxor Hotel, Las Vegas!
You'll learn the truth about what works and what doesn't.

You'll find out just what the Millionaire Mind really is.

You'll learn about how wealthy people really think and what they really do.

I'll have an opinion or two along the way, but mostly this is going to be Fun-n-Fact.

We'll have fun, but there is no B.S.

There is no "Secret"- like stuff.
For example, you will learn:
You'll find out the scientific reason why the market will never return a 10% average or anything close over the next 10 or 20 or 30 years, in your lifetime or mine.

It….can't.

When you know WHY, you'll then know WHERE to put the shekels you begin to earn from the very FEW places you can actually build wealth in the next five years.

Wealthy people do different stuff and think different things from the rest of the world.

I'll take you through the real data. I'll show you how wealthy people REALLY got that way.

I'll show you their habits, beliefs, attitudes, their feelings toward education, school, failure, you name it. You will have a COMPLETE model.

No one ever before…..

You'll find out what YOU are likely best suited for in the next five years.

You'll find out how to bridge from where you are now to where you want to be.

You'll find out why your "goals" haven't worked and why your "dreams" are fading.

You'll find out why your investments failed (unless you read Coffee and invested in gold and oil three years ago).

You'll find out from people who have EARNED THEIR WAY to achievement how important certain factors of success are and how important what people think are factors….are never thought of or considered.

You'll find out why you should stay home if you are unethical. Ethics are a HUGE piece of the pie in building a small business whether neighborhood or Internet.

When economic times get tough, people move FROM RISK, toward people they TRUST and they focus on SECURITY….and they are going to get very tough.

You won't hear about anything that has any significant likelihood of failure and if it does, you'll find out contingencies.

No one will talk to you about "investing" in Real Estate, MLM's or wacky investment schemes.

As always, I'll bring people in to show you what works, and walk you through the simple science (gently but surely) WHY certain things will work and others won't.

You'll find out why seemingly "good ideas" will die on the table.

You're going to meet truly successful people who lay it all out for you….leaving nothing to the imagination.

And, we are going to have fun.
Register – Breakout' 08 Las Vegas
Tele-Seminars
Authors, Speakers, Consultants, Coaches who want to Jumpstart their Internet Business by creating and marketing information products
Teleseminar: Information Product Creation and Marketing with Fred Gleeck
One High-Content-filled hour with the legendary Fred Gleeck. He's created over 4000 HOURS of Information Products.(that's four THOUSAND). The award winning speaker who has built an international career helping people become successful creating VALUABLE information programs. It's an honor to have Fred on for this event.
Teleseminar: Preview Breakout '08
Info Product Creation
Fred Gleeck and Kevin Hogan
Wednesday, September 10
6 pm Pacific, 8 pm central, 9 pm eastern
Access information in Coffee with Kevin Hogan September 8 issue.
---
If someone could give you a formula for building wealth and having an abundant life, would you stop and pause to take it or would you just keep doing what you are doing?
Kevin Hogan, Psy.D. has spent the last four years studying not just the lives of self-made millionaires but the thinking, decisions and actions of people who have achieved abundance and wealth….people who not only achieved but started with nothing or almost nothing.
Would YOU like to have the formula?
Featured this month in Success magazine, is Dr. Kevin Hogan. TODAY you have a chance to register to a unique teleseminar that will be held worldwide next Tuesday, September 16 at 5 PM Pacific, 8 PM Eastern.
Teleseminar: Preview Breakout '08
Wealth 404
Bill Harris and Kevin Hogan
Tuesday, September 16
5 pm Pacific, 7 pm central, 8 pm eastern
To register simply email centerpointe@kevinhogan.com
KEVIN HOGAN E-COURSES
How Do I Become a Professional Speaker
Next Course – Spring 2009
How Do I Become A Motivational Speaker Learn all the inside secrets of becoming a successful motivational speaker! Everything is here. Improve your speaking style, learn how to be paid what you're worth, marketing yourself, building a successful website, and much more. Next Course Begins Spring 2009. You may apply now and receive instant savings of $400!
Professional Speakers E-Course
Build Wealth on the Internet
October 5, 2008
How do I Make a Profitable Website Presence and Build Wealth on the Internet Will you be the next person to earn six figures annually on the Internet? Using the same strategies and techniques we've used to make a ZERO investment turn into SEVEN digits….you CAN do it. Course in session. Next course begins October 5. You may apply now and receive instant savings of $400!
Internet Marketing and Wealth Building E-Course
How Do I Become a Published Author
November 2, 2008
How Do I Become A Published Author Write, Publish & Sell Your Book! E-Course. Learn from someone who has done it! With more than 10 successful books published, Kevin Hogan has walked the path that aspiring writers are just beginning. Avoid costly mistakes and learn the marketing and promoting secrets of an expert. Only 9 applicants will be accepted. Next course begins November 2 You may apply now and receive instant savings of $300!
How to Write, Publish and Sell Your Book E-Course
Decision Point E-Course
January 12, 2009
Achievement Rests Upon Your Ability to Make Excellent Decisions
7-Week E-Course on Improving Your Decision-Making Skills
What would happen if you had the method for decision?
What would it be worth to have a simple systematic approach to decision making where the guidelines are from your head and heart?
Most people are paralyzed with uncertainty about whether they should:
Ask the girl to marry them.

Make a purchase.

Move from one place to another…

Quit their job…

Decide between committing one person or another.

Start a business…
You're going to learn it ALL in this 7 Week E-Course.
If you've been in an E-Course with me, you know that although they are always convenient, they are also densely packed with practical, real life application as the end result. That is the same here. Everything you learn will be immediately applied to a crucial part of your life because there is a LOT going on in your life right now and a LOT of it has to change but you don't know WHAT.
Next course Begins January 12, 2009
You may pre-apply and receive instant savings of $500!
Get all the Details about Decision Point E-Course
KEVIN HOGAN'S INNER CIRCLE
Personal Coaching and Mentoring Inner Circle Membership with Kevin Hogan
How would you like to be in a room with 9 superstars…all getting cutting edge insights into growing your business, making more sales, simplifying your marketing and making it pay off?
What will happen when you have every secret in the mind of Kevin Hogan?
How would it feel to be the PRIORITY APPOINTMENT on Kevin Hogan's SUCCESS CALENDAR, three times this year?
How would you like to have the answer to every question you have about making more sales, getting people in the door, running the unbelievably profitable website you so need, and closing every deal possible?
How about one year of daily access to Kevin Hogan via email?
How would you like to know what Kevin Hogan knows two years before it hits a book, a year before it makes it to CD and six months before it is released in Boot Camp or one of ………my four annual E-Courses.
That's what is at stake.
If you qualify.
For the first time ever I've created a two-level Coaching and Mentoring Inner Circle for a very select group of people.
Find Out About the Inner Circle
KEVIN HOGAN'S LICENSEE PROGRAMS
Speaker? Learn how you can start presenting "Psychology of Persuasion" and "The Science of Influence" Seminars!
Kevin Hogan Influence & Persuasion Licensee Programs
If you already give seminars and trainings, coach, teach, or consult with self-employed professionals, business owners, or salespeople, why not add the Psychology of Persuasion™ or Science of Influence™ Seminar program to your professional toolbox? With a Licensee Kit, you get all the materials to deliver either one of these powerful programs to any company, group or association that sells or needs to market to make money. For years Kevin taught the Persuasion program at the University of St.Thomas Management Center and numerous adult education facilities. It has been delivered in different countries around the world and has been perfected for YOU.
Find Out How to Become a Persuasion and Influence Licensee
Kevin Hogan, Ph.D. is the founder of kevinhogan.com, the ultimate human behavior resource website. Kevin has written eighteen books (and counting!) and produced dozens of programs including Psychology of Persuasion
, Selling Yourself to Others
and Body Language: The Secret Code of Communication.
For more information, E-mail kevin@kevinhogan.com