Why is it that people are impotent when it comes to influence?
Why do people stink at selling? (And hate to sell?)
People go to motivational seminars.
They come back.
They go to work Monday…
They still sell "10%."
Why?
They are smiling, motivated, blah, blah, blah.
Because far more in the realm of selling and persuading others is about nonverbal stuff than anything you will ever say.
Actually, "motivation" in the sense that most people think about it, has very little to do with influencing or selling or much of anything.
But there are factors that do matter in whether someone will sell a whole bunch more stuff, a little stuff or no stuff.
"Positive Attitude" might sound cool, but it doesn't rank in the top 10 factors that sell.
3 New Influence Discoveries
In the last couple of weeks new research has been released that uncovers some of the soon to be classic influence strategies.
Some of it we predicted. Some we never could have guessed… …not in a million years….
For several years we've known, for example, that on average, when a product is shown first or last in a presentation, it is more likely to be selected or bought.
Cool.
And, we know that those products/items shown last are significantly more likely to be selected than any other choice.
But, what we didn't know until this week was what happens when you show products/items to buyers who are happy.
All of a sudden things get really interesting.
Want to find out why happy people CAN make such great and "easy" buyers?
…but because most people who try to be influential don't want to attempt thinking, they will screw this information up so you'll have a huge edge.
Read carefully….
Three cool new studies follow…
Influence and Mood
Participants were first asked to write about either a happy or a sad event in their lives, to help establish their mood.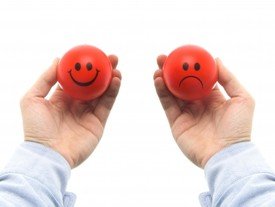 They were then presented with several mango-flavored desserts, and 69 percent of happy participants chose the first option they saw, compared to only 38.5 percent of unhappy participants.
The researchers also found that when happy consumers were asked to withhold judgment until all options were presented, they tended to prefer the last option they saw.
In another study, three dessert options — blueberry, almond, and plum pie — were presented sequentially, and consumers were explicitly asked to withhold judgment until all options had been presented. Happy consumers chose the last item 48 percent of the time, compared to just 26 percent of unhappy participants.
"If consumers are exposed to multiple options that differ only in global aesthetic aspects, they tend to evaluate each option spontaneously at the time they first encounter it," explain the researchers.
"On the other hand, if consumers are exposed to multiple options that differ in important descriptive features, they may withhold their evaluation until they have seen all the options available and evaluate the last presented (most recent) option first."
They conclude: "Altogether, these findings suggest that the influence of mood on comparison depends on which alternative in a choice set is the one being evaluated first."
Journal reference: Cheng Qiu and Catherine W. M. Yeung, "Mood and Comparative Judgment: Does Mood Influence Everything and Finally Nothing?" Journal of Consumer Research
Cool?
Me too.
So now we know how to place choices based on people's moods.
Influence and Product Placement
What about non-"subliminal" advertising?
What do I mean?
Imagine….
A can of Coke next to the word "awesome"; a can of Pepsi next to a picture of a happy couple. Seem too basic to be effective advertising?
Prior research has shown that reported attitudes towards brands are not affected by such simple juxtapositions. However, a new paper in the June 2008 issue of the Journal of Consumer Research examines our implicit opinions — and finds that we may actually be more susceptible than we think.
Bryan Gibson (Central Michigan University) showed undergraduate psychology students pairings of well-known cola brands with words and images. Some had positive associations: a field of flowers, the word "awesome," or a mother holding a child. Others had negative associations: people at a gravesite, the word "terrifying," or a person in a contamination suit.
Participants were then distracted by an unrelated cognitive task — memorizing an eight-digit number — and offered a can of Coke or Pepsi to take home with them.
When distracted, those who were initially neutral towards both brands strongly tended to choose the brand that had been paired with positive images or words in the earlier task. Importantly, this happened even when the participant couldn't remember which brand had been paired with positive information, Gibson reports.
Those who had an established preference for one brand before the experiment, as established by a pre-test, were not affected by the inclusion of a distracting task while making their choices.
"These results have implications regarding how consumer attitudes are formed, and how they are then applied in brand choice situations," Gibson explains.
"This suggests that implicit product attitudes may play a greater role in product choice when the consumer is distracted or making an impulse purchase."
Journal reference: Bryan Gibson, "Can Evaluative Conditioning Change Attitudes toward Mature Brands" New Evidence from the Implicit Association Test." Journal of Consumer Research
Adapted from materials provided by University of Chicago Press Journals, via EurekAlert!, a service of AAAS.
Cool?
Me too…again…
Influence and Community
Now, I've been wrong before.
I've made a great deal of fuss about persuading not just the individual about their self/best interest, but on the interest of the group, the community, or for God.
So, what IS the deal….
People act in their own best interests, according to traditional views of how and why we make the decisions that we do. However, psychologists at the Universities of Leicester and Exeter have recently found evidence that this assumption is not necessarily true. In fact the research, funded by the Economic and Social Research Council, shows that most of us will act in the best interest of our team — often at our own expense.
Psychologists carried out the first systematic tests of team reasoning theories by assessing two well known views of how people behave.
Orthodox or classical game predicts that people will act for selfish reasons.
Team reasoning theory suggests individual self-interest is not always foremost in the way people act as they will act in the best interest of their "team."
Lead researcher Professor Andrew Colman, of the University of Leicester School of Psychology, said: "We have shown that, in some circumstances, decision makers cooperate in their collective interests rather than following the purely selfish predictions of orthodox game theory.
"We carried out two experiments designed to test classical game theory against theories of team reasoning developed in the 1990s by British game theorists.
According to classical game theory, decision makers invariably act in their individual self- interest, leading to "Nash equilibrium", named after the US game theorist and Nobel laureate John Nash, depicted in the biopic A Beautiful Mind.
"Theories of team reasoning were developed to explain why, in some circumstances, people seem to act not in their individual self-interest but in the interest of their families, companies, departments, or the religious, ethnic, or national groups with which they identify themselves."
Professor Colman is delighted with the results. He said: "Team reasoning is a familiar process, but it is inexplicable within the framework of orthodox game theory. Our findings show for the first time that it predicts decision making more powerfully than orthodox game theory in some games."
The study was carried out by Professor Andrew Colman and Dr Briony Pulford at the University of Leicester in collaboration with Dr Jo Rose of the University of Exeter.
The results will be published within the next few months in the journal Acta Psychologica, together with commentaries from decision theorists from the UK, the Netherlands, and the US.
Adapted from materials provided by University of Leicester, via EurekAlert!, a service of AAAS.
Cool Huh? Imagine what you can do in business tomorrow when you have this information! How are you going to use it?
---
ATTENTION: Discover The Tactics & Techniques of Persuasion
Imagine How Powerful You Would Be if You Actually Knew All the Persuasion Tactics in Existence
What would you do?
How would you influence others?
What would you want?
Persuasion tactics are very specific pieces of the persuasion pie. There are 59 tactics that can be utilized in the persuasion process and they are ALL detailed here for you.
No one on the planet has ever released a program containing every tactic of influence and persuasion. They are here for the first time.
You Will:
Conquer Your Market
Motivate Your Clients
Profit in Surprising Ways From Your New Knowledge
This program breaks new ground in persuasion.
100% Legal!
Eliminate the "call back for approval."
Eliminate "buyers remorse."
Eliminate, "I'll think about it."
Eliminate your competition.
Whether you have the Science of Influence Master's Course (v.1-12) or not, you MUST get the ADVANCED Master's Course (Part II) now. This 14-hour course on CD comes with an oversized manual that makes learning and mastering the tactics and techniques of persuasion remarkably simple.
"…your courses are the reason that I made $32,000 last week!"
"I bought your Covert Hypnosis and Science of Influence and I thought I owed it to you to tell you that your courses are the reason that I made $32,000 last week! I used to lose a great deal of customers 'on the fence'. I thought it was just part of the deal, you get some, you lose most. I still make a great living getting 'some'. I believe your courses enabled me to get most of the ones that are 'on the fence' while losing only some of them. Thanks!" Mark Deaton, AGSI, Twin Falls, ID
Principles of "Mind Reading" Revealed
In 1999 one of the world's finest mentalists (someone who "reads minds" for entertainment without lying to you…it's magic…) agreed to show me how to calibrate to almost anyone's thought processes with a quick look at the person and the expression on their face. It took me all of a couple of hours to "get it." All he asked in return was to tap my mind on the latest in persuasion. It was a match made in heaven.
The principles of mind reading are wrapped up in what Fortune 500 companies call psychographics. In a nutshell, you can tell a LOT about a person by asking three questions and looking at how they dress and keep themselves. No. Not a lot….everything that matters.
Mark told me that his accuracy was unparalleled and after I successfully did what he did with people, I never doubted him again.
I took the three questions, the appearance pieces and assembled the information into the coolest psychographic tool anyone could ask for.
These two (of 12) CD's alone are worth 10 times the price of the Advance Course and that is understating the fact dramatically.
You will blow people's minds (and your own) by knowing what people think before THEY are consciously aware of it themselves.
This is one of the big reasons people find the advanced course their "favorite" of the Science of Influence sets.
The information here will either help you or your competitor plant the flag atop your market.
Let it be you!
** Secret 1 : In EVERY presentation you make your client wants to say "yes", at least ONCE. Learn how to TRIGGER that moment and move before they turn back to "no!"
** Secret 2 : There are precisely 59 tactics in persuasive communication. No more. No less. They have been identified and for the first time anywhere, they are presented to you in the Advanced Course!
** Secret 3 : Everyone fears rejection. Everyone. Your CLIENT doesn't want to be rejected by YOU! Find out how to answer that call for connection every time.
** Secret 4 : No one wants to hear "no." OK that's not a BIG secret. How would you like to ELIMINATE your fear of hearing no…forever?!
** Secret 5 : NLP was on the right track with meta-programs. I found out which ones made a difference in selling…then found 7 new meta-programs no one else had come across…ever…and they are all assembled for you!
More that will be revealed to you:
* Credibility: 7 things you MUST do to be seen as credible by your client.
* All 59 tactics in persuading anyone to your way of thinking? They are ALL here.
* The Delta Model of Mind Control. (A detailed sequence by sequence of precision based communication and body movements that you will master.
* Everyone's goal is to be seen and experienced as a recognized brand of excellence. I'm going to show you how to literally brand …you! They see your name, your face and they immediately trust you, know you, respect you, answer to you!
What will you receive?
Vol. 13: The Delta Mind Control Paradigm of Influence (Part 1)
Vol. 14: The Delta Mind Control Paradigm of Influence (Part 2)
Vol. 15: The Influential Secret of Oscillation
Vol. 16: Credibility: The Pivot Point of Persuasion
Vol. 17: Utilizing Metaprograms for Persuasive Impact
Vol. 18: How the Brain Buys Brand: YOU!
Vol. 19: You can't Hear "Yes!" if You Can't Get and Keep Their Attention. How to Rapidly Build Brand You.
Vol. 20: Mind Reading – How to Know What They are Thinking
Vol. 21: Psychographics – Why Your Client Buys…and How to Know in Advance Vol. 22: Optimizing Persuasive Messages
Vol. 23 & 24: Here they are: 59 Persuasion Tactics That Gain Compliance!
The Beginning, the Middle, and the End
In the Master's Home Study Course Part One (V. 1-12) you learned an enormous amount of cutting-edge material now coming to light in the field of influence. Many consider the Science of Influence the Win Friends and Influence People for the 21st Century! Now you are going to gain access to truly advanced information about social influence and the persuasion process that has never been released to the public, ever!
"Imagine how powerful you would be if you actually knew all the persuasion tactics in existence. Imagine. What would you do? How would you influence others? What would you want?"
Ready? They're here. All 59 Tactics of Persuasion!
In order to complete the second series (13-24) in the Science of Influence Home Based Program, I've decided to give you my secret compendium of all the tactics of persuasion.
A tactic is a very specific maneuver or plan for attaining a very specific goal. A number of tactics usually combine to form a strategy and a number of strategies…spell success. The verbal tactic is the atom. It is the smallest component in verbal persuasion.
The greatest aspect of having all 59 tactics at your finger tips is that you can determine the best tactic for each and every situation that you are in where you need compliance. (That means, "Yes!")
So many people use the same tactics over and over and begin to sound like a machine. This is true in international negotiation, speeches, sales presentations, or even in getting the date. The person who succeeds and hears "yes" is the person who has the widest knowledge of tactics and the ability to apply them instantly.
"If You Don't Know the Tactics, You Simply Cannot Be Persuasive to Anyone or Any Group in the Long Term!" Kevin Hogan
Order today for what I guarantee you is the most compact "download" of persuasion tactics you will EVER receive in your life.
This Part of the Science of Influence Library is the most amazing 12 hours of persuasion you've ever heard so far.
It's only here.
This is the only place you can order it.
Get your copy of Science of Influence: The Tactics & Techniques of Persuasion